After unsettled weather moves through this morning, Winnipeg will enjoy a pleasant start to the weekend. On Sunday, unsettled weather will return as the next disturbance moves into the province.
Today will start with a cold front pushing through the region early this morning. As it moves through, it will push a line of showers and thunderstorms southeastwards across the region. Behind them, skies will clear and northwesterly winds will strengthen into the 30–40 km/h range for the rest of the day. These winds will usher in a return to seasonal temperatures and Winnipeg will see a high of just 22 °C this afternoon.
A ridge of high pressure moving into the province will bring cooler temperatures into the province tonight. Winnipeg will see a low near 10 °C under clear skies with winds gradually easing.
That ridge will also give Winnipeg plenty of sunshine on Saturday. With light winds and mainly sunny skies, the city will see temperatures climb to around 23 or 24 °C. Heading into Saturday night, an approaching complex of low pressure will strengthen southeast winds into the 20–30 km/h range. These winds will help keep temperatures a bit milder with a low near 13 °C.
On Sunday, the approaching disturbance will spread cloud into the region as temperatures climb to a high near 23 °C. Forecasts show a broad area of rain developing in the afternoon, producing widespread amounts of 10–25 mm of rain across the Red River Valley by the time it tapers off overnight. Locally higher amounts may end up possible depending on how much elevated instability develops over the region.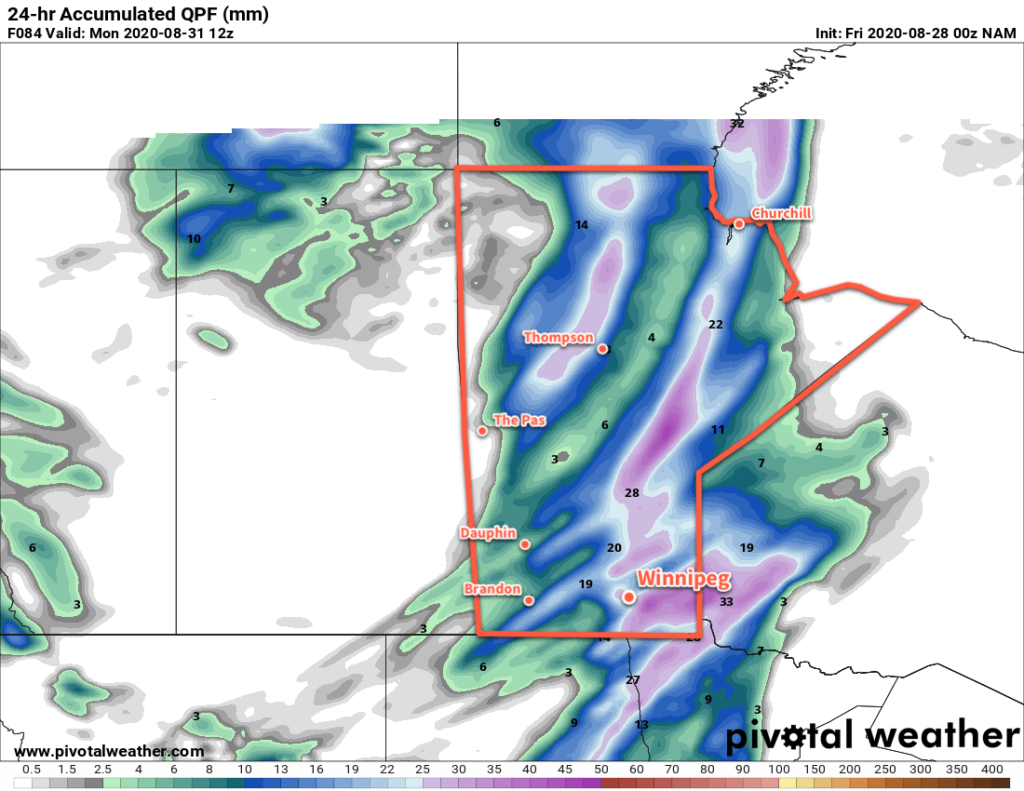 Along with the rain, it will be a breezy day as well. The southeasterly winds will persist through the day before switching to the northwest in the evening behind a passing cold front.
Temperatures will dip to a low near 11 °C on Sunday night under mostly cloudy skies as the rain tapers off.
Long Range Outlook
Next week looks to bring a spell of seasonably cool weather. Winnipeg will see mixed skies through the week with daytime highs in the upper teens or low 20s. Overnight lows look to hover near a seasonal 10 °C. Some rain is possible mid-week as a couple disturbances are forecast to move through southern Manitoba.
Today's seasonal daytime high in Winnipeg is 23 °C while the seasonal overnight low is 10 °C.