Seasonably cool temperatures have arrived in Winnipeg and will stick around for the week. Alongside them, the city will see increasingly unsettled and windy coconditions.
The city will start the week with a sunny and breezy day in the wake of yesterday's rain. Temperatures will climb to a cool high near 19 °C with breezy westerly winds of 30 gusting 50 km/h. A ridge of high pressure moving through overnight will keep skies clear but send temperatures plummeting. Winds will taper off the in the evening, then temperatures will head to a low near 6 °C in Winnipeg.
On Tuesday, a trough will swing across southern Manitoba, bringing seasonal temperatures back to the region. It will also bring plenty of cloud cover. Skies will be mostly cloudy in Winnipeg with a high near 22 °C and west-southwest winds into the 30–40 km/h range. The city will see a chance of showers in the afternoon and evening, but rain is more likely across the Interlake into the southeast corner of the province. Temperatures will dip to a low near 9 °C on Tuesday night with clearing skies and easing winds.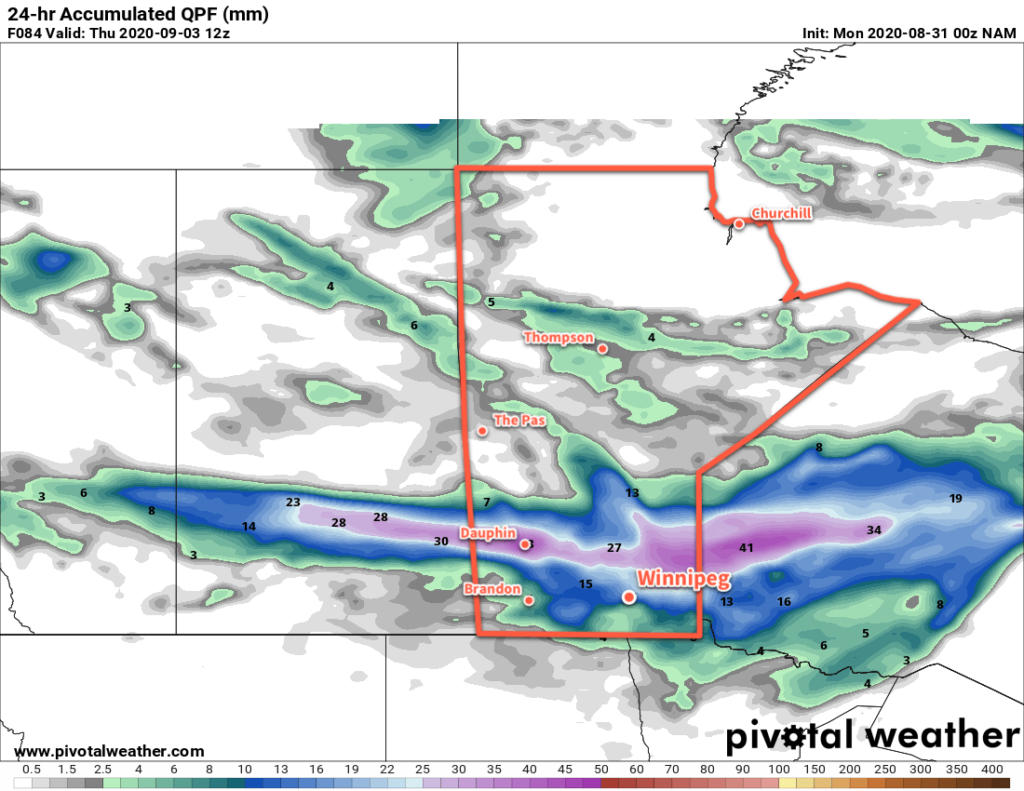 On Wednesday, a low pressure system will move across southern Manitoba. As it pushes east, it will spread cloud into the region as it lifts a sharp warm front north of the border. Winnipeg should see a high near 22 °C again with some rain beginning later in the afternoon. The rain will continue into the evening and then taper off overnight. This system will bring 20 to 30 mm along a narrow west-east axis that is forecast to run across the Interlake. To it south, 5 to 10 mm is possible across the Red River Valley. That said, the outcome will be sensitive to the track of the low:
If the low tracks further north, Winnipeg may see slightly warmer temperatures and less rain.
If the low tracks further south, temperatures would be a couple degrees colder than forecast, and rainfall accumulations could significantly increase.
Temperatures will dip to a low near 7°C on Wednesday night with winds picking up out of the northwest to 30 gusting 50 km/h.
Long Range Outlook
Seasonably cool temperatures will move into Winnipeg for the later half of the week with mostly sunny skies. Looking to the weekend, Winnipeg will see variable cloudiness with temperatures continuing on the cooler side of seasonal.
Today's seasonal daytime high in Winnipeg is 22°C while the seasonal overnight low is 9°C.