A clipper system will begin racing eastwards across the Prairies today, spreading rain into the Red River Valley.
Winnipeg will see a pleasant start to the day; with sunny skies temperatures will climb to a high near 21 °C with westerly winds near 20 km/h. Later today, a clipper low racing across Saskatchewan will spread cloud into the Red River Valley, followed by rain beginning mid- to late-afternoon. The rain will last into the evening, then ease to a few showers and end overnight. Most areas in the Red River Valley, including Winnipeg, will see 5 to 15 mm of rain, but a localized corridor of 15 to 25 mm will be possible. Temperatures will dip down to a low near 10 °C tonight with winds picking up out of the northwest.
Thursday will bring mixed skies with a chance for some lake-effect showers in the morning. Winds will be prominent through the day, sustained out of the northwest up to 40 gusting 60 km/h. It will be a cool day in the wake of Wednesday's clipper and Winnipeg will see a high of only 17 °C. Skies will clear out in the evening as the winds gradually ease. Temperatures will then head to a low near 6 °C.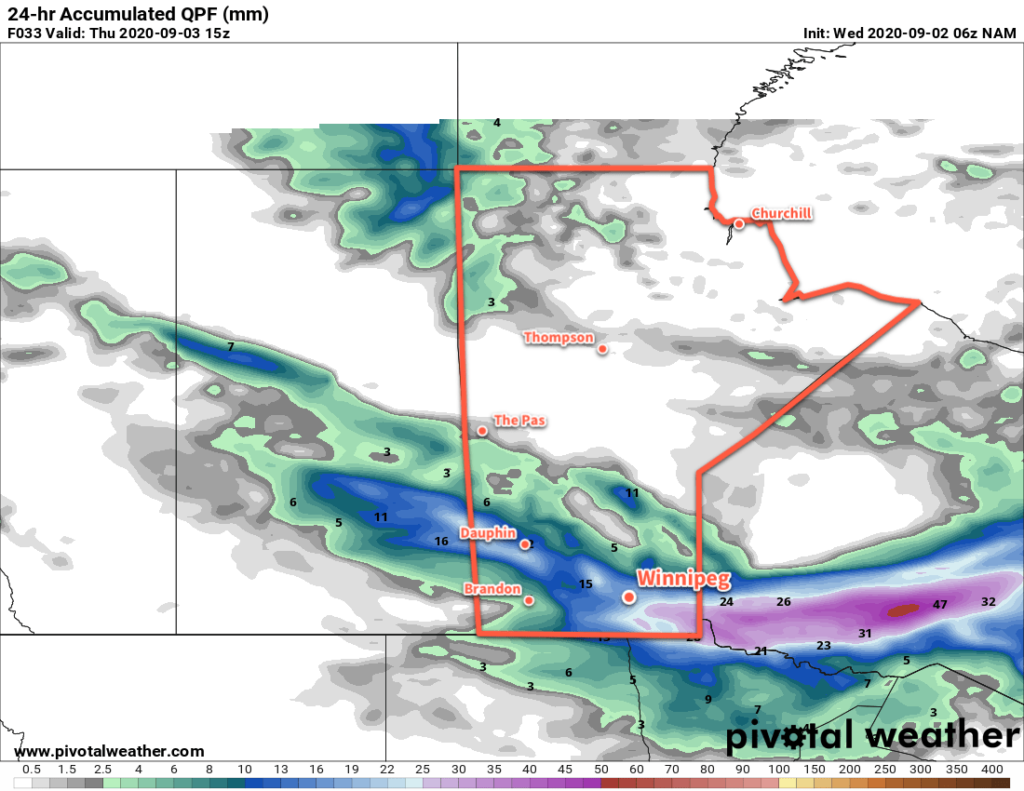 On Friday, a weak ridge of high pressure will keep skies mainly sunny with northwest winds of 20–30 km/h. Temperatures will recover slightly from Thursday as Winnipeg heads to a high near 20 °C. A bit of cloud will work into the region overnight as temperatures head to a low near 7 °C and winds ease.
Long Range Outlook
Another low pressure system will cross Manitoba this weekend, but most forecasts show the rain it will bring tracking through WestMan and the Interlake. Winnipeg will likely see mixed skies on Saturday with near-seasonal temperatures, but cloudier, cooler conditions return on Sunday. The weekend may end with a chance of showers as a cold front plunges southwards through the province.
Today's seasonal daytime high in Winnipeg is 21 °C while the seasonal overnight low is 8 °C.