After a mild start to the week, cooler weather will return to Winnipeg.
An upper ridge over the Canadian Prairies will help send temperatures back into the 20s to start the week. Winnipeg will see a few clouds today, but skies will also be a bit hazy with forest fire smoke. Temperatures will climb to around 20 °C, accompanied by a brisk southeast wind. As the day progresses, the winds will pick up to 30 gusting 50 km/h for the afternoon.
While the skies will be hazy with smoke, air quality should stay good as the smoke will reside higher in the atmosphere.
Tonight, a low pressure system will track along the international border and spread cloud cover through the region. The wind will ease this evening and temperatures will stay mild with a low of 12 °C.
On Tuesday, Winnipeg will see mixed skies as the low departs to the east. Winds will pick up out of the northwest into the 20–30 km/h range by midday. Fortunately, temperatures will continue to be seasonably mild with a high near 20 °C. A bit of haze may linger from the fires, but the thickest plume will be slumping southwards into the American Plains.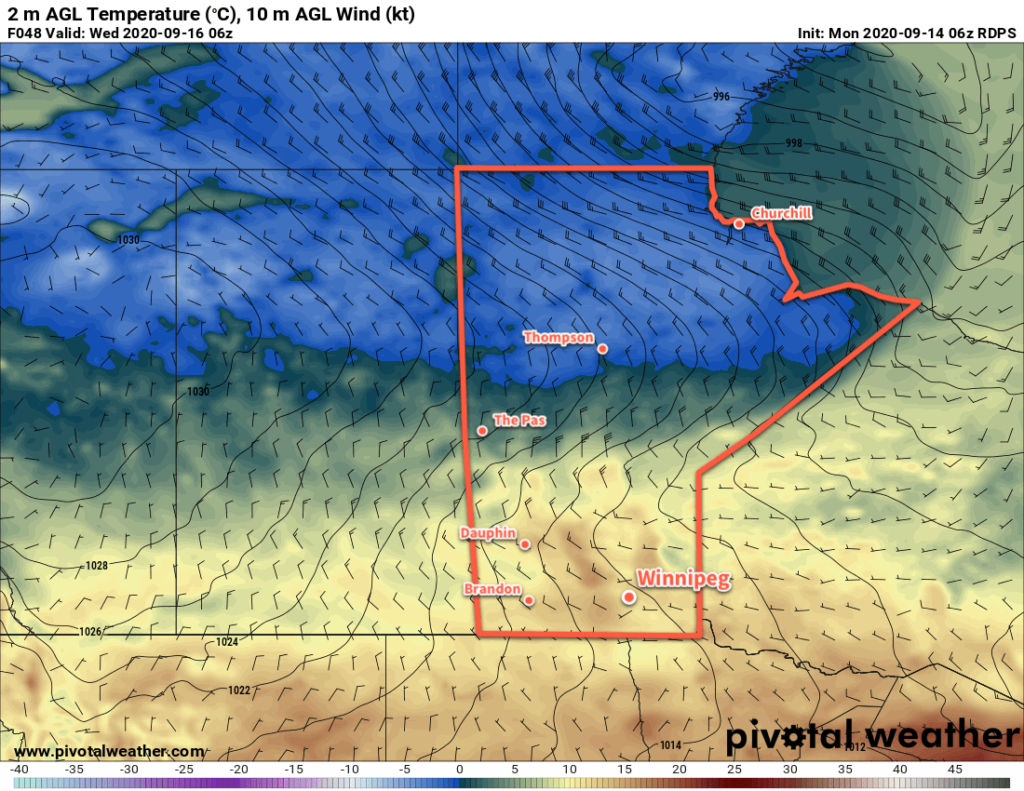 Tuesday night will bring Winnipeg partly cloudy skies, light winds, and a low near 7°C.
A cold front will slump through the Red River Valley on Wednesday morning, bringing a few clouds with a chance of showers. The northwest winds will strengthen back to 30 gusting 50 km/h and keep temperatures cool with a high of just 11 °C. A ridge of high pressure will move into the region on Wednesday night and bring mostly clear skies, light winds, and a low near +1 °C.
Long Range Outlook
The rest of the week will bring partly cloudy skies and seasonably cool temperatures to Winnipeg. On the weekend, temperatures will climb back into the upper teens with increasing cloudiness. Some rain may be possible on Sunday, but will be conditional on how exactly the forecasted low tracks eastwards.
Today's seasonal daytime high in Winnipeg is 18°C while the seasonal overnight low is 6°C.