Winnipeg will see rather cool conditions mid-week gradually give way to a what may be a pleasant weekend.
Chilly fall weather arrives again in Winnipeg today behind a cold front sweeping through this morning. Northwest winds up to 30 gusting 50 km/h will usher in a cool Arctic air mass through the day. Temperatures will struggle to recover much, reaching a high this afternoon near 11 °C. The city should see a fair amount of sun today, aside from a bit of morning cloud. A few clouds will likely linger into the afternoon through some shallow convection or streaming off the lakes.
A sprawling area of high pressure will move into the province tonight and bring lows down close to the freezing mark. Skies will vary from partly cloudy to mixed and the winds will quickly ease in the evening.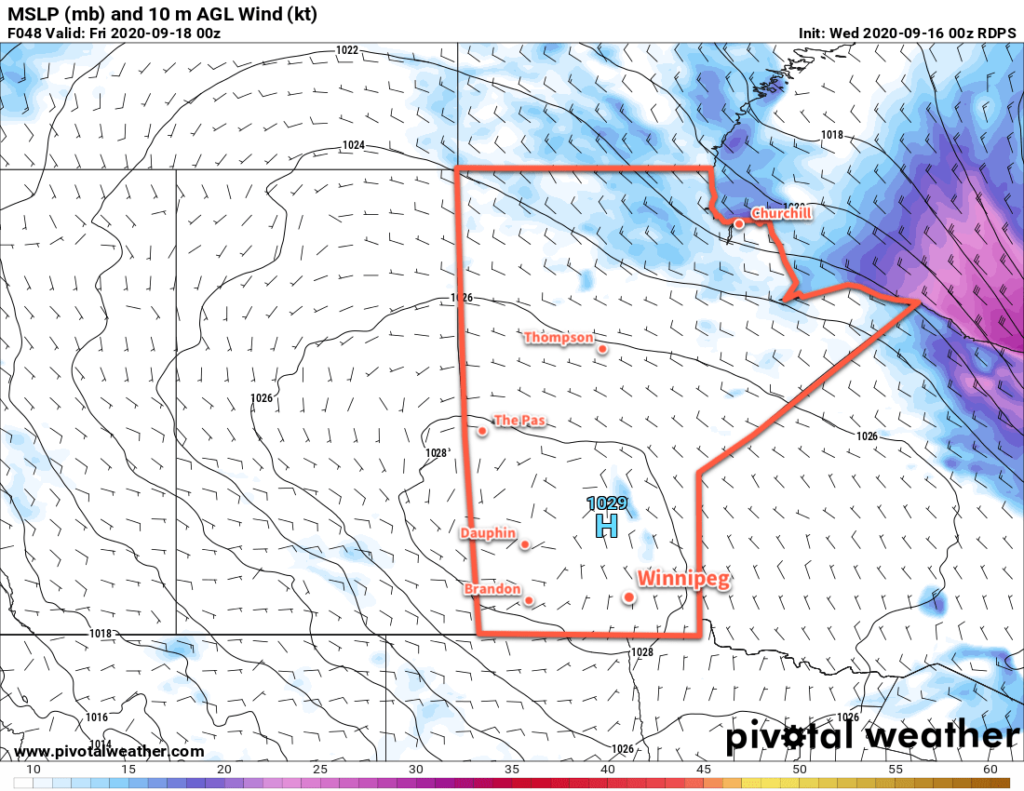 On Thursday, this slow-moving system will linger over the province and bring light winds. Winnipeg will see some morning cloud give way to afternoon sun as temperatures begin to recover with a high near 14 °C. Temperatures will dip to a low near +2 °C on Thursday night.
The high will finally begin pushing off to the east on Friday. Temperatures will continue to rebound with highs near 16 °C. A southerly wind will strengthen to 20–30 km/h in the afternoon with partly cloudy skies. With the high well to the east by Friday night, temperatures will return to a near-seasonal low around 8 °C.
Long Range Outlook
A warmer air mass will push into Manitoba this weekend with highs potentially climbing into the 20s. We say potentially, though, because there's also a good chance that it will bring another batch of forest fire smoke from the western United States. If that smoke were to push into the region, it would likely limit temperatures to the mid-teens rather than seasonably warm low twenties. Cloudier conditions are likely on Sunday with a chance of showers late in the day and into the night.
Warmer conditions are possible well into next week, with the conditional that forest fire smoke could blanket the sky and hinder temperatures at times.
Today's seasonal daytime high in Winnipeg is 18 °C while the seasonal overnight low is 6 °C.