Temperatures will briefly warm up on Tuesday before the region transitions into a much cooler pattern.
The city will see mainly cloudy skies today with a seasonably cool high near 12 °C. Winnipeg itself won't likely see any showers, but lake-effect precipitation will be possible through much of the day in the lee of Lake Manitoba and Lake Winnipeg. Temperatures will dip to a low of only 9 °C tonight with a chance of showers as a warm front pushes through the region.
Tuesday will bring some warmer weather back to the region with a high near 18 °C in Winnipeg. There should be plenty of sun with partly cloudy skies after any lingering early-day cloud clears out. Temperatures will dip to a low near 7 °C on Tuesday night.
A cold front will usher a notable pattern change into the region on Wednesday. Cloud cover will push southwards into the Red River Valle in the morning, followed by a good chance of showers. Temperatures will climb back to a high near 12 °C. Skies will stay mostly cloudy into the night with a continued chance of showers. Temperatures will head to a low near +3 °C.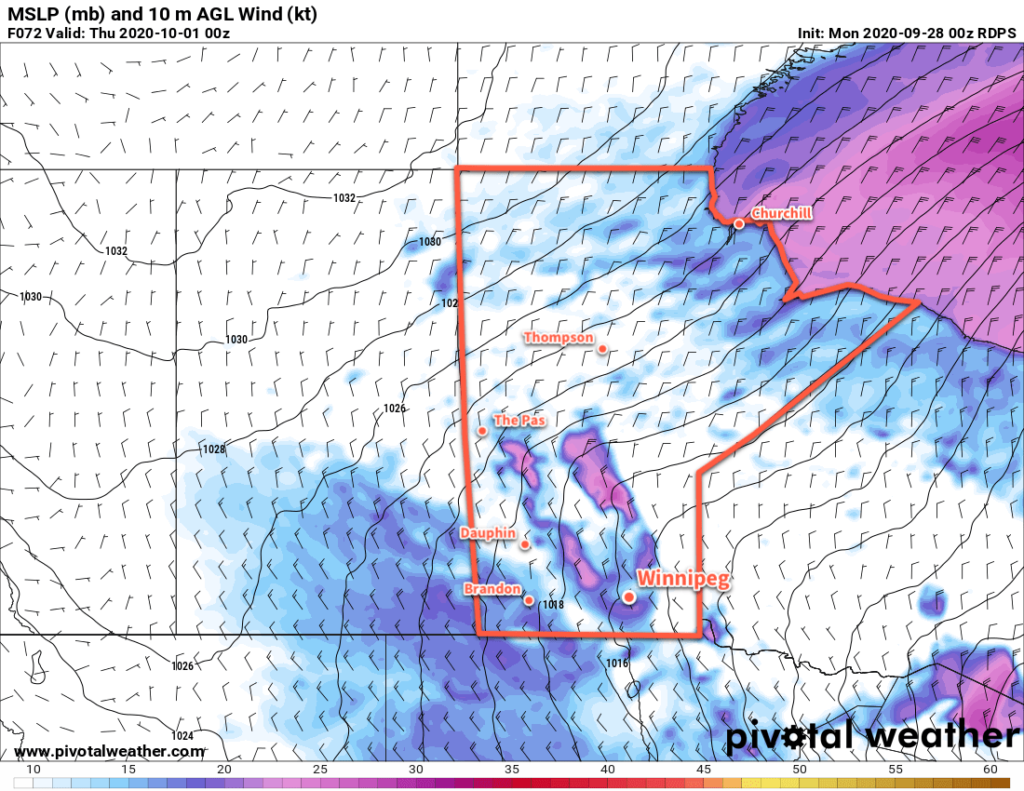 While Winnipeg will see varied conditions over the next 3 days, one thing will be constant: the wind. Each day will see northwest winds pick up in the morning into the 30–40 km/h range. While the winds may be a bit gusty today and tomorrow, Wednesday will bring the strongest winds with gusts of 60–70 km/h possible.
Long Range Outlook
The second half of the week will be quite cool with highs hovering close to 10 °C and overnight lows dipping to around or just below freezing. The city will see mixed to mostly cloudy skies right into the weekend. A return to seasonal temperatures is forecast for early next week.
Today's seasonal daytime high in Winnipeg is 15 °C while the seasonal overnight low is 4 °C.