A cold front plowing southwards today will usher significantly cooler fall conditions into southern Manitoba.
Winnipeg will see moderate northerly winds today that usher in a seasonably cool air mass that will stick around into the weekend. Under cloudy skies, Winnipeg will see winds strengthen to 40 gusting 60 km/h today in the wake of a cold front that moved through last night. The city will see a chance of showers in the morning, but a more organized area of light rain will move through with another cold front in the afternoon. Temperatures will reach a high of near 11 °C. The wind will persist out of the north through the night near 30 km/h with a low near +2 °C.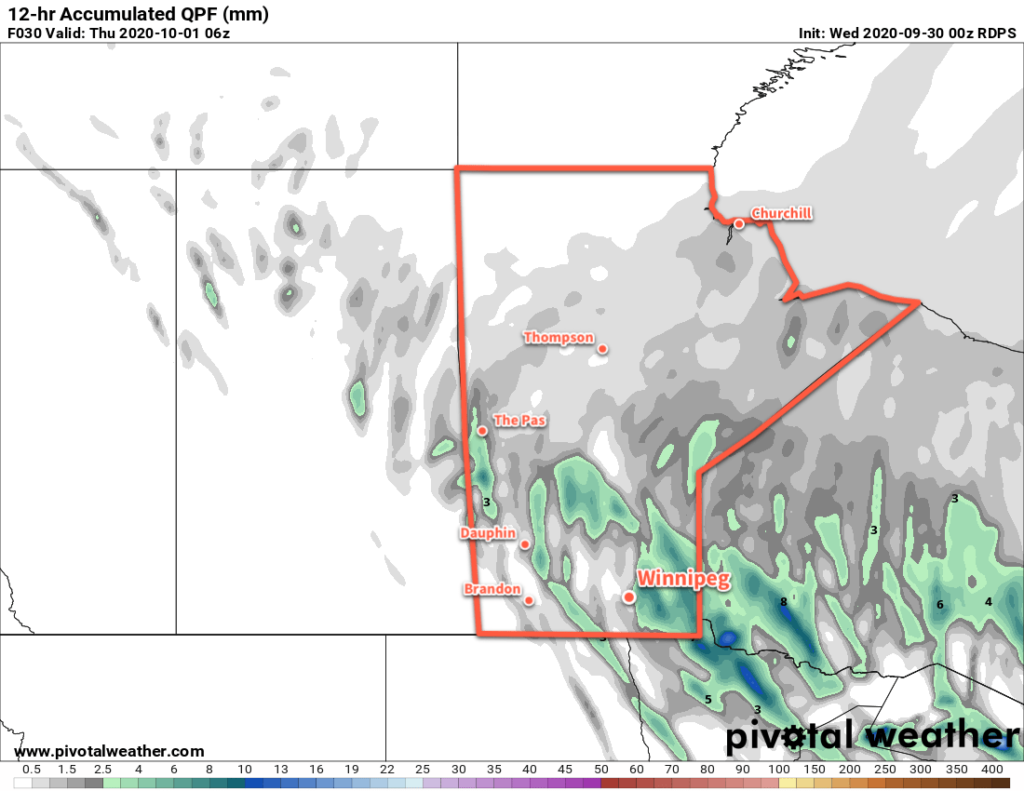 Thursday will bring skies on the cloudier side to the city with temperatures struggling to recover much. That northerly wind will gradually ease through the wind with a high near 8 °C. A few showers will be possible in the lee of the lakes. A high will move through on Thursday night, bringing light winds, partly cloudy skies, and lows dipping just below freezing.
On Friday, a low pressure system will slide southeast through Saskatchewan into the Dakotas. As it moves through, it will spread more cloud over southern Manitoba along with light southerly winds. Temperatures will be seasonably cool again with a high near 9 °C with more showers possible in the evening and overnight as a trough moves across the region. Temperatures will dip to a low near +2 °C on Friday night.
Long Range Outlook
Cool weather will persist into Saturday with some lingering lake-effect precipitation into the afternoon hours. A bit of clearing is forecast to move in on Saturday night, but more cloud returns Sunday as a warm front pushes across the province. This will bring warmer weather back to the region with highs in the mid-teens by Monday. This seasonably warm weather should stick around for much of next week.
Today's seasonal daytime high in Winnipeg is 15 °C while the seasonal overnight low is 3 °C.