Winnipeg's temperatures will continue above seasonal values as a Colorado Low pushes warmer air northwards. This storm system will bring blizzard conditions with 30 to 50 cm of snow across parts of southern Saskatchewan into central Manitoba as well as a swath of rain and freezing rain. Winnipeg will avoid the worst of it with comparatively pleasant conditions.
Today will mark the transition from the mild, dry Pacific flow of the past few days towards a developing Colorado Low. Winnipeg will see northerly winds in the 20–30 km/h range today. Those winds will keep things cooler with a high near 5 °C under mixed skies. The winds will ease a bit tonight as they shift to the east under cloudy skies. Temperatures should dip to a low near 0 °C.
On Saturday, the storm system will be gathering strength south of the border and supporting a blanket of cloud cover across southern Manitoba. Temperatures should reach a high near 7 °C with easterly winds at 15–25 km/h. The cloud cover and a push of warmer air from the Colorado Low will keep temperatures mild on Saturday night with a low near +3 °C.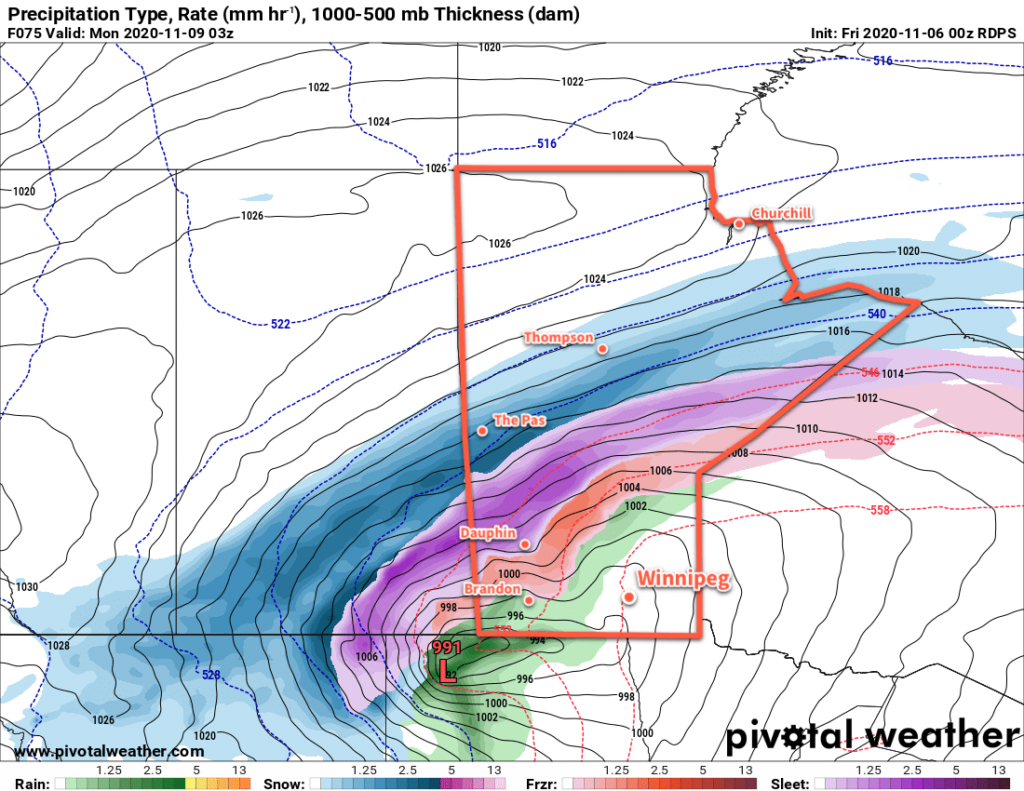 Sunday will start with a warm front pushing northwards through the Red River Valley. It will bring some drizzle or light rain as it moves through, with mild temperatures afterwards. Winnipeg should see a high near 12 °C but could end up ±2–3 °C depending on the exact low track. A cold front will sweep through on Sunday evening, bringing another chance of showers. Winds will sift to the west overnight as temperatures head to a low near -1 °C.
Long Range Outlook
Much cooler air will push into the region behind this system, triggering more lake-effect precipitation off the Manitoba Lakes on Monday. Winnipeg may end up seeing some flurries through the day as the winds gradually taper off. Things should settle down for Tuesday and the rest of the week, but highs will likely hover just below freezing.
The long-range forecast looks fairly dry with near-seasonal temperatures.
Today's seasonal daytime high in Winnipeg is 2 °C while the seasonal overnight low is -7 °C.