Winnipeg will see some more mild weather with some light snow moving through on Monday night into Tuesday.
Winnipeg will see seasonal conditions today as a weak upper ridge slides across the region. The city will see a few clouds today as temperatures climb to a high near -3 °C. The winds will pick up out of the southeast for the afternoon into the 20–30 km/h range. The southerlies will continue tonight as cloud and light snow moves into the region ahead of a low pressure system. This low will move northwards out of the Dakotas along a trough of low pressure moving towards the region tonight. The trickiest aspect to tonight's snowfall will be the sharp western edge which should fall somewhere over the western Red River Valley. Temperatures will drop to a low near -7 °C.
The snow will gradually taper off on Tuesday morning with easing winds as the trough of low pressure moves into the Red River Valley. Total snowfall amounts will sit in the 2–4 cm range for most areas that see snow. Temperatures will be mild with a high near 0 °C with a chance of seeing the sun poke out in the afternoon. Temperatures will drop to a low near -10 °C on Tuesday night with partly cloudy skies and light winds.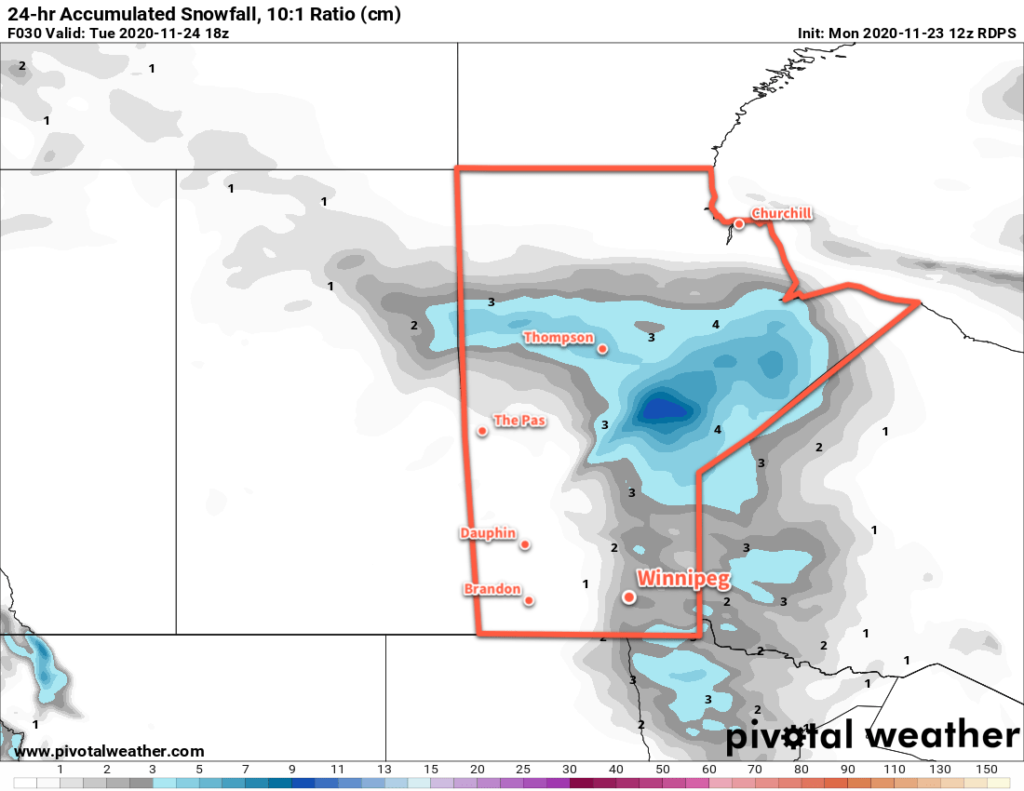 More cloud will spread into the region on Friday ahead of a low pressure system tracking across the northern Prairies. Seasonably mild temperatures will with a high near -2 °C in Winnipeg. Winds will pick up out of the south back into the 20–30 km/h range. Skies will stay cloudy on Wednesday night with a low near -4 °C. The winds will keep up through most of the night with a chance of some snow beginning towards Thursday morning.
Long Range Outlook
Any snow moving through on Wednesday night should taper off quickly on Thursday, followed some more pleasant late-November weather. Winnipeg should see daytime highs in the -3 to +1 range through the rest of the week with variable cloudiness. A potent winter low is forecast to cross the central Prairies on the weekend and may bring some snow to Winnipeg on Saturday night into Sunday along with a transition to seasonably cool conditions to end the weekend and start next week.
Today's seasonal daytime high in Winnipeg is -4 °C while the seasonal overnight low is -12 °C.