Winnipeg will continue to see seasonably mild conditions through the rest of the week. A low moving through the province will bring a chance of light snow to the Red River Valley tonight.
A low pressure complex crossing the Prairies will bring more mild weather to Winnipeg today. Southerly winds picking up into the 30–40 km/h range will accompany temperatures climbing to a high near +1 °C. The city should see partly cloudy skies with thicker cloud moving in for the evening. Temperatures will dip to a low near -4 °C tonight with the winds easing overnight and shift westwards. A chance of light snow will develop overnight as a weak cold front pushes into the Red River Valley.
The chance for snow will taper off Thursday morning with cloudy skies giving way to some afternoon sunny breaks. Temperatures will barely be cooler than today with a high near 0 °C. Skies will stay cloudy tomorrow evening into the night as shortwave moves into the region as it digs southwards into the upper trough. This will bring another chance of some light snow to Winnipeg on Thursday evening. Skies will clear out through the second half of the night with temperatures dipping to a low near -9 °C.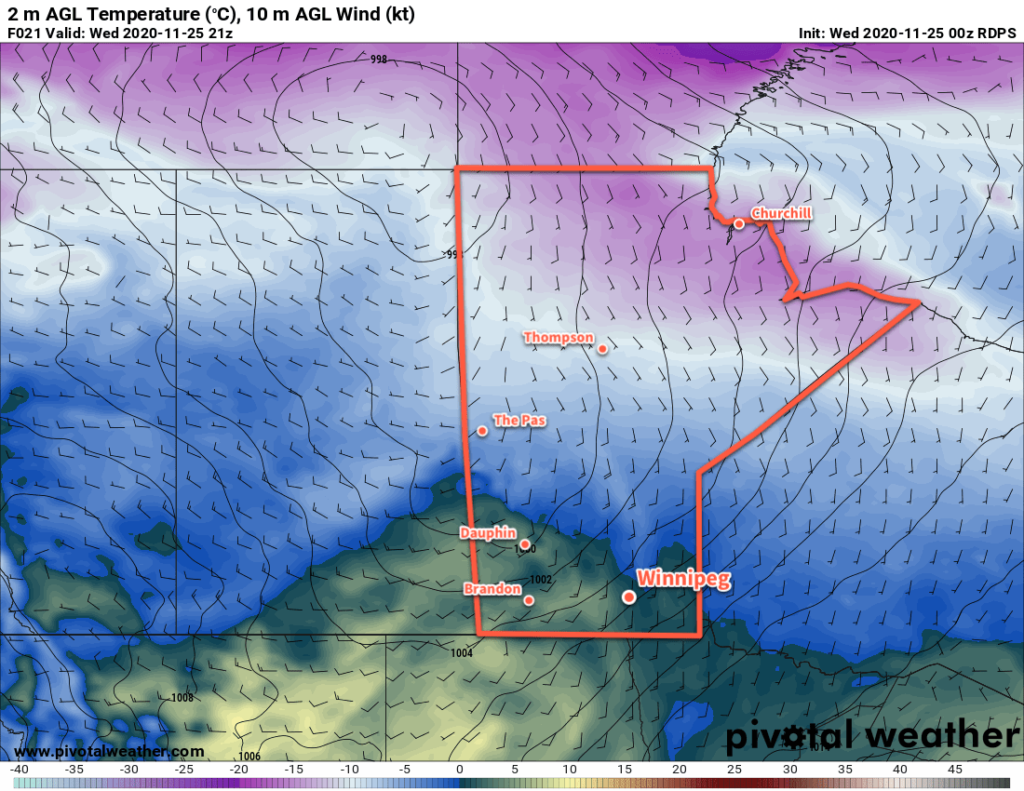 Friday will bring more warm weather rot the city as another warm front pushes across the Prairies. Winnipeg should see partly cloudy skies as winds pick up out of the south in the afternoon into the 30–40 km/h range. Temperatures will climb to a high near +1 °C again. The wind will ease as it shifts westerly on Friday night and temperatures head to a low near -6 °C.
Long Range Outlook
Mild weather will stick around for Saturday, then a cold front is forecast to sweep through the province on Friday night. It will bring another chance of snow with it, then cooler temperatures will move into the region for Sunday and Monday. After that, it looks like Winnipeg will see a return to near-seasonal temperatures.afar
Today's seasonal daytime high in Winnipeg is -5 °C while the seasonal overnight low is -13 °C.