Temperatures will continue to stay well above seasonal averages as Winnipeg's mild winter continues.
A series of low pressure systems will move across the province over the coming days, bringing mild temperatures with them. The first one moved into the province overnight, bringing temperatures up to -2 °C with moderate southerly winds. The city will see some light snow first thing this morning as the winds taper off. A cold front will pass later this morning, bringing brisk northwest winds up to 40 gusting 60 km/h as skies clear. These winds will usher in colder air and send temperatures falling through the afternoon to around -10 °C. The winds will drop off this evening with temperatures falling to a low near -19 °C.
On Saturday, the city will see increasing cloudiness with strengthening southerly winds as the next low approaches. Temperatures will climb to a high near -5 °C with southerly winds in the 30–40 km/h range. The winds will ease on Saturday evening with some of the cloud cover breaking up. Temperatures will head to a low near -14 °C with some northwest winds picking up to 30 km/h as a cold front sweeps through. A few flurries will be possible along the cold front as it moves through.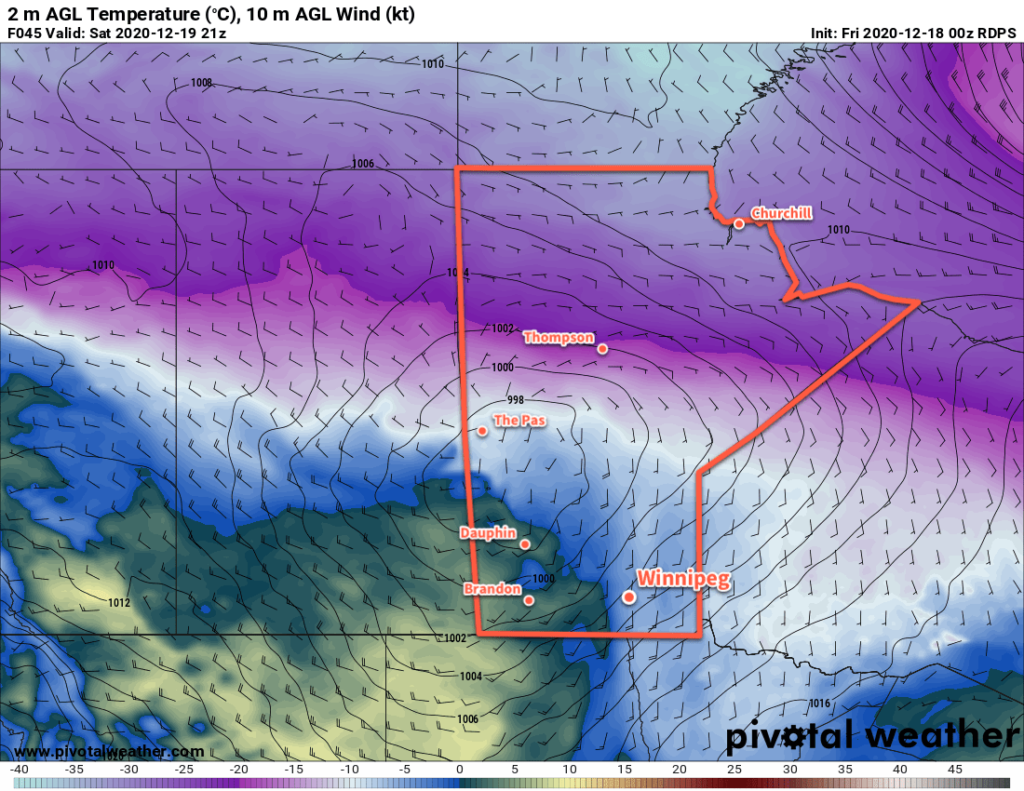 Warmer air will once again build back into the region on Sunday as the next low begins developing over Alberta. Skies will cloud over through the day with light snow likely Sunday night as the low moves through. The city will see a seasonably mild high near -4 °C and temperatures steady near -5 °C overnight.
Long Range Outlook
Next week will start off with more mild weather with highs near -5 °C and overnight lows in the -10 to -20 °C range. Some more snow is likely on Tuesday, followed by a potent cold front that will send Arctic air southwards. Winnipeg could see a mid-week cold snap with highs in the -15 to -20 °C range followed by a moderation back to milder conditions for the end fo the week.
Today's seasonal daytime high in Winnipeg is -11 °C while the seasonal overnight low is -20 °C.