Hot on the heels of the first significant dump of snow Winnipeg has seen this winter, a winter storm will move through on Tuesday bringing more snow followed by bitter cold.
The lingering snow in Winnipeg will taper off early this morning, bringing an end to the first significant snowfall of the season. Between 10 and 15 cm of snow fell across the city overnight. The city will see cloudy skies through the day with temperatures climbing to a high near -8 °C. The brisk northerly winds in place this morning will taper off for the afternoon. The cloud cover should push off to the east tonight, leaving partly cloudy skies as temperatures head to a low near -13 °C.
Winnipeg's set to see a notable winter storm beginning Tuesday. A potent clipper system will track across the Prairies, spreading heavy snow along the Trans-Canada corridor in Saskatchewan Monday night and across Manitoba on Tuesday. The snow will begin mid-morning in Winnipeg and continue right through Tuesday night. The city could see up to 20 cm of snow from this storm by Wednesday morning.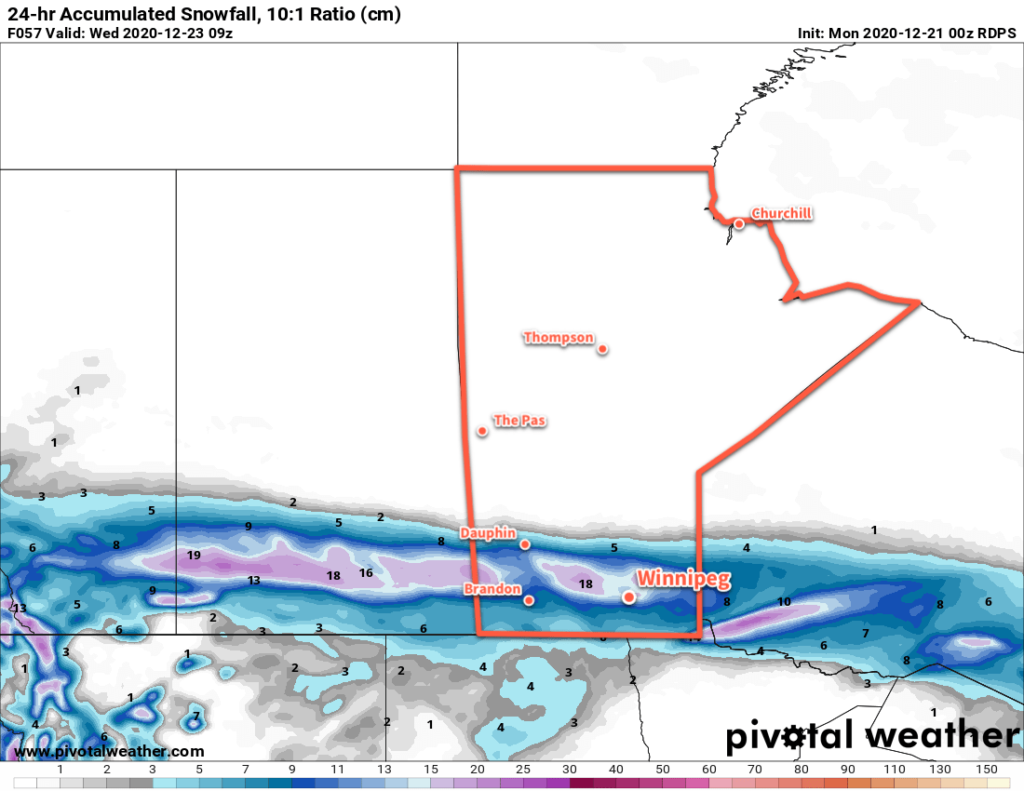 While the snow alone will produce inclement conditions through the day, it will get worse heading into the evening. Northerly winds will strengthen into the 30–40 km/h range. Blowing snow will develop across the region and persist through the night into Wednesday morning before tapering off. The combination of snow and blowing snow will likely produce periods of poor visibility on area highways on Tuesday night.
This storm system will push mild temperatures into the region with a high near -3 °C on Tuesday. Behind it, Arctic air will begin surging southwards. The city will see a low near -18 °C by early Wednesday morning.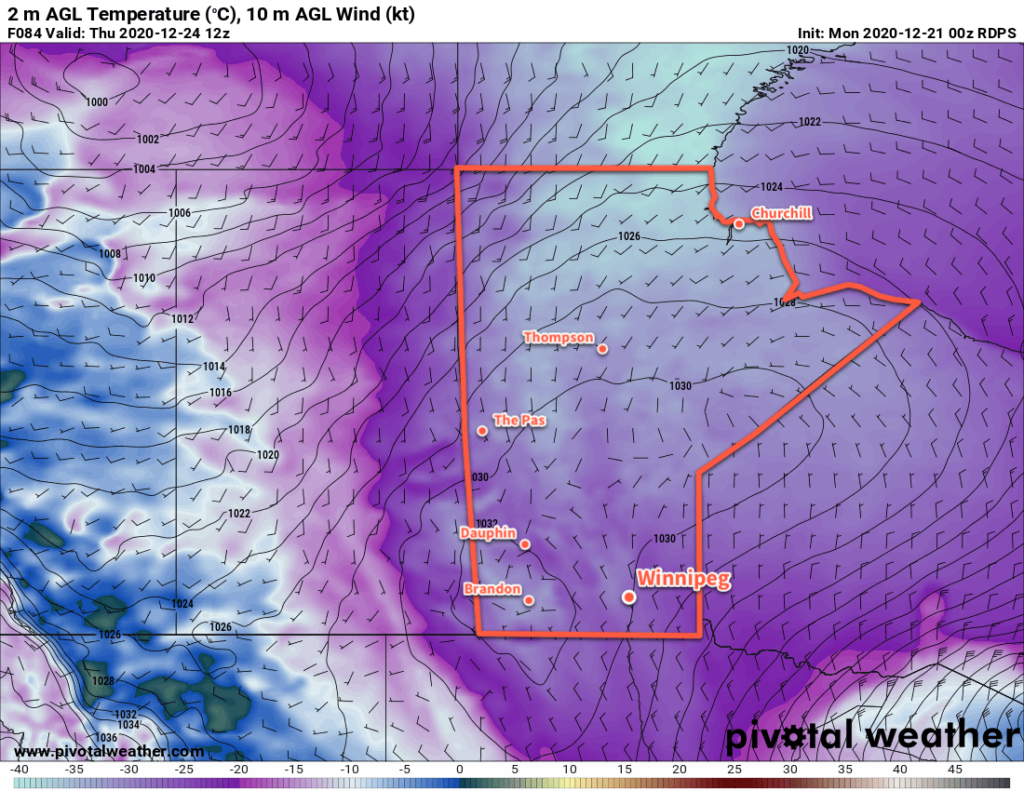 The winds will gradually ease in Winnipeg on Wednesday with clearing skies. Arctic air will continue to push southwards through the day with temperatures falling to -21 °C by the end of the day. Between the cold air pushing into the region and the 20–30 cm of snow likely to be on the ground at the time, temperatures will plummet on Wednesday night to a low near -28 °C with clear skies.
Long Range Outlook
The cold weather will last through Thursday, but by Friday more seasonal temperatures are forecast to return to the region. No significant snow events are in the forecast through the weekend.
Today's seasonal daytime high in Winnipeg is -11 °C while the seasonal overnight low is -22 °C.