Temperatures will plummet in Winnipeg this weekend as bitterly cold Arctic air pushes across the Prairies.
Temperatures are all downhill from here as some of the coldest air on the continent begins moving into Manitoba. Extreme cold will develop over southern Manitoba in the coming days as daytime highs fall from -16 °C today to -26 °C by Sunday. Overnight lows will likewise plummet, dipping into the mid-minus 30s.
Extreme cold warnings from ECCC are a sure bet; widespread wind chills of -40 to -50 will develop over the southern Prairies this weekend. In the far northern Prairies, wind chill values may even drop into the -55 to -60 range by Sunday morning. This will be a brutally cold stretch of weather, bringing the coldest temperatures of the season so far to many parts of the Prairies.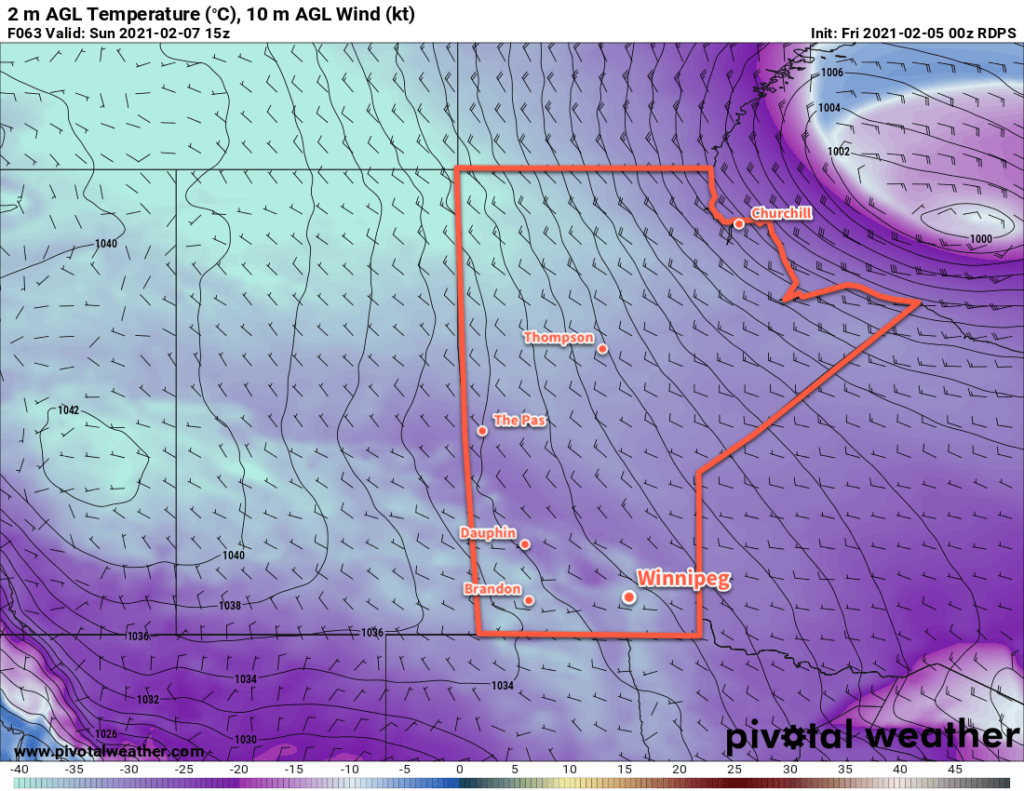 As far as the other elements of the weather go, things will trend sunnier and calmer. Winnipeg will see mixed skies today with a good chance of a few flurries. Skies will gradually clear out tonight and tomorrow, leaving mainly sunny skies for Sunday. Northwest winds will persist in Winnipeg, easing from 30–40 km/h today into the 20–30 km/h range tomorrow. Winds will be light out of the west on Sunday.
Long Range Outlook
These brutally cold temperatures are the result of the Polar Vortex; a lobe has decoupled from the main vortex over the poles and will settle over Manitoba and parts of Northwestern Manitoba. Unfortunately, it means that improvement will be slow to come. The coldest temperatures will be this weekend into early next week, followed by a slight moderation for the rest of the week.
Through next week, temperatures will likely stay 5 to 10 °C below seasonal values with some cloudier conditions possible. A return to near-seasonal conditions will be possible the week after next.
Today's seasonal daytime high in Winnipeg is -10 °C while the seasonal overnight low is -21 °C.