After one more mild day, a cold front moving through Wednesday night will usher in a prolonged outbreak of bitterly cold air. Winnipeg will likely see the coldest temperatures of the season over the coming week.
Temperatures will climb back towards the freezing point today as a brisk southerly wind pushes mild air into the region. Skies should stay mostly cloudy as temperatures climb to a high near -2 °C. Southerly winds near 30 gusting 50 km/h this morning will ease to light this afternoon as a low pressure centre moves across southern Manitoba.
As the low passes, colder air will begin to move into the region. Snow will come with it, beginning in Winnipeg sometime early this evening. Shortly after the snow, moderate northwest winds of 30–40 km/h will push into the region. Snow and local blowing snow will persist through the night as temperatures drop to a low near -14 °C. Winnipeg and the Red River Valley will likely see 5–10 cm of snow with higher amounts of 10–15 cm across the Interlake.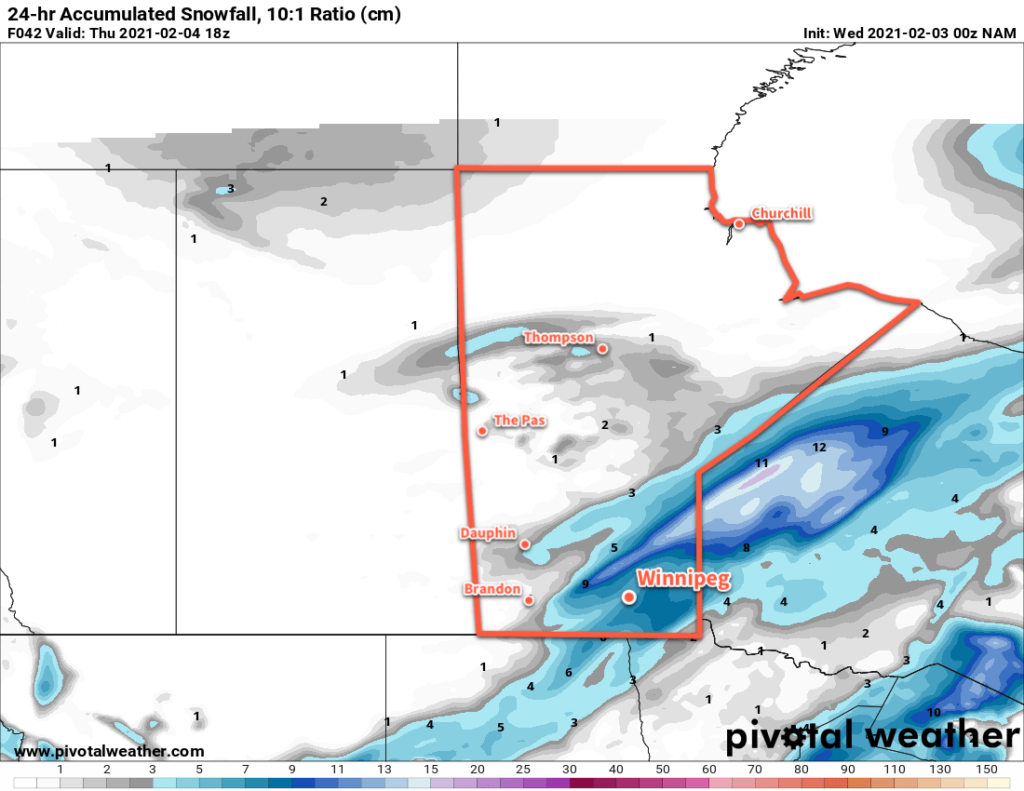 Moderate northwest winds near 40 gusting 60 km/h will mark Thursday along with mostly cloudy skies. Flurries may linger through the morning before tapering off in the afternoon. Temperatures will be near-seasonal with a high around -13 °C. The winds will ease into the 20–30 km/h range on Thursday night with a low near -21 °C. Skies will stay mostly cloudy on Thursday night.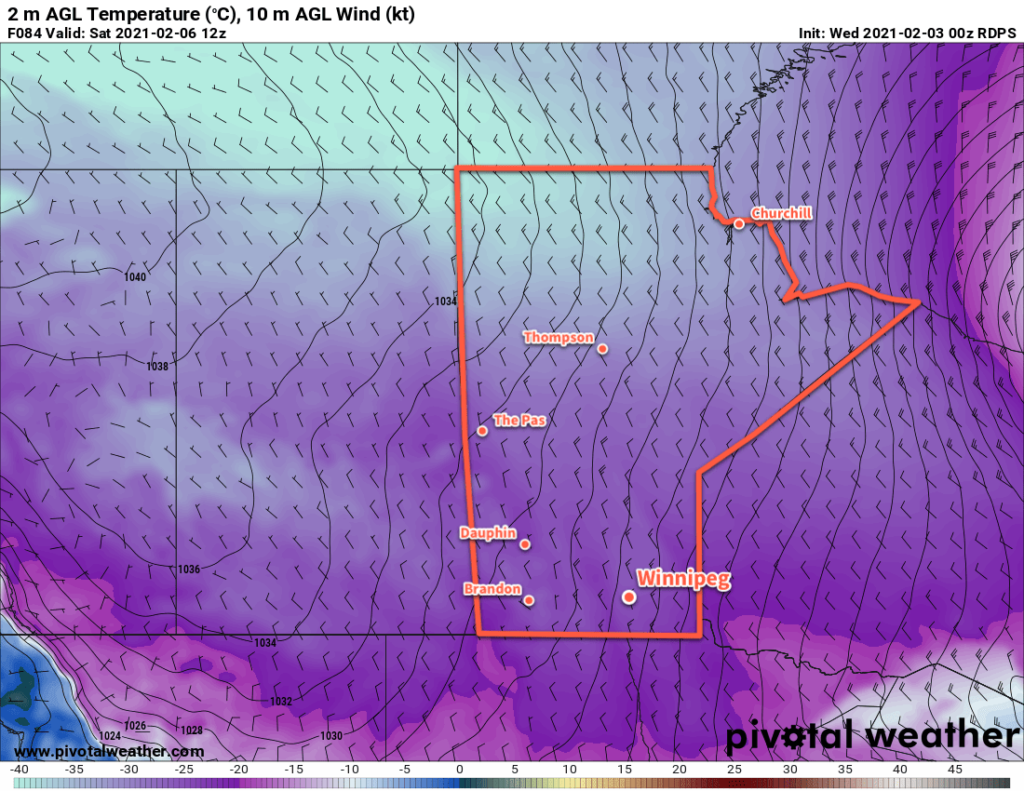 The winds will pick back up into the 30–40 km/h range on Friday with highs near -17 °C. The cloud cover should finally start breaking up and give mixed skies to the region. Winnipeg will see partly cloudy skies on Friday night with a low near -29 °C and northwest winds near 20 km/h.
Long Range Outlook
A potent Arctic high will build into the Prairies this weekend and stall out over the region next week. This will bring a period of brutally cold temperatures with daytime highs in the mid-minus twenties and overnight lows into the mid-minus thirties. Wind chill values into the mid-minus 40s are likely. The coldest weather looks to be Saturday through Monday, but temperatures will continue to be below seasonal through the rest of the week.
Today's seasonal daytime high in Winnipeg is -10 °C while the seasonal overnight low is -21 °C.