Winnipeg will wake to snowier conditions on Friday morning, but seasonably mild temperatures will continue through the weekend.
A windy start to the day will bring a brief shot of snow and rain across the Red River Valley. A low pressure system moving through will support a narrow band of moderately intense rain and snow. This will leave a white blanket across many areas this morning. Moderate southerly winds of 40 gusting 60 km/h will accompany the precipitation. The rain and snow will come to an end early in the morning in Winnipeg, followed by easing winds midday. Temperatures will climb to a high near 6 °C with winds picking up out of the northwest to around 20 km/h later in the day. Skies will clear out for the evening with temperatures heading to a low near -5 °C.
Saturday will bring partly cloudy skies to the city as a ridge builds into the province. Temperatures will climb to a high near 6 °C again with northwest winds of 15–25 km/h. Temperatures will head to a low near -7 °C on Saturday night with a few clouds and light winds.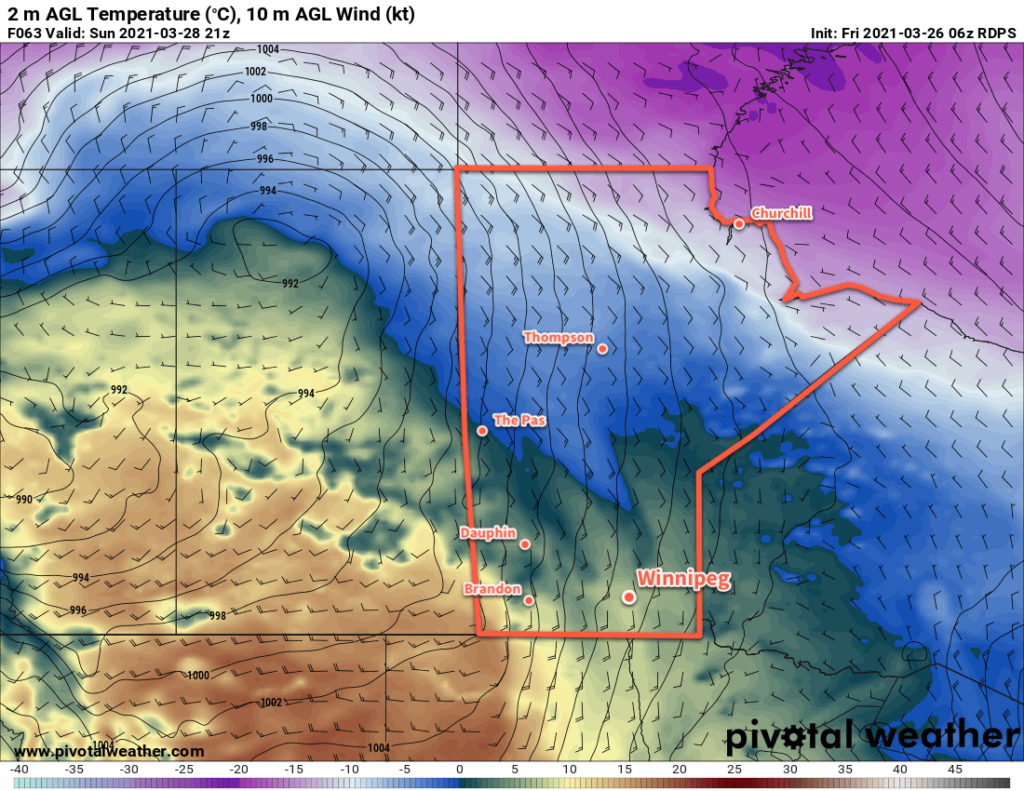 On Sunday, the ridge will begin moving out of the province while a strong low begins developing over the western Prairies. This will bring increasing cloud to the region through the day with southeasterly winds strengthening into the 30–40 km/h range. Temperatures will climb to a high near 5 °C with a slight chance of late-day showers as a warm front pushes through. Skies will stay cloudier on Sunday night with a low near +2 °C and breezy southerlies.
Long Range Outlook
The Red River Valley will move into the warm sector of the low crossing the Prairies on Monday and see warm temperatures. Winnipeg will likely see a high in the mid-teens, with getting close to 20 °C a possibility. Unfortunately, with strong surges of warmth come strong cold pushes, and a sharp cold front will follow for Tuesday. Temperatures will plummet to below-seasonal highs in the 0 to -5 °C range for Tuesday and Wednesday.
Following that, a more sustained warm-up is forecast with highs regularly climbing into the mid- to upper-teens for the later portions of the week.
Today's seasonal daytime high in Winnipeg is 3 °C while the seasonal overnight low is -7 °C.