A potent spring storm moving through the region will send temperatures soaring on Monday. As quickly as they climb, though, a potent cold front will bring strong winds that send them crashing down.
A strong spring storm will move across southern Manitoba today. This storm will bring heavy snow and blowing snow to the Parkland, Interlake and central Manitoba. Over southern Manitoba, things will stay a bit drier. Most areas along and south of the Trans-Canada Highway will stay dry through the day today. For these areas, including Winnipeg, the story will be the wild swings in temperature and the strong winds that will move into the region.
For Winnipeg, today will start off with moderate southerly winds near 30 gusting 50 km/h. With mixed skies through the day, the temperature will climb to a beautiful 17 °C with winds easing a bit in the afternoon. Conditions will quickly change later in the afternoon, though, as the first of a pair of cold fronts pushes through the region. Winds will strengthen out of the west-southwest into the 40–50 km/h range late in the day with increasing cloud. Temperatures will quickly fall through the evening, reaching freezing by 10 or 11 PM.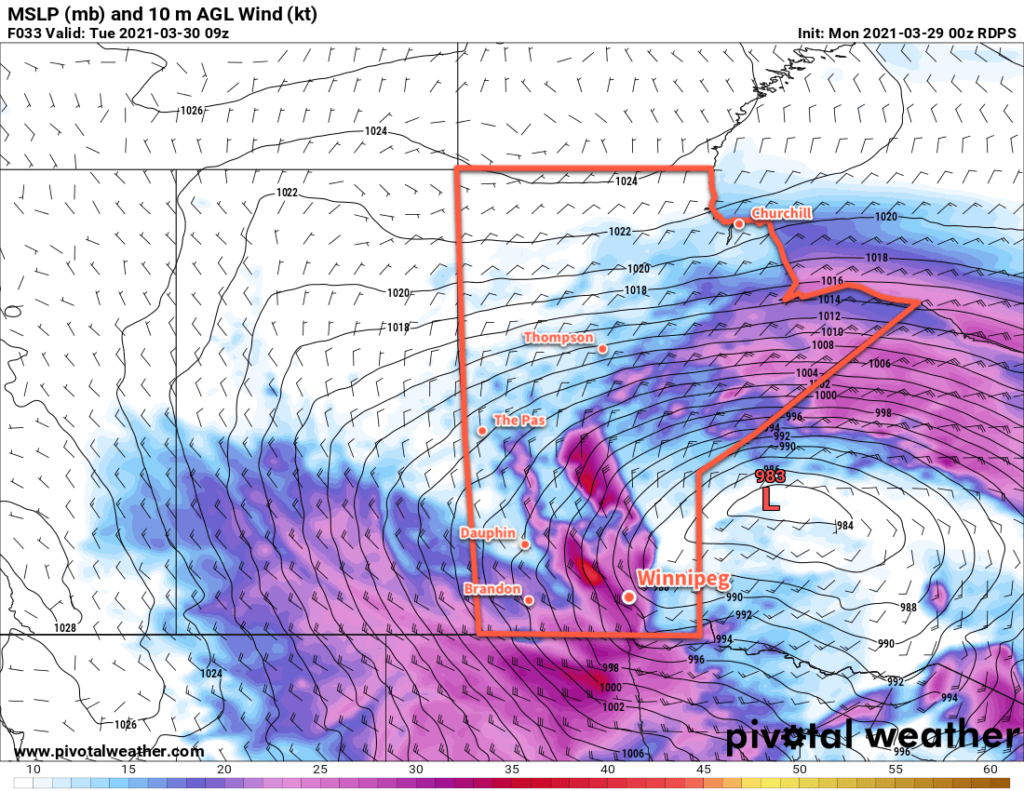 A second cold front will sweep through overnight, shifting the winds to the northwest and strengthening even further into the 50–60 km/h range. This second front will bring some light snow across southern Manitoba with it. Temperatures will continue to fall to a low near -9 °C by Tuesday morning, a whopping 26 °C drop from Monday's forecast high.
Moderate northwest winds will continue across the Red River Valley on Tuesday near 40 gusting 60 km/h. Much of the day will be cloudy with light snow gradually tapering off. It will be a seasonably cold day with a high in Winnipeg near -6 °C. Skies will clear overnight as a ridge pushes into the region with winds gradually easing and a cold low near -14 °C.
Wednesday will be a cool and sunny day as a ridge moves across the region. Winnipeg will see a high near the freezing mark with light winds. Warmer air will begin moving in on Wednesday night with a low near -5 °C.
Long Range Outlook
Upper ridging will build across the Prairies for the latter half of the week and the weekend. This will bring generally sunny conditions and mild temperatures. Winnipeg will likely see daytime highs around the mid-teens beginning Thursday and persisting into next week. A large upper trough moving onshore to start next week may bring cloudier conditions to the region with a chance of rain.
Today's seasonal daytime high in Winnipeg is 4 °C while the seasonal overnight low is -7 °C.