Winnipeg will see temperatures gradually cool through the rest of the week with a chance for a few showers across the region on Friday.
Winnipeg's weather over the coming days will be increasingly influenced by a slow-moving low pressure system in the United States. This low, over the Central Plains this morning, will gradually trundle northwards into Minnesota and Wisconsin by Friday. As it moves north, cloud cover will creep northwestwards and cooler temperatures will shift into the Red River Valley.
Winnipeg will see partly cloudy skies today with a weak ridge over the region. The city will see a high near 17 °C with a north breeze picking up this afternoon to 20–30 km/h. Skies will stay partly cloudy tonight with light winds and a low near +2 °C.
That weak ridge will stay in place over southern Manitoba for Thursday. On its flanks, a low over Saskatchewan will lift sharply northwards into Nunavut while to the southeast, the American low slowly lifts through Iowa. Winnipeg will see mixed skies with a high near 13 °C. Winds should be out of the northeast at around 20 km/h for much of the day. The ridge will leave overnight as a trough connecting the Nunavut low and the American low moves into the Province. Temperatures will head to a low near +3 °C with increasing cloudiness and a chance of rain showers.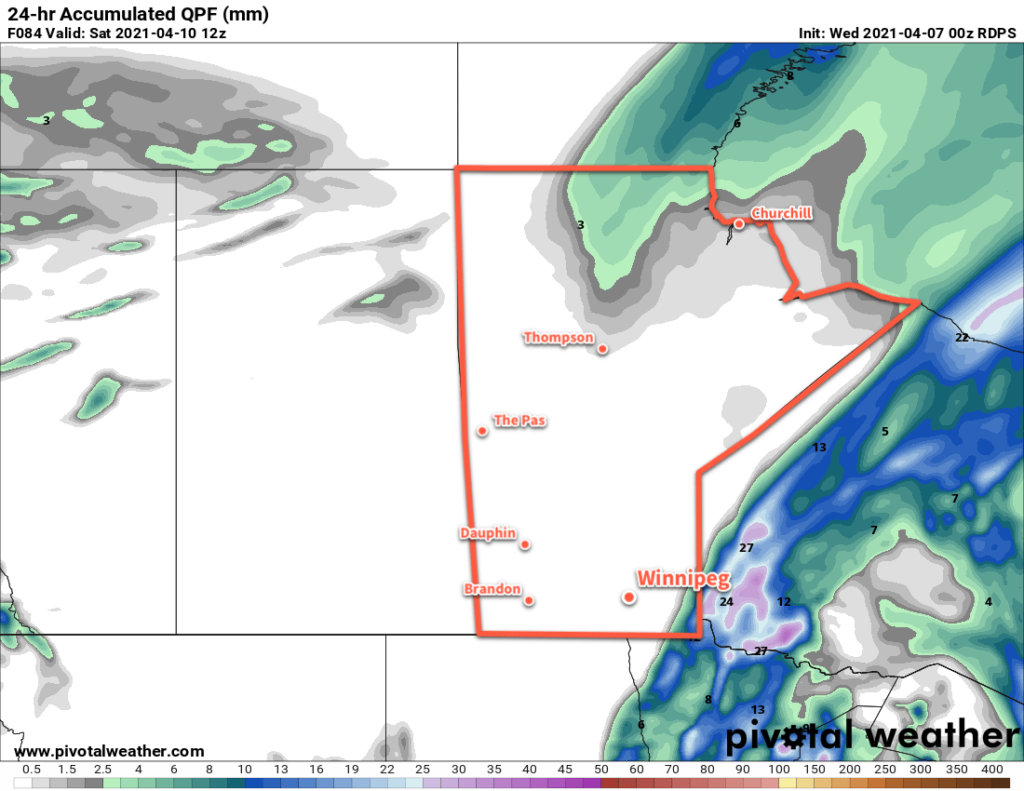 On Friday, a sharp deformation zone will set up along a north-south line near the Red River Valley. To the east of this feature, showers will stream from Minnesota northwards towards Lake Winnipeg. To the west, it will stay dry. While the region will see a mostly cloudy day, the chance of rain will be highly sensitive to the exact location of this feature. While rain is likely over southeastern Manitoba, that chance becomes significantly more conditional in the Red River Valley. There will be a breezy north-northwest wind through the day around 30 km/h keeping highs cooler at around 9 °C.
The clouds will begin to break up Friday night as the system begins pushing off to the east. The winds will ease as temperatures head to a low near -1 °C.
Long Range Outlook
The region should see quiet weather for much of the weekend with variable cloudiness and highs of 10–15 °C. By Sunday night, forecasts show a clipper system moving out of southern Alberta and phasing with a low over eastern North America. This will produce the chance for the first significant precipitation event over southern Manitoba in some time. There is significant uncertainty right now, but forecasts suggest a windy winter storm will move through the region on Monday and Tuesday with potentially 10–15 cm of snow.
Temperatures are forecast to hover near or slightly above the freezing mark with this system, so it's unlikely that much snow would accumulate, as it will compact and melt through the days. The potential exists for a bit of an unpleasant start to next week, but many would welcome the moisture that the storm may provide.
Today's seasonal daytime high in Winnipeg is 7 °C while the seasonal overnight low is -4 °C.