Winnipeg will see warm weather continue this week with variable cloudiness over the coming days.
The city will see a mild start to the day with temperatures quickly warming to the high near 14 °C through the morning. By midday, a cold front will begin to sweep across the Red River Valley. This will bring increasing cloudiness and a low chance of rain showers as it passes. Behind the front, moderate northwest winds of 30–40 km/h will push into the Red River Vally for the afternoon with temperatures cooling slightly. The cloud cover will push out later in the day as an area of high pressure builds into the region. Winnipeg will see temperatures dip to a low near -2 °C tonight under clear skies and light north winds.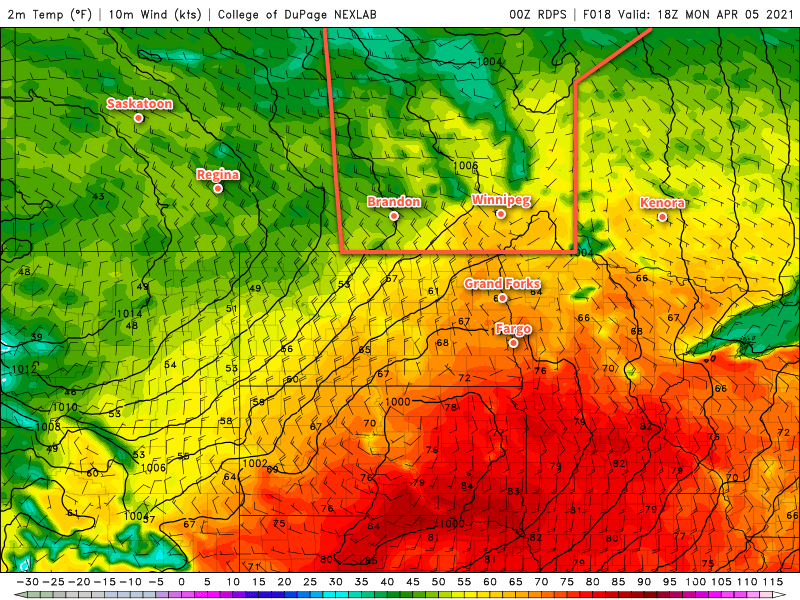 On Tuesday, a broad area of high pressure will work across the region. Temperatures will still stay mild as the strengthening April sun warms the snow-free ground in Winnipeg and the Red River Valley. The city should see a high near 13 °C with light north winds. The high will also keep skies sunny right through the day. Skies will stay clear on Tuesday night with a low near the freezing mark.
On Wednesday, a pair of low pressure systems will begin to impact the region. The first will be over the United States and will spread cloud and precipitation across southeastern Manitoba into northwestern Ontario. This system will stay southeast of Winnipeg and area, only spreading some partly cloudy skies this far west or north. Winnipeg will see a high temperature near 16°C (or perhaps a degree or two cooler if it ends up cloudier). The second low will begin pushing into Saskatchewan through the day and start building warmer weather into the region. This low will spread some cloud cover into the region overnight as temperatures head to a low near +2 °C.
Long Range Outlook
A more unsettled pattern will develop for the second half of the week, bringing cloudier conditions to Winnipeg. There is little agreement on the overall pattern progression, though, and whether or not the region will see any rain is still a big question. There will the potential for a few rain showers, but no particularly notable rainfall amounts are in the forecasts with only a few mm possible here and there. Temperatures will slowly ease back towards seasonal values into next week.
Today's seasonal daytime high in Winnipeg is 7 °C while the seasonal overnight low is -5 °C.