Temperatures will stay seasonably cool in Winnipeg over the coming days as the snow cover gradually melts.
Skies will gradually clear in Winnipeg today as a weak cold trough moves out of the region. Winds will pick up out of the northwest to around 20 km/h with a high near 7 °C. The city will see partly cloudy skies tonight with a low near -5 °C.
Saturday will be a beautiful day in Winnipeg as a weak ridge of high pressure moves through. Temperatures will climb to a high near 12 °C under partly cloudy skies with light winds. The next system to impact the region will begin moving in on Saturday night: a cold front slumping southwards. As it moves in overnight, skies will cloud over winds winds picking up out of the north to around 20 km/h. Temperatures will dip to a low near +1 °C.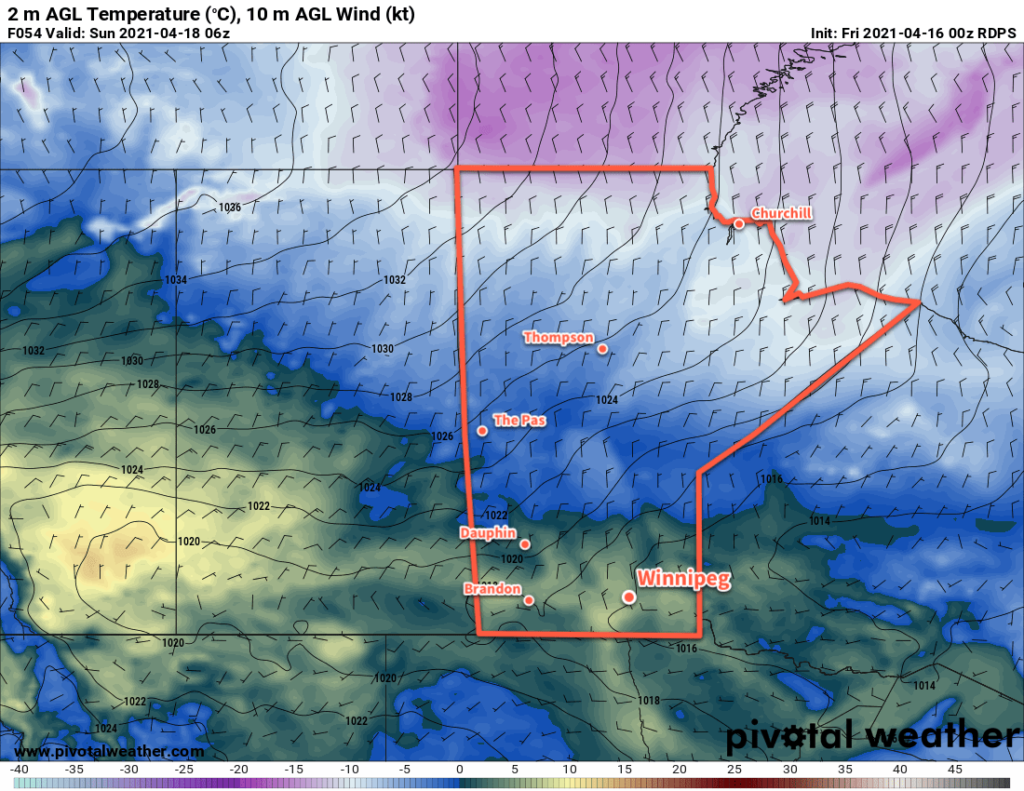 Sunday will start with some light snow moving through the region as the cold front passes. Temperatures will hover around +1 °C in the morning, helping keep accumulations to around 2 cm in the Winnipeg area. The snow will taper off a bit later in the morning, leaving mostly cloudy skies behind. Temperatures will climb to a high around +3 °C in the afternoon with a north wind of 30–40 km/h making things a bit unpleasant. The cloud cover will break up on Sunday night as a colder air mass moves over the province. Winds will ease to around 20 km/h with a low near -6 °C.
Long Range Outlook
The first half of next week should bring plenty of sun to Winnipeg as an upper ridge builds across the Prairies. Temperatures will start cool, but climb towards seasonal values mid-week. A few showers or flurries may be possible in the early part of the week as the cold air mass combines with strengthening April sunshine, generating some instability. By the end of the week, a more organized system is likely to move through the region. An upper vortex is forecast to slump into the Prairies from the Arctic; this could bring some more precipitation into the region for the end of the week.
Today's seasonal daytime high in Winnipeg is 11 °C while the seasonal overnight low is -1 °C.