Temperatures will warm in Winnipeg over the coming days as milder air spread across the southern Prairies.
A strong upper-level flow will keep plenty of cloud cover over Winnipeg today. The cloudy conditions will keep things a bit cooler with a high near 12 °C. Winds will stay light out of the southeast through the day. The cloud will move out of the region tonight, leaving clear skies by Tuesday morning with a low near + 3°C.
On Tuesday, a dry trough of low pressure will move in, bringing with it a push of warmer air. Highs will climb into the upper teens under sunny skies with light winds. The cooler air will encroach on the region Tuesday night with temperatures dipping back to a low near +2 °C.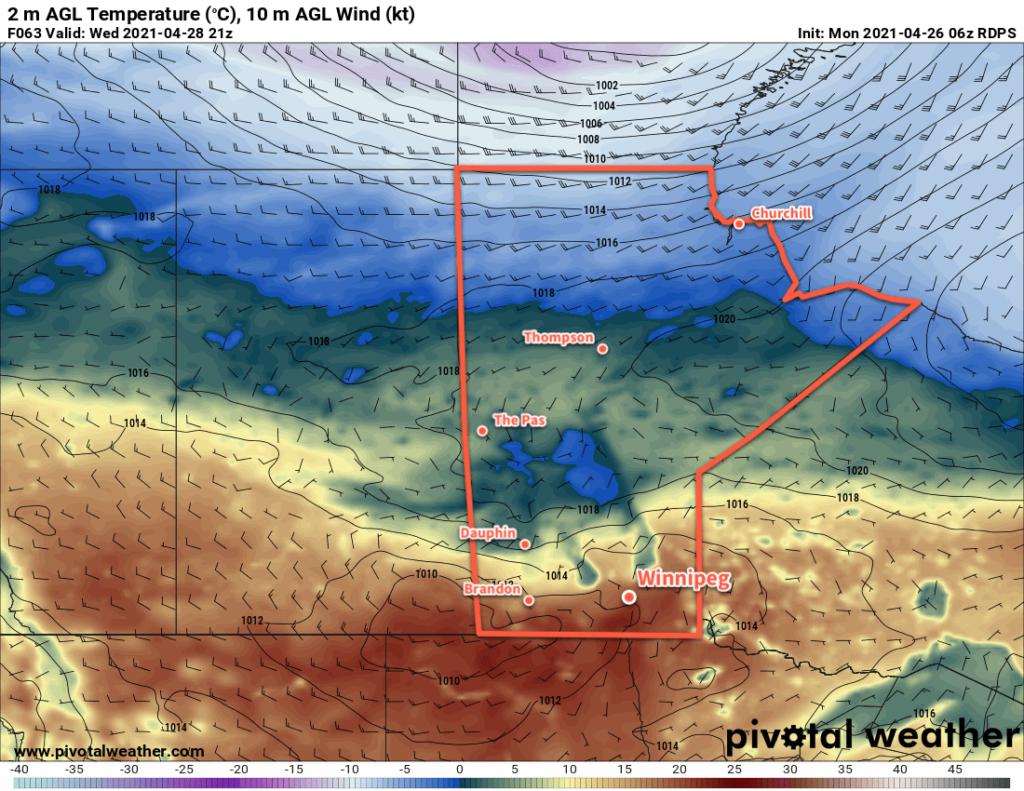 The cooler weather will be temporarily pushed northwards on Wednesday as a compact low pushes into the region from Saskatchewan. Winds will increase out of the south into the 20–30 km/h range with temperatures climbing close to 20 °C. The day will start off sunny, but the cloud will build into the region through the afternoon. The one caveat to highs will be that this system stays far enough north to bring a southerly flow to Winnipeg. If it slumps further south and Winnipeg's winds stay light or northerly, then temperatures will likely only reach the low teens.
A cold front will sweep through on Wednesday night, bringing breezy northerly winds, cloudy skies, and a chance of showers or flurries. Temperatures will head to a low near the freezing mark.
Long Range Outlook
A ridge of high pressure will bring near-seasonal temperatures to the region on Thursday and Friday. Heading into the weekend, warmer weather is forecast to return, shifting the general weather pattern into seasonal mildness. Daytime highs right into next week are forecast to generally sit in the 15–20 °C range with overnight lows of 4–8 °C. The region should see plenty of sun, but a couple passing systems may bring some showers to the region later in the weekend into the beginning of next week.
Today's seasonal daytime high in Winnipeg is 15 °C while the seasonal overnight low is 2 °C.