A broad pattern change will bring Winnipeg milder spring conditions through the next week.
While today won't be quite as beautiful as Tuesday was, the city will enjoy a great start to the day. Under mixed skies temperatures will quickly climb to a high near 15 °C with light winds. Winnipeg will find itself close to a SW–NE frontal boundary that will slide eastwards in the afternoon. By late-afternoon, moderate northerly winds of 30–40 km/h will push cooler temperatures into the region. The frontal passage will bring cloudier skies with a few showers late in the day into the evening hours.
Cooler temperatures will push in overnight with diminishing winds. Skies will clear out with a low near -3 °C.
The cool temperatures won't stick around, though. On Thursday, temperatures will quickly rebound back to a high near 12 °C. The city will see plenty of sunshine with partly cloudy skies and winds will be light much of the day. Northwest winds will pick up to around 20 km/h this evening as an area of high pressure moves in. Temperatures will dip to a low near -1 °C overnight with clear skies.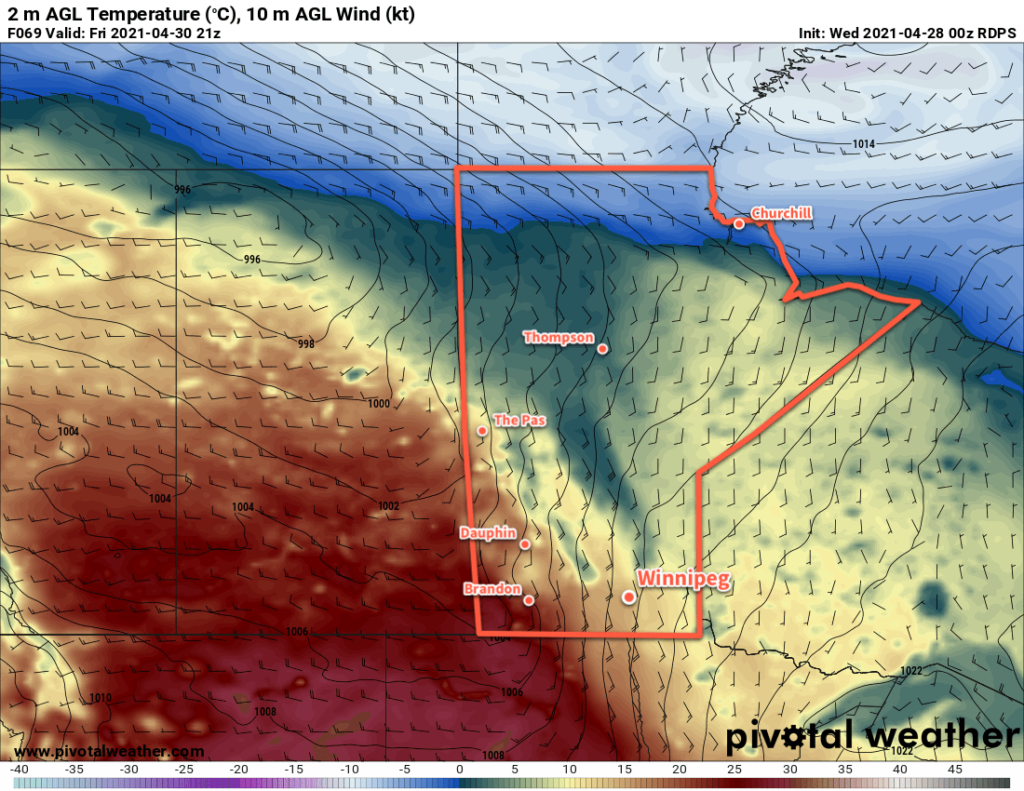 Friday will start off sunny, but an approaching warm front will bring clouds for the afternoon. Temperatures will climb quickly through the morning to a high near 16 °C. Southerly winds ahead of the front will strengthen into the 30–40 km/h range for the afternoon. This warm front will support some rain as it pushes east, but it will stay well north of the Red River Valley. The rain is forecast mainly for central and northern Manitoba and it should stay dry this far south.
The clouds will break up on Friday night with gradually easing winds and a mild low near 6 °C.
Long Range Outlook
Winnipeg's weekend looks great with plenty of sunshine and highs in the mid- to upper-teens. The seasonal temperatures will continue into the start of next week, but a few disturbances moving through on Tuesday/Wednesday are forecast to bring more cloud and a chance of showers to the region.
Today's seasonal daytime high in Winnipeg is 15 °C while the seasonal overnight low is 2 °C.