Winnipeg will see relief from the heat this week as an Arctic high brings slightly below seasonal temperatures to the region.
A series of cold fronts sweeping through the province over the last 24 hours are ushering in cooler temperatures from the north, bringing an end to the intense heat that's been in place over the region. This cooler air mass will be brought by a sprawling Arctic high building into the Prairies.
Winnipeg will see a seasonably warm day today with a high near 26 °C under mainly sunny skies. Winds will pick up out of the north into the 30–40 km/h range for the afternoon. The clouds will thicken up heading into the evening as an upper-level disturbance pushes into the region. Another cold front will push through at the surface tonight, keeping winds up at around 20 km/h. This upper-level disturbance will bring a chance of rain to the city, but the cold front will likely shunt everything southwards a bit. It's likely that the rain moving through will just glance Winnipeg, or move completely south of the city. Temperatures will head to a low near 11 °C.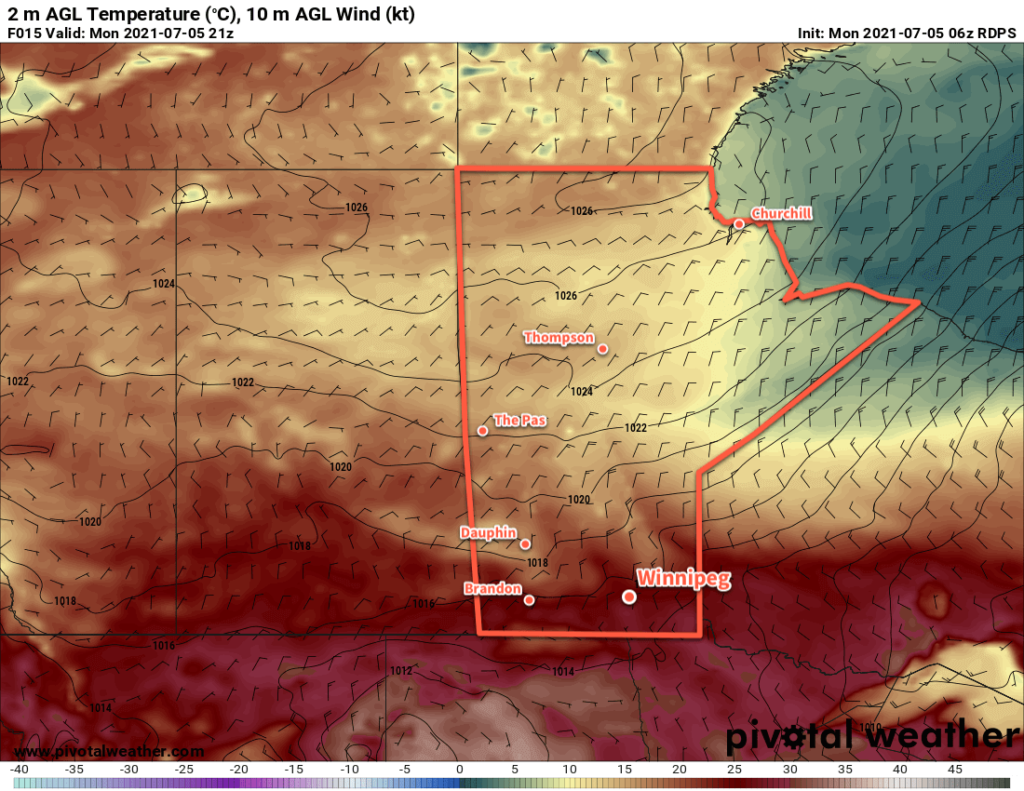 Winnipeg will find itself behind a second cold front on Tuesday with much cooler weather. Temperatures will climb to a seasonably cool 21 °C with partly cloudy skies as the overnight system clears out. The wind will keep put out of the north-northeast at 20–30 km/h. These winds may bring plumes of smoke into the region from fires burning east of Lake Winnipeg. How thick the smoke ends up being depends on a lot of nuance. If you have sensitivities to smoke, be sure to keep on the lookout for any special air quality statements issued by ECCC. Winds will ease Tuesday night with temperatures heading to a low near 10 °C.
Winnipeg will see plenty of sunshine on Wednesday with a near-seasonal high near 25 °C. Winds will be light through the day, and any smoke is left in the area should clear out early. Otherwise, it should be a beautiful day for the city. Temperatures will head to a low near 14 °C on Wednesday night with an increasing southerly wind.
Long Range Outlook
Unsettled conditions will develop over the region on Thursday as a warmer air mass begins to return. Winnipeg will see cloudier conditions on Thursday with a chance of showers, followed by a bit more sun and warmer temperatures on Friday. The heat is back for the weekend with highs in the low 30s and overnight lows in the upper teens.
Today's seasonal daytime high in Winnipeg is 26 °C while the seasonal overnight low is 13 °C.