Hot and increasingly dry conditions will continue to be the weather story for Winnipeg and the Red River Valley.
It's only going to get drier across the Red River Valley this week as intense summer heat bakes the region. Winnipeg will see highs hovering around 30 or 31 °C through the first half of the week with lows in the upper teens.
Winds will be breezy out of the south today with southerly winds of 30–40 km/h picking up this morning. A trough will push across the region today, and while it supported widespread thunderstorms overnight, it will be less active as it moves into the Red River Valley. Winnipeg will see a chance of showers or thunderstorms beginning around lunch and persisting until early evening. If any thunderstorms are able to develop, they will have a small chance of producing severe hazards with primary threats of damaging wind and/or hail.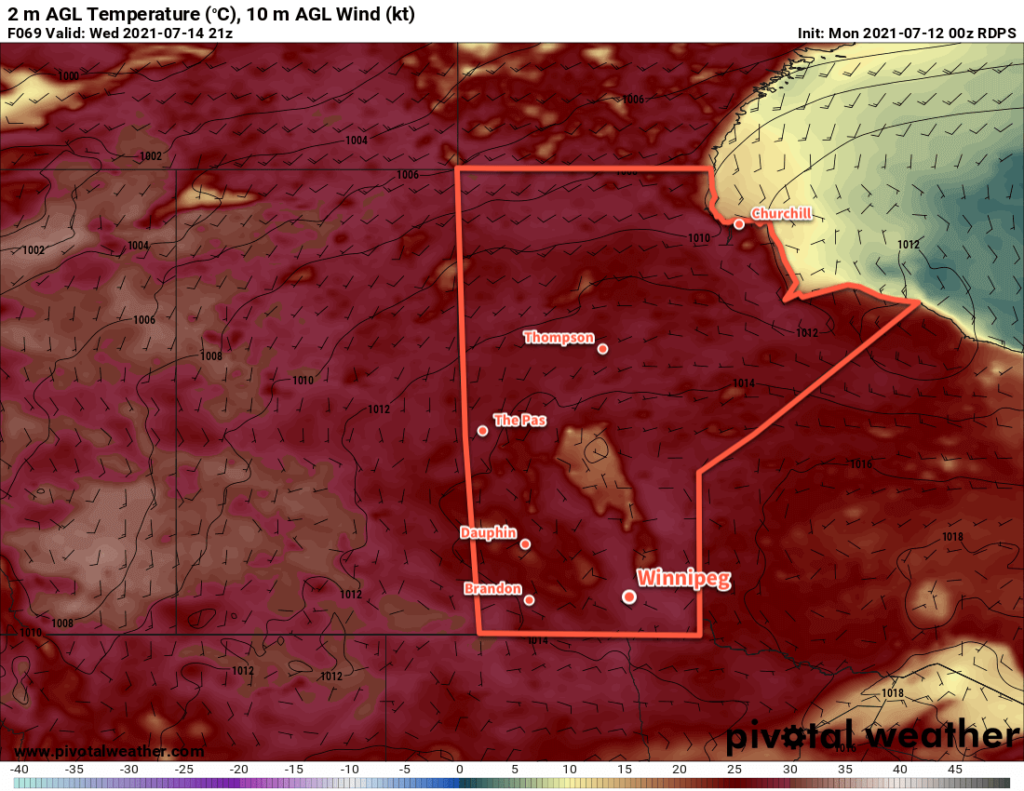 Behind this trough, winds will shift to the northwest and then ease overnight. The northwesterly flow will usher in smokier conditions to the region once again. This time, the smoke will be coming from fires burning over northern Saskatchewan.
Tuesday and Wednesday will each bring light north-northeast winds and only a few clouds. The smoke, however, will likely stick around. While near-surface conditions will improve a bit, quite a bit of smoke will likely linger aloft over the region, casting that familiar slight orange hue under hazy skies.
Long Range Outlook
Another surge of hot air will move into the region for the second half of the week. Daytime highs will climb towards the mid-30s by the end of the week with overnight lows near 20 °C. While a couple shortwaves may meander over the region, an amplifying upper ridge should also keep the clouds at bay.
The forecasts show no notable precipitation for the Winnipeg area in the second half of the week or the weekend.
Today's seasonal daytime high in Winnipeg is 26 °C while the seasonal overnight low is 13 °C.