Winnipeg will continue to see seasonably mild temperatures even as a disturbance moves through the province today.
It's back to cloudy skies in the city today with rain lifting northwards out of the Dakotas. Period of rain will begin later this morning in Winnipeg with 5–10 mm possible by the end of the day. Heavier rain will fall to the east with 10–20 mm likely over the eastern Red River Valley into the southeastern corner of the province. Despite the rain, it will be seasonably warm today with a high near 9 °C. The breezy southeasterly winds in the area this morning will diminish through the day.
The rain will shift off to the east tonight, but skies will stay cloudy for the rest of the night. Temperatures will dip to a low near 4 °C.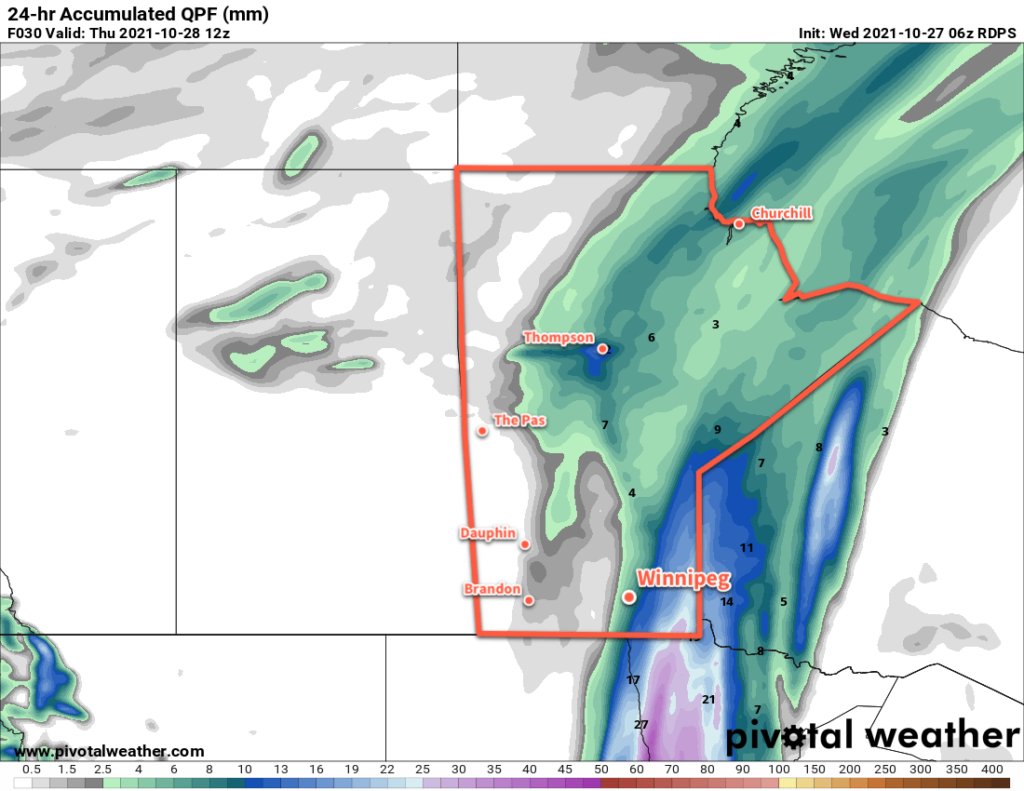 Thursday will continue to be seasonably warm in Winnipeg. Temperature swill climb back to around 11 °C with northwest winds near 20 km/h. Skies will be cloudy for much of the day, but some clearing should work its way in through the afternoon. Skies should completely clear out in the evening as a ridge of high pressure moves over the region. Temperatures will dip below the freezing mark on Thursday night.
And finally, to wrap up the work week, Friday will bring beautiful late-October weather to the area. With plenty of sunshine temperatures will climb to a high near 12 °C. Winds will be breezy out of the south at 30–40 km/h, though. A few clouds will begin working into the region in the afternoon as the next low pressure system begins its approach.
Cloudier skies will move in for Friday night and Winnipeg will see a chance of showers as the low crosses the province. Temperatures will once again stay mild with a low near 5 °C.
Long Range Outlook
Behind Friday's low, Arctic air will flood across the Prairies and usher seasonal to below-seasonal temperatures into the region. Breezy northwest winds will send temperatures into the low single digits by the end of the weekend. The surge of colder air will generate a lot of lake-effect precipitation — both rain and snow — that will affect the region for several days. The return to cooler conditions looks to continue through the rest of next week.
Today's seasonal daytime high in Winnipeg is 6 °C while the seasonal overnight low is -3 °C.