The weather is going to warm up in Winnipeg this week as an upper ridge builds across the Prairies.
Despite the cold start to the day, today will be a pleasant change from the weather of the past few days in Winnipeg. With the worst of the Arctic ridge to the east, the city will see temperatures climb to a high near 7 °C under sunny skies. Winds won't be too much of an issue, either, staying light out of the south. Weak ridging will stay over the region tonight which, combined with the light southerly wind, will allow temperatures to fall back to a low near -6 °C.
On Thursday, some warmer air will begin pushing towards Manitoba as an upper ridge builds eastwards. This will bring a few clouds back along with southerly winds of 20–30 km/h. Temperatures will climb to a high near 8 °C in the city. More cloud will push in overnight as a low pressure system begins moving eastwards out of Alberta. With that cloud will come more warm air and southerly winds up to around 30 km/h. This combination of cloud and wind will keep the overnight lows seasonally mild at around +2 °C.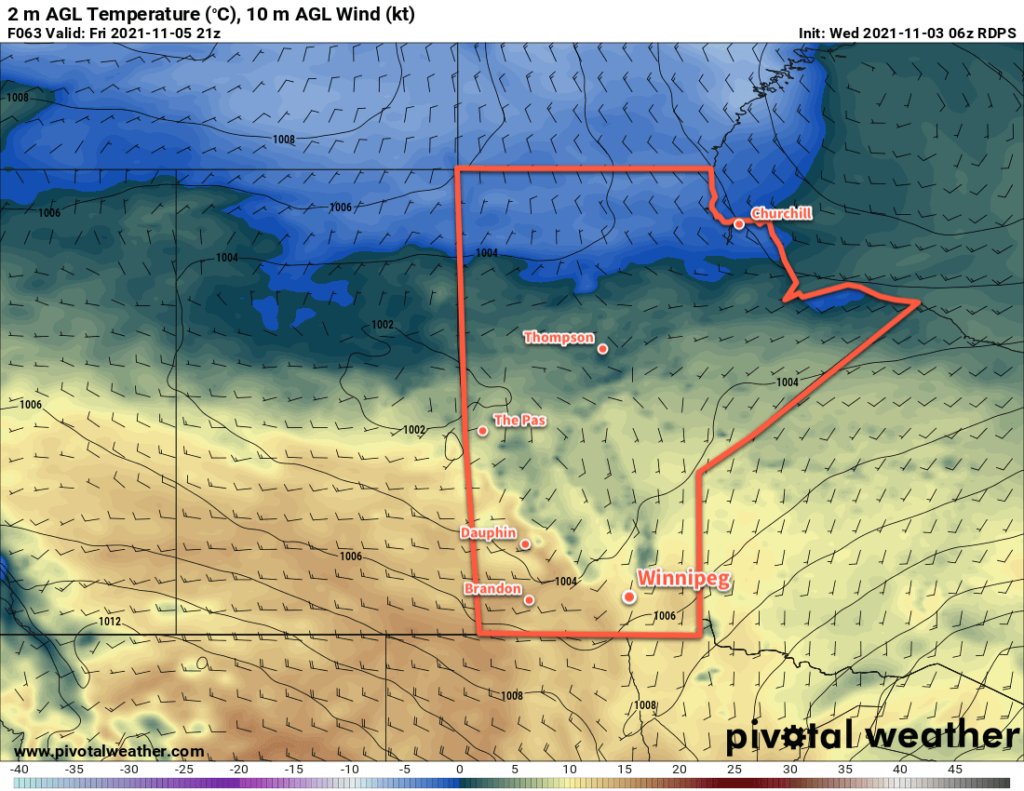 Friday will bring mostly cloudy skies to the region as a low pressure system crosses the province. The southerly winds will gradually weaken through the day as a trough moves into the Red River Valley. Temperatures will be held back a bit by the cloud cover, but the area should still see highs near 9 or 10 °C. There may be a slight chance of rain showers on Friday evening, but much of the precipitation associated with this system should be weakening as the trough advances eastwards. Temperatures will stay mild on Friday night as the trough passes and winds shift westerly. Winnipeg will see a low near +3 °C.
Long Range Outlook
The seasonally warm weather will stick around for the weekend with highs climbing into the low teens. Overnight lows should stay above freezing through the weekend. A change in the weather looks to arrive next Wednesday when a system moving through the Prairies brings several days of unsettled conditions as it sweeps the Arctic front back south across the region. Near-seasonal temperatures should return in the second half of next week.
Today's seasonal daytime high in Winnipeg is 3 °C while the seasonal overnight low is -6 °C.