Temperatures will climb back above freezing today, but a low crossing the region on Wednesday will usher seasonal temperatures back into the region.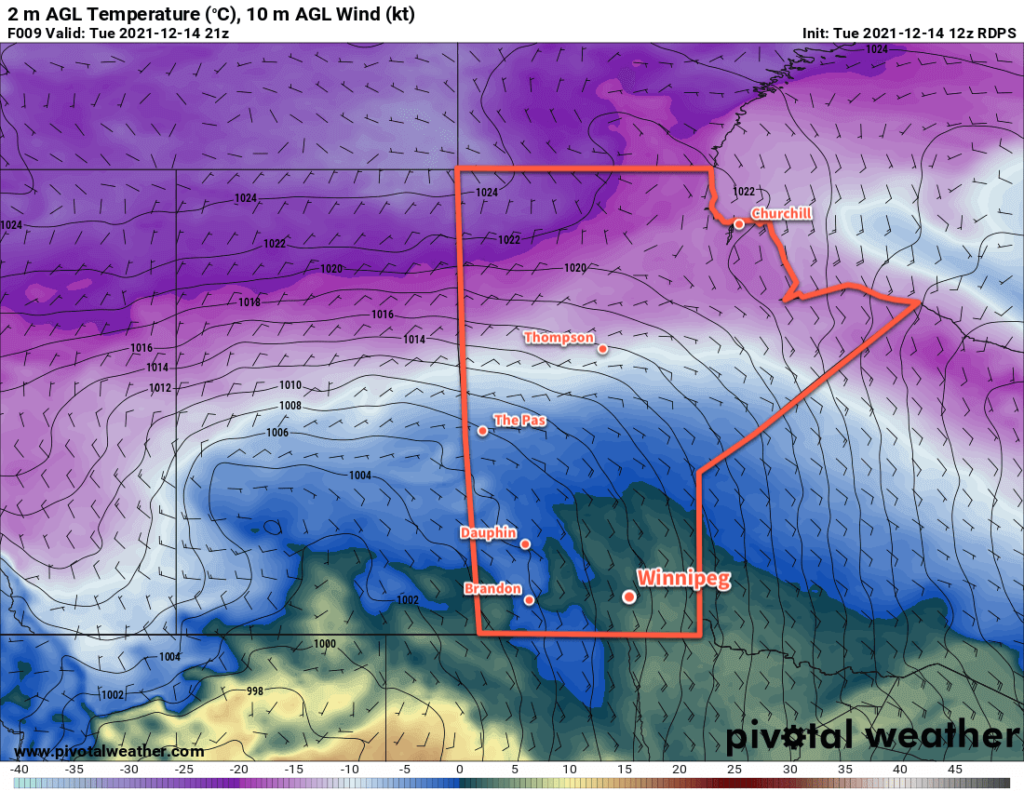 A broad upper ridge over Manitoba today will bring another day of very mild December temperatures. That warmth will be short-lived, though. A deep upper trough moving off the west coast support a complex of lows that moves through the Prairies and American Plains over the next few days.
In southern Manitoba, breezy southeasterly winds will push daytime highs back up above freezing in the Red River Valley. Skies should stay sunny today as the upper flow deflects most of the cloud northwards . The winds will ease tonight with lows dipping back below freezing.
A bit of a complicated weather sleight of hand will then happen on Wednesday and Thursday. The low tracking across Saskatchewan will continue into central Manitoba on Wednesday. At the same time, a Colorado Low will eject northeastwards and move towards Lake Superior. As it approaches, the energy will consolidate towards the Colorado Low, weakening the Manitoba low into Wednesday night. This will send a cold front surging southwards into the United States.
Here in Winnipeg and area, that will mean a cloudy Wednesday with temperatures one again creeping back above freezing. Llight winds in the morning will pick up out of the north through the day as the main trough passes. The cold front will sweep through on Wednesday evening, bringing a couple of centimetres of snow to the region. Strong northerly winds of 40–50 km/h will ease overnight to around 30 km/h. The winds will gradually taper off through the day on Thursday.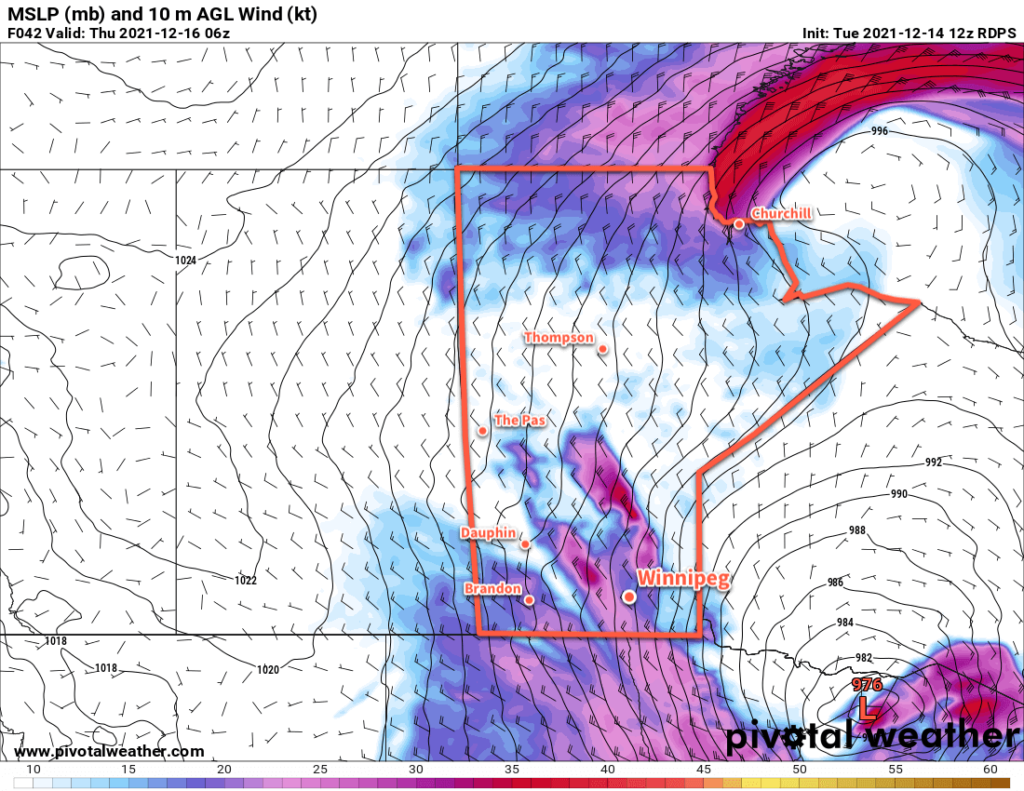 It's worth noting that while significant snowfall tomorrow evening isn't likely, a couple of weather models produce an intense band of snow as an upper-level trough swings through. Canadian forecast models produce significantly more snow from Winnipeg southwest, reaching over 10 cm by Thursday morning. It's quite an outlier solution and at this point seems unlikely.
The biggest impact from this system will be the shift to more seasonable temperatures. Behind the cold front, temperatures will fall into the -10 to -15 °C range by Thursday morning. Daytime highs will hover in this range for the rest of the week with overnight lows down around the -20 °C mark. The region will see variable cloudiness through the rest of the week. Friday will bring cloudier skies as another disturbance tracks across the region. This system will likely bring a dusting of snow with it.
Long Range Outlook
Little change lies ahead for the region as a more typical winter pattern settles in. Daytime highs will sit in the -15 to -10 °C range right through next week with overnight lows around -20 °C. Other than a chance for a bit more snow on Sunday, conditions will be generally dry with a mix of sun and cloud.
Fortunately, it's not looking like a huge deep freeze is on the way! Colder conditions should help get local waterways frozen more solidly, but still be pleasant enough to get out and enjoy outdoor activities.
Today's seasonal daytime high in Winnipeg is -10 °C while the seasonal overnight low is -19 °C.