Benign and pleasant early winter weather will settle in for Winnipeg this weekend.
The broad shift in the upper-level weather patterns we talked about earlier this week are underway. Gone is the Arctic vortex locked over Hudson Bay, allowing an upper ridge to build eastwards off the Pacific. This will be the dominant weather feature for the next couple days before it flattens out for the end of the weekend. Instead of being replaced by an upper trough and the associated cold air that comes with it, though, a generally zonal to west-southwest flow will develop aloft, continuing to spread mild temperatures across the southern Prairies.
As a result, Winnipeg's forecast is quite pleasant for the days ahead. Right through the weekend into next week, the area will see daytime highs in the -5 to 0 °C range. A couple of these days may even see temperatures climb above freezing. Overnight lows will be similarly mild, generally falling in the -5 to -10 °C range.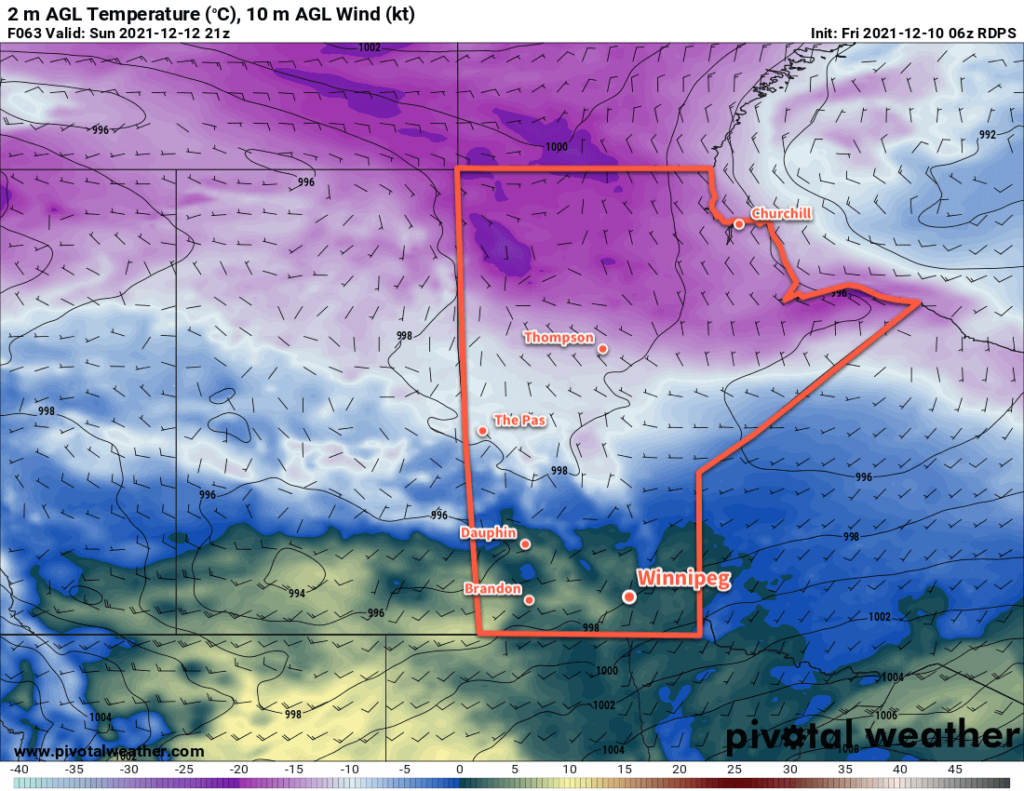 Winds will be light for the region today, but for the weekend southerly winds around 20–30 km/h will develop. The windiest conditions should end up over the western Red River Valley where the escarpment can interact with the westerly component to the winds and produce slightly breezier conditions.
Along with these pleasant conditions will be plenty of sunshine; the Winnipeg area will see mainly sunny skies through the weekend. Some cloud cover will begin moving in next Monday and Tuesday.
Long Range Outlook
The next disturbance to impact the region will move through in the middle of next week. Forecasts show it could bring around 5 cm of snow to the region followed by breezy northwest winds and return to more seasonal temperatures. The overall weather pattern after that looks somewhat unsettled with a chance for more snow on Friday/Saturday and potentially again to start off the next week.
Today's seasonal daytime high in Winnipeg is -9 °C while the seasonal overnight low is -19 °C.