The cleanup is underway across many areas of Manitoba that were pummelled with strong winds and 30–60 cm of snow. The weather will mostly co-operate over the coming days with cool temperatures and a bit more snow.
The entire eastern Prairies will see very cool mid-April conditions in the wake of the storm exiting the region.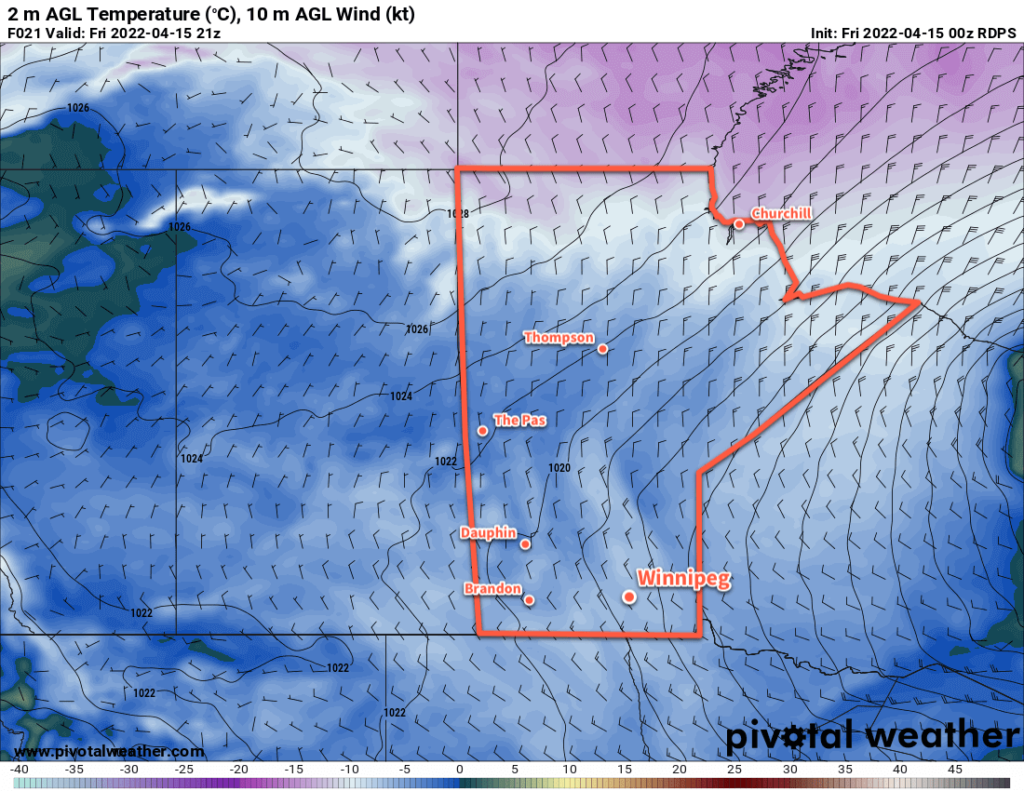 Lingering light snow will taper off today as the storm continues to wind down over the region. Winds will continue to be breezy out of the northwest at 30 gusting 50 km/h. Most notable today will be the temperatures; they will stay well below seasonal values with a high in Winnipeg near -5 °C. Skies should finally clear out this evening with temperatures heading to a low near -10 °C.
A high pressure system moving into the province will bring clear skies on Saturday. Temperatures will continue to be cool with a high near -5 °C. Lows on Saturday night will fall into the mid-minus teens. Another low pressure system approaching the province will spread cloud cover into the region by Sunday morning.
Winnipeg and area will see cloudy skies on Sunday with light snow moving in for the afternoon and evening. Highs will reach close to 0 °C with southeasterly winds picking up to 30 km/h.
A low pressure system will spread snow along the Trans-Canada Highway corridor on Sunday with 10–15 cm near the international easing to 5–10 cm for many areas south of the Trans-Canada Highway corridor.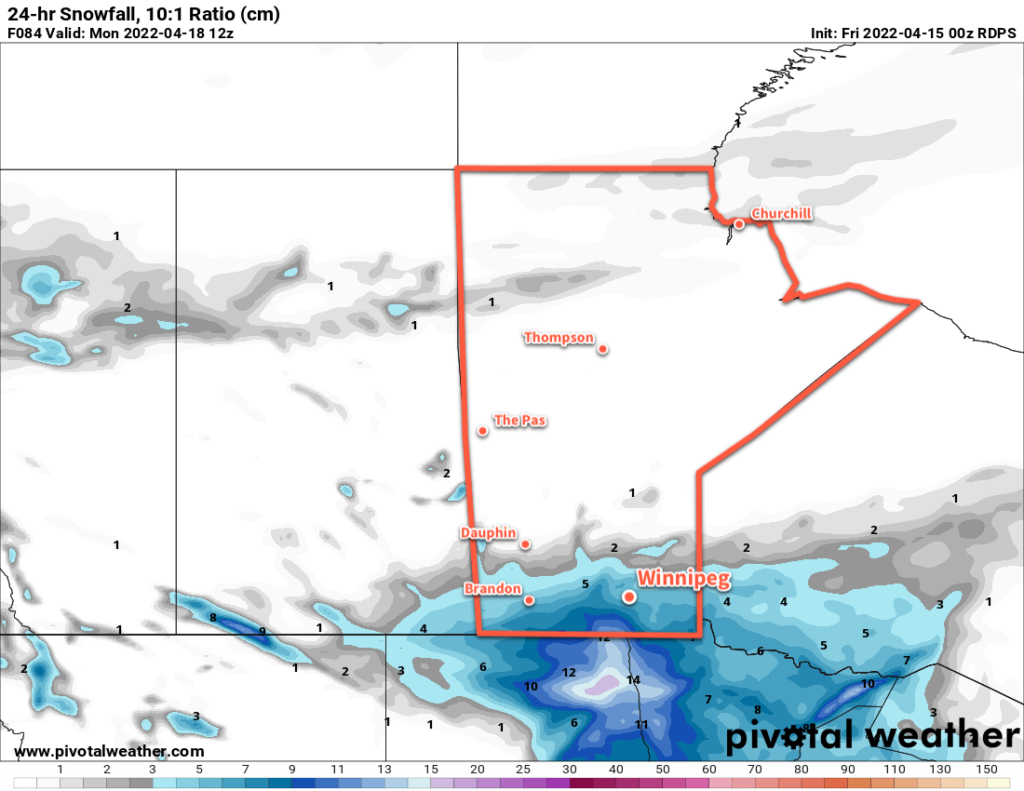 This system will spread another swath of snow across southern Manitoba, with 10–15 cm near the international border easing to 5–10 cm for many areas south of the Trans-Canada Highway corridor. The main uncertainty with this system is how far north it will push; relatively sharp changes in snowfall totals will mean small shifts north or south can substantially impact the amount of snow a location will see.
Snow will taper off overnight with the sun repeating for Monday. Daytime highs to start the new week will hover around 0°C.
Long Range Outlook
Temperatures will moderate only slightly next week, partly due to a cooler air mass and partly due to the snow cover across the region. Highs should climb above freezing for next week, but conditions may also turn unsettled.
A progressive system is forecast to move through the region mid-week, potentially bringing another shot of snow to the region. Early model guidance suggests that 10–15 cm is possible with this system, but it's early and lots can change between now and then. It will likely fall as snow, but there may be a little bit of rain mixed into it.
The region will see a couple quiet days, then for the weekend some weather models are suggesting that another Colorado Low system may develop. This one wouldn't bring more snow to the region; rather, it would likely result in a surge of warm air northwards and could result in rain for the region. But, being so far out, it shouldn't be taken as much more than hand-waving conjecture at this point.
As a generalization, beginning Sunday, it looks likely that the region will see some additional precipitation every 2–3 days for a while. By next weekend, the region is more likely to see rain than snow as warmer, almost summer-like, temperatures begin to push towards the region.
Today's seasonal daytime high in Winnipeg is 10 °C while the seasonal overnight low is -2 °C.