The rain across southern Manitoba will taper off today as very strong northwesterly winds develop across southern Manitoba. Once they ease later today, a stretch of slightly cooler, but mainly dry, conditions takes over.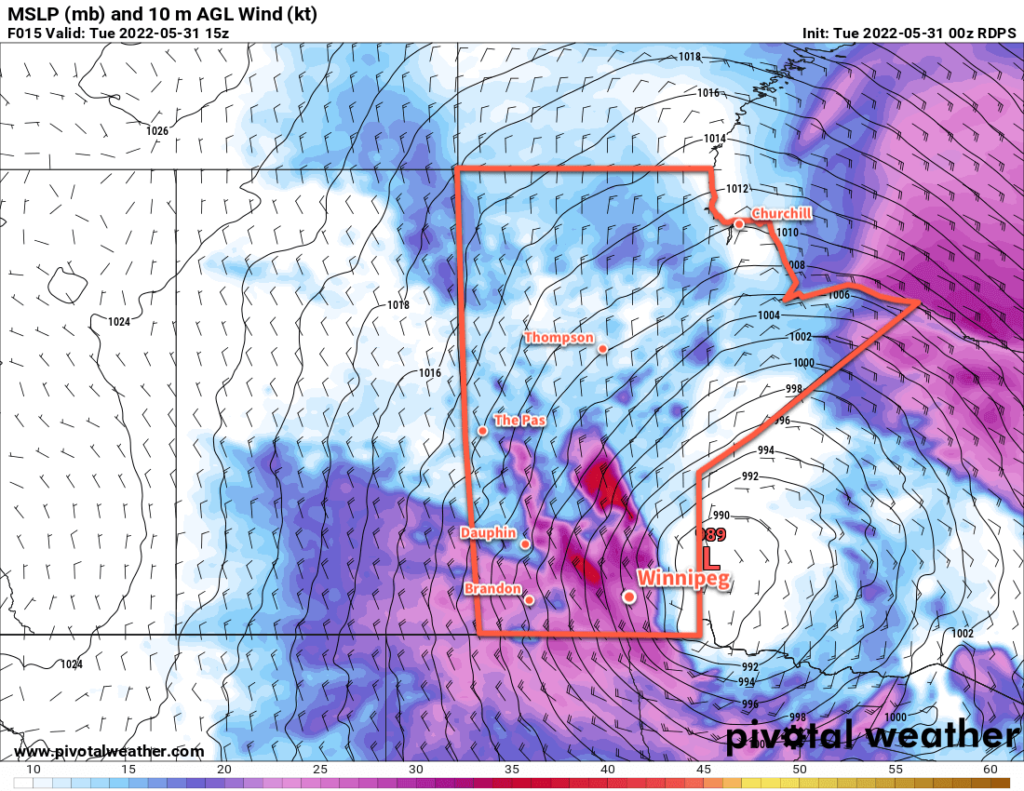 A low pressure system tracking northwards out of Minnesota is the culprit for this latest batch of wet weather across the region. It will continue along the Manitoba/Ontario border today with wrap-around showers lingering through the region into the afternoon. Very strong northwest winds will develop across most of southern Manitoba this morning; sustained winds of 50–60 km/h will spread eastwards this morning, and gusts could reach as high as 80–90 km/h.
The winds will begin to ease later in the day as the low continues off into northern Manitoba. The combination of cloud cover, showers, and that northerly wind will result in a very cool day. Temperatures in Winnipeg will only reach around 10 °C this afternoon. Some clearing will develop tonight as the winds continue to ease to around 20 km/h. Temperatures will fall into the 5–10 °C range.
The weather forecast will be fairly stagnant through the rest of the week. This low moving through will stall out over northern Manitoba for a few days, keeping the weather relatively consistent across the province. Here in Winnipeg, daytime highs will generally sit in the 15–20 °C range with lows in the 5–10 °C range. Northwest winds of 20–30 km/h will be common during the days, but will slowly ease as the system in northern Manitoba weakens through the week. Morning sun with some afternoon cloud will be commonplace.
The only catch might be Thursday; there's a chance that the Red River Valley is clipped by the remnants of this system as it exits the province. If that happens, Winnipeg would see cloudier conditions on Thursday with a chance of a few showers. It would also be cooler in that situation with highs in the 10–15 °C range.
Long Range Outlook
The end of the week and weekend is looking pleasant overall. Temperatures will nudge back towards 20 °C for the weekend with plenty of sunshine Friday through Sunday.
Today's seasonal daytime high in Winnipeg is 22 °C while the seasonal overnight low is 8 °C.