A cold front will bring showers and thunderstorms to Southern Manitoba today, easing the heat and humidity of the past few days.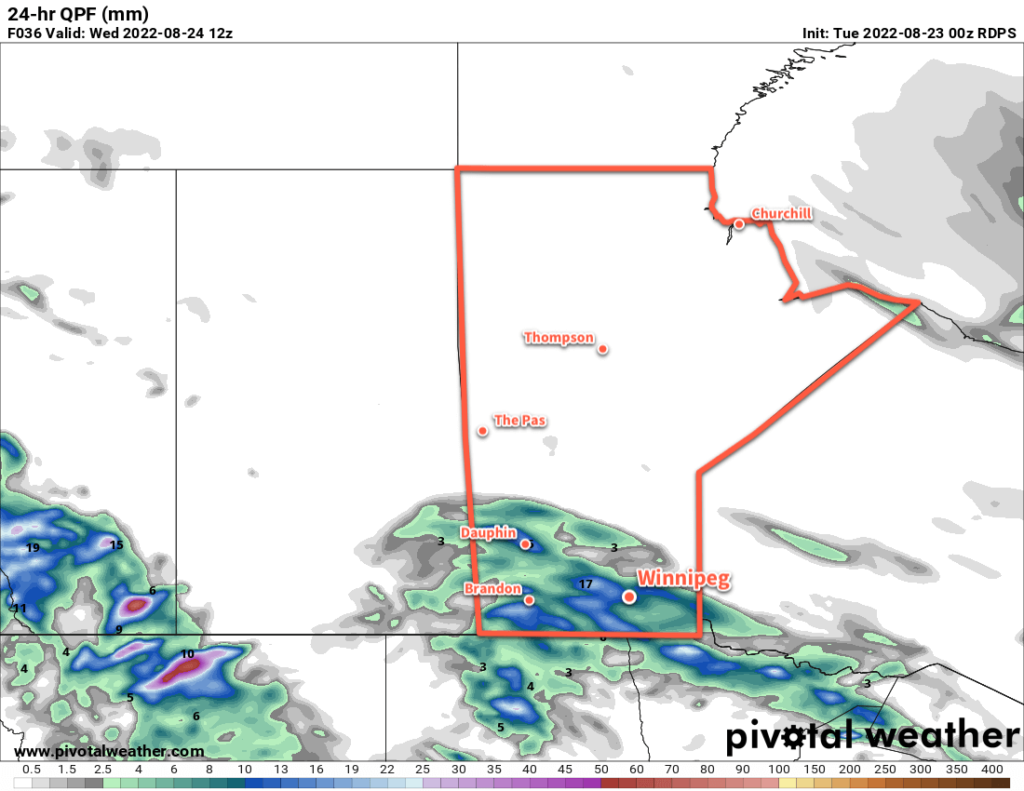 A low pressure system crossing Hudson Bay overnight has kicked off a push of cooler air southwards through Manitoba. While this push of cold air won't be overly strong, it will be enough to break the heat of the past few days. Highs will dip into the low to mid-20s over the next few days with northerly winds of 20—30 km/h during the day. Today will start off with a mix of sun and cloud, then become increasingly cloudy into the afternoon. Widespread showers with a risk of thunderstorms will drop through the Red River Valley mid- to late-afternoon through the evening. In Winnipeg, there is the ever-present risk that the showers will dodge around the fringes of the city, but it looks likely that there will be some rain later in the afternoon or evening. Skies will clear out overnight with lows dipping close to 10 °C.
Wednesday through Friday will bring mainly sunny skies to the region. Daytime highs will gradually warm from the low 20s back into the mid- to upper-20s. Overnight lows will climb back into the upper teens by Friday night.
Long Range Outlook
A low pressure system will likely move through the region this weekend, bringing more cloud and showers to the region. Both Saturday and Sunday look unsettled, with a few lingering showers possible on Monday. Sunshine should return for next week.
Today's seasonal daytime high in Winnipeg is 24 °C while the seasonal overnight low is 11 °C.