Upper ridging will continue to bring hot and mainly sunny conditions to southern Manitoba over the next couple days. On Thursday, a passing low pressure system will bring some cloud to the region along with a chance of showers. Behind it, seasonal temperatures will return for the weekend.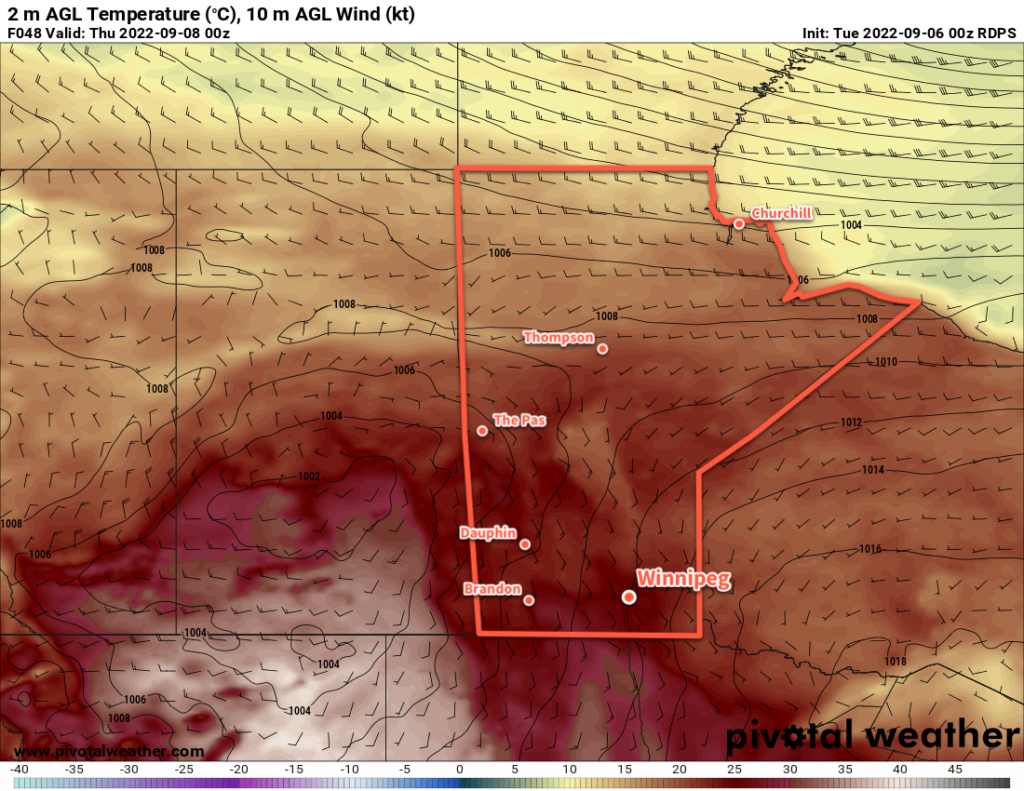 Winnipeg will see plenty of sun today and tomorrow as an upper ridge pushes over the region. Daytime highs will climb into the upper 20s with comfortable humidity levels. The wind will pick up out of the northwest into the 30 to 40 km/h range today as a very weak cold front pushes through the region. The wind will ease tonight, then pick back up out of the southeast on Wednesday as a renewed push of warm air begins.
A low pressure system will develop over southern Saskatchewan on Wednesday, then push northeastwards into central Manitoba overnight. As it heads east, it will drag a warm front into southern Manitoba through the night. An area of instability will develop ahead of the front heading into the evening and bring some cloudier conditions and a chance of showers or thunderstorms to the region overnight. The warmer air pushing into the region combined with persistent southerly winds will also keep overnight lows quite mild on Thursday night, only bottoming out in the upper teens.
The instability may linger into Thursday morning before a cold front pushes through. Temperatures should reach the mid-20s before northwesterly winds pick up behind the front.
The cloud cover will break up a bit on Thursday evening, but more cloud will linger through Friday as the northwest winds continue to usher cooler air into the region. Temperatures should reach a near-seasonal high around 20 °C on Friday.
Long Range Outlook
Cooler temperatures will stick around through the weekend with highs in the upper teens or low twenties. Fortunately, the sun will make a return both Saturday and Sunday.
Next week should bring seasonal to slightly above seasonal temperatures with what looks like a chance for showers mid-week.
Today's seasonal daytime high in Winnipeg is 20 °C while the seasonal overnight low is 8 °C.