Winnipeg will see near seasonal temperatures for the next couple days behind the cold front that moved through yesterday. On Sunday, warmer weather will begin to push back into the region.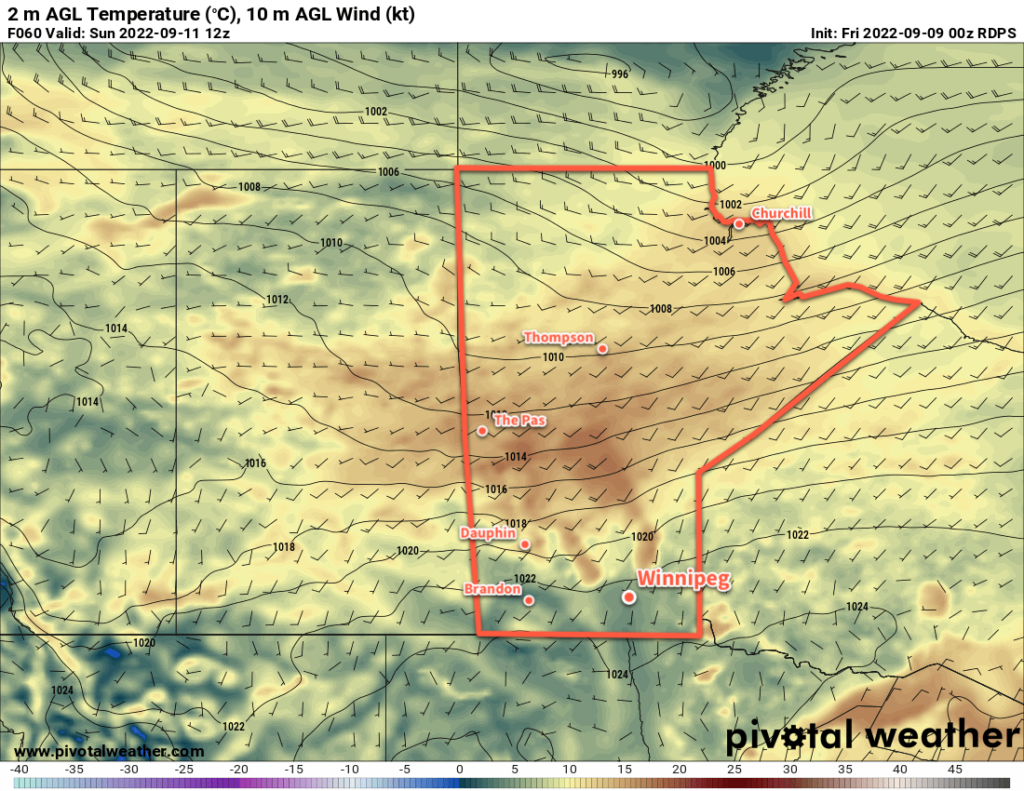 An upper trough will sit over Manitoba for the next couple days and bring seasonal temperatures to much of southern Manitoba. Winnipeg will see daytime highs today and tomorrow near the 20 °C mark, which is seasonal normal high for this time of year. Overnight lows will be cool, driven down by an area of high pressure moving into the area. Overnight lows will dip into the upper single digits tonight, and could reach as low as 2 to 4 °C on the edges of the city on Saturday night. Areas near the centre of the city will likely stay a couple degrees warmer than that.
On Sunday, the upper pattern will shift and a more zonal flow along the apex of an upper ridge in the United States will develop. This will bring warmer air into the region and send daytime highs back into the mid-20s. Lows should climb back to around the 10 °C mark on Sunday night. Skies will stay mainly sunny through the day.
Long Range Outlook
Temperatures will continue to warm for Monday with highs in the upper 20s possible. A cold front will push through later Monday, ushering near-seasonal temperatures back into the region for the rest of the week. Skies will likely trend towards the mixed to cloudy side of things with the chance of showers developing mid-week.
Today's seasonal daytime high in Winnipeg is 20 °C while the seasonal overnight low is 7 °C.