A passing low will bring cool weather and scattered showers to the region today. It will be a quick turnaround to nicer weather for the weekend with sun returning and warmer temperatures.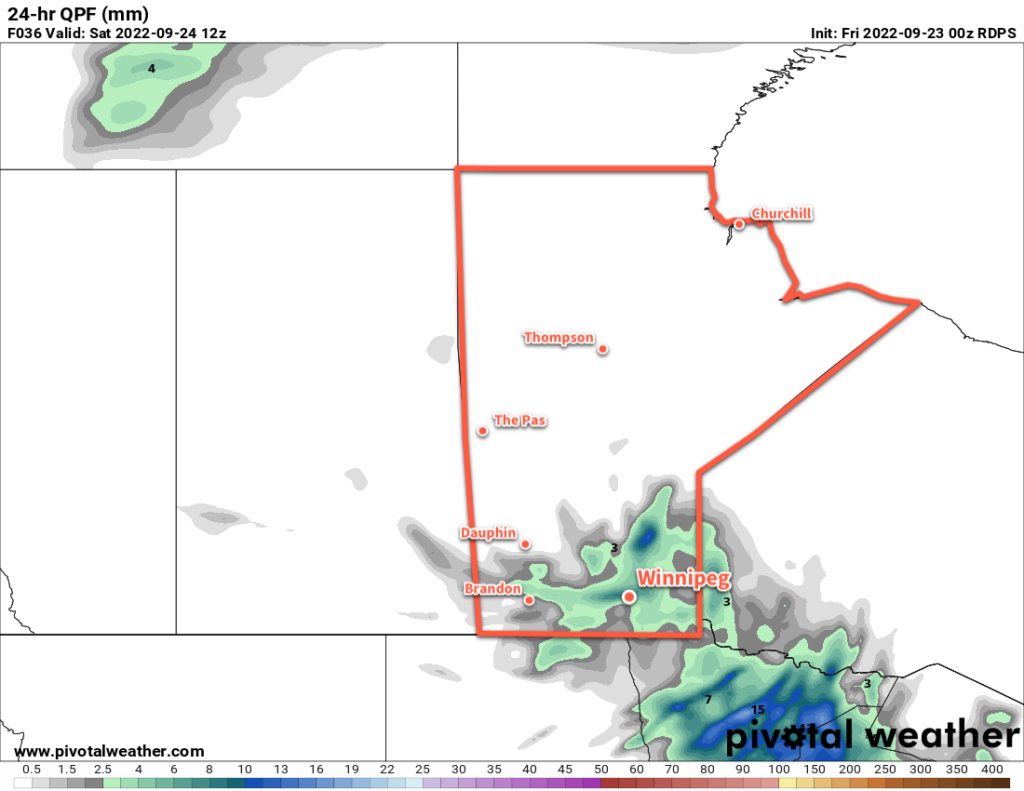 Today's main influence on Winnipeg's weather will be a slow-moving upper low crossing the region. This system brought rain to southwestern Manitoba overnight, but it will weaken as it pushes eastwards. A few showers will be possible through the morning hours as a leading band of rain weakens heading into the Red River Valley. A bit of a cloudy break is likely, then another chance for scattered showers will develop midday as the upper low itself moves over the region.
Most of the rain will be over by the evening, but a lingering chance for some patchy light rain will continue into the night as the system moves into Ontario. Temperatures will dip to around the 10 °C mark overnight.
With the cloud and rain, temperatures will be quite cool with a high in the low teens. Winds will persist out of the southeast around 20 km/h through the day.
On Saturday, a bit of light rain could be lingering in the morning, but the cloud cover should begin to break up later in the day. Skies will clear later in the afternoon with a northwest wind at 20 to 30 km/h. Temperatures should climb into the upper teens in the afternoon, then head again to a low near 10 °C under clear skies tonight.
On Sunday, the sun will make a full return with just a few clouds through the day. Temperatures should again climb into the upper teens with a breezy northwest wind. Temperatures will dip into the upper single digits on Sunday night.
Long Range Outlook
Near or slightly above-seasonal temperatures will continue into the first half of next week. By mid-week, a surge of warmer air will begin pushing across the Prairies. This will bring highs back into the 20s across southern Manitoba with highs in the mid-20s possible by the end of the week. It should stay dry with variable cloudiness through much of the week.
Today's seasonal daytime high in Winnipeg is 16 °C while the seasonal overnight low is 5 °C.