A slow-moving system to the southwest will keep skies cloudy in Winnipeg the next couple days. The sun returns on Sunday with temperatures warming up to start the week.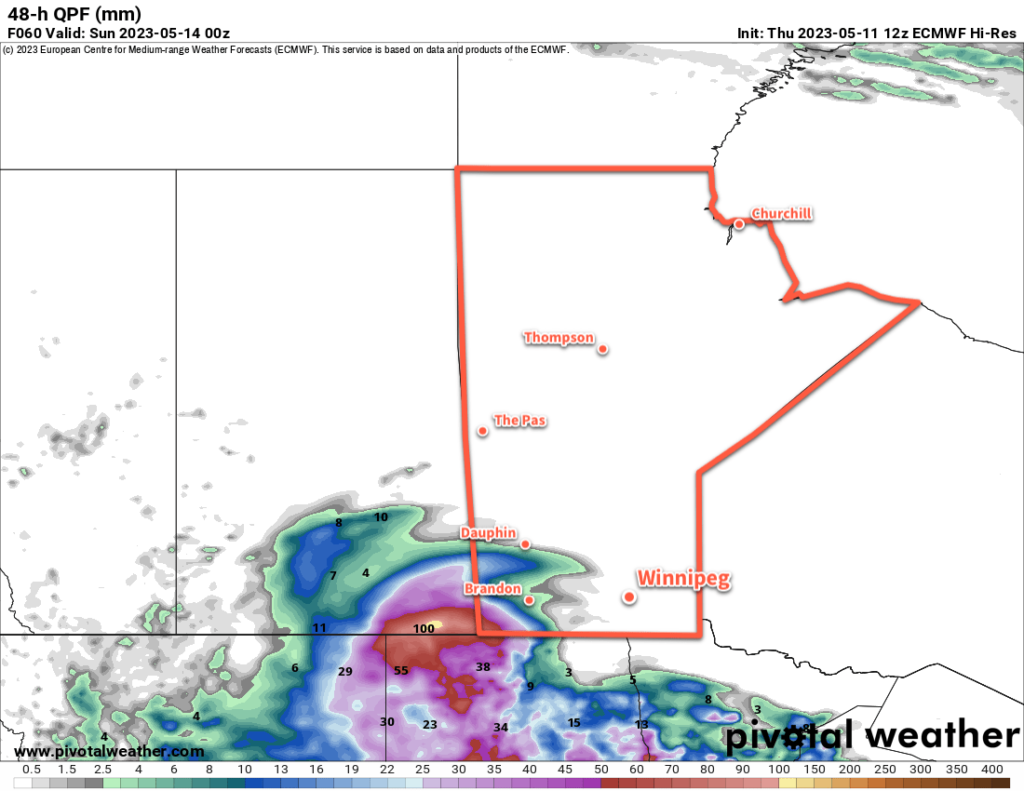 The main weather-maker over the next couple days will be a slow-moving complex of upper lows that extends from northeastern Montana to the central American Plains. This system will keep skies cloudy over the Red River Valley, but is bringing more inclement weather further west. Rain will persist across portions of SE Saskatchewan and SW Manitoba over the next few days, which has triggered an overland flood warning for parts of the impacted region.
For Winnipeg, though, dry northeasterly winds coming out of an area of high pressure to the north will help keep the rain west and south of the city. Winds will reach around 30 gusting 50 km/h both today and Saturday, then ease into the 10 to 20 km/h range at night.
Temperatures will continue mild, though, with highs in the 20 to 25 °C range over the next couple days and overnight lows in the low teens tonight and high single digits on Saturday night.
Everything begins to change on Sunday, though. The slow-moving system will be punted eastwards as a strong upper ridge builds across the Prairies. This will bring sunny skies back to the region and start sending highs up. Sunday will bring high temperatures back into the mid-20s and overnight lows into the low teens.
Long Range Outlook
The upper ridge over the Prairies will dominate the weather across southern Manitoba through the first half of next week. Daytime highs will climb into the upper 20s with plenty of sunshine.
This system will also likely result in the intensification of forest fires in the western Prairies and British Columbia. It's too early to tell at this point, but there's a chance that parts of southern Manitoba may end up seeing some hazy skies later in the week if smoke begins to drift into the region.
An upper low will begin digging into the ridge mid-week, and could bring some unsettled conditions to southern Manitoba in the second half of next week.
Today's seasonal daytime high in Winnipeg is 19 °C while the seasonal overnight low is 5 °C.