The western Canada upper ridge will rebound eastwards this week, bringing more sunshine and warming temperatures to southern Manitoba.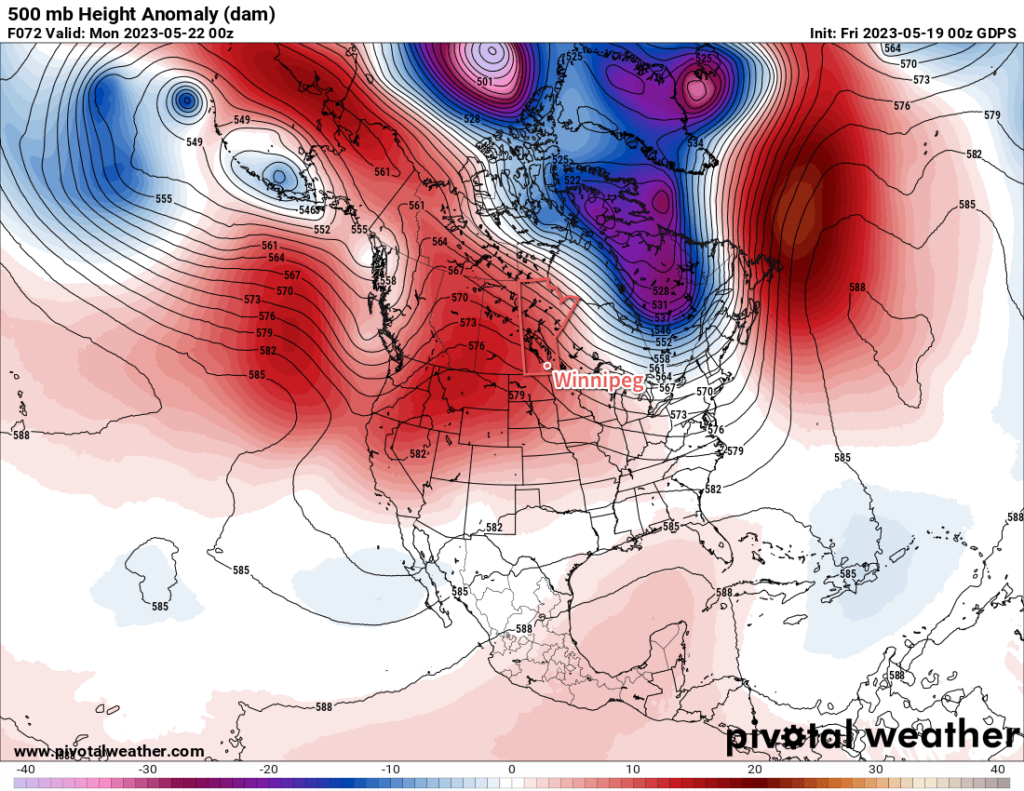 First, I apologize for the lack of forecasts lately. Between a very busy period at work and having to try and kick a persistent cold, I've had little spare time and been pretty tired. More changes to the schedule in the week ahead may limit my ability to get forecasts written in the short-term, but I do have some helpful new features coming to the site very soon that I've been able to work on a bit.
Looking at the weather, it's all uphill from here. Yesterday, an upper low moving through the province brought very cool temperatures and showers to the region. Today, with it now shifting off to the east, the upper ridge that slid westwards this week will spread back into the eastern Prairies.
As it heads east, it will send an area of high pressure through the province. That will bring clear skies to the region today with easing northwest winds. Temperatures should bounce back to a seasonal high near 20 °C. Those sunny skies should keep through the weekend as well with temperatures climbing into the mid-20s.
Overnight lows will rise as well, from the high single digits tonight into the mid-teens by weekend's end.
Long Range Outlook
Next week will start with very warm temperatures; daytime highs in Winnipeg could break the 30 °C mark on Monday. On Tuesday, though, the weather may start to turn, bringing the risk of showers and thunderstorms to the region. The weather pattern looks to stay unsettled through much of the rest of the week, bringing mixed skies, seasonably mild temperatures, and the occasional chance of showers or thunderstorms.
Today's seasonal daytime high in Winnipeg is 20 °C while the seasonal overnight low is 6 °C.