Seasonal temperatures will continue for much of the week across southern Manitoba, but a passing low pressure system on Saturday may replace sunshine with unsettled conditions.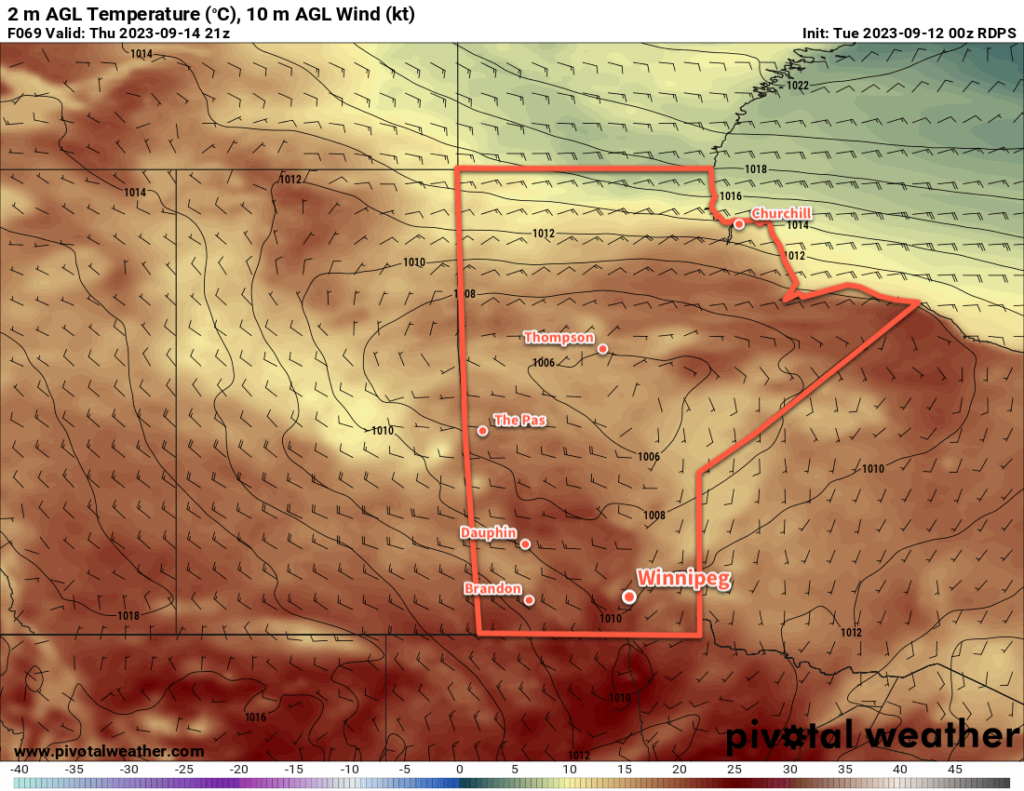 A collapsing upper ridge will gradually push into Manitoba as it weaken over the next couple days, bringing plenty of sunshine but not too much warmth. High temperatures in Winnipeg will sit close to 20 °C over the next couple days with a few clouds on Wednesday afternoon. The winds will be light on Tuesday, but could reach up to 30 km/h on Wednesday afternoon.
More cloud will move into the region on Wednesday night as a low pressure system crossing the northern Prairies pushes a warmer air mass into the region. Some showers might move through the region overnight Wednesday as this warmer air pushes in. This warmer air mass will help with overnight lows; Wednesday night will likely only drop into the low teens, compared to a low near 5 °C tonight.
On Thursday, highs temperatures will climb towards the mid-20s across southern Manitoba. Instability will grow through the day as a warm-sector trough pushes into the Red River Valley. As a result, there will actually be a small chance of some showers or thunderstorms later in the afternoon and early evening. With only around 500 J/kg of MLCAPE and 20–25 knots of bulk shear, any severe weather is highly unlikely.
A cold front will sweep through on Thursday night, bringing seasonal temperatures back to the region on Friday.
Long Range Outlook
The region will see near-seasonal temperatures along with a mix of sun and cloud into the weekend. There will be a slight chance of showers on Friday night as some wrap-around precipitation moves across the region as an upper low exits the region.
Some warmer weather will likely push in to start next week with daytime highs climbing back towards the mid-twenties.
Today's seasonal daytime high in Winnipeg is 19 °C while the seasonal overnight low is 7 °C.