A slow-moving complex of low pressure systems in the northern United States will spread cloud cover and waves of showers across southern Manitoba through the coming days.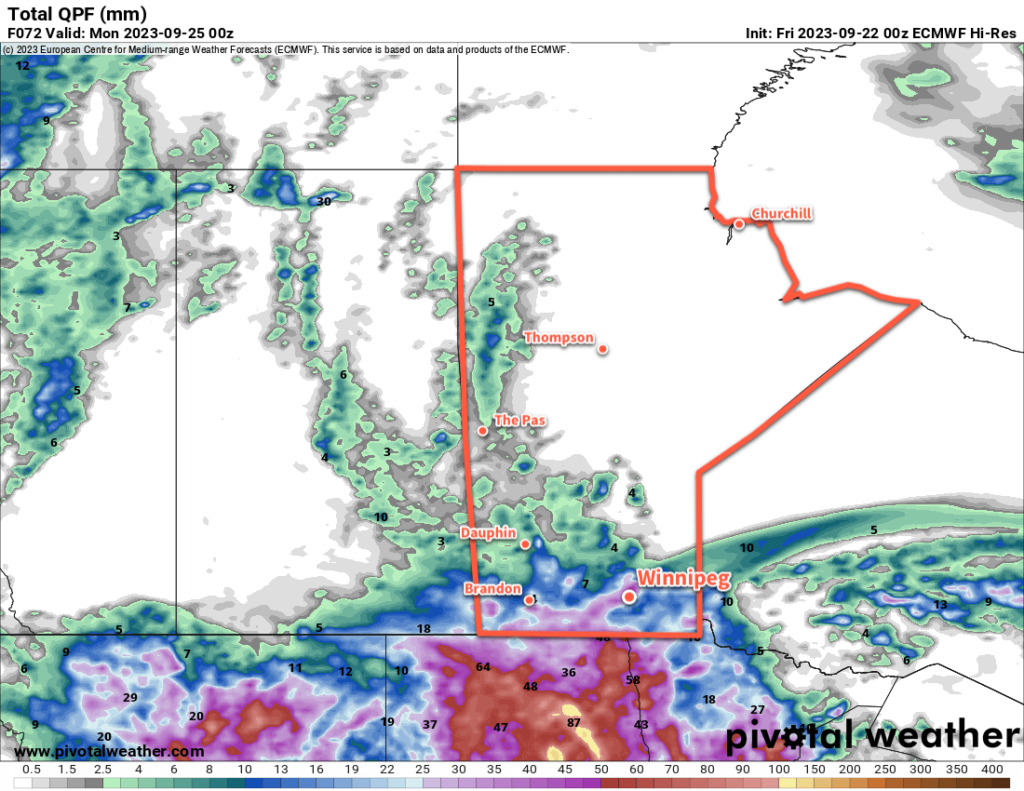 Waves of rain will move through the Red River Valley over the coming days, but it will at least be relatively mild through the weekend. Despite the unsettled weather, daytime highs will climb to around 20 °C over the coming days. The cloud cover will also keep nights warmer with lows dipping down into the mid-teens. Throughout next few days, the wind will also be consistently out of the east, often in the 20 to 30 km/h range.
The rainfall forecast is a bit tricker than all the other elements, largely due to the complexity of the interacting systems south of the border and how thunderstorm activity will evolve as this disturbance matures.
Today, Winnipeg will likely see on and off showers continue through the morning, then things will have a chance to dry out a bit as the showers shift towards the west. Another wave of rain will push into southern Manitoba overnight and persist into Saturday morning. Things should mostly dry out on Saturday afternoon, but a few pop-up showers may be possible if the sun peeks out a bit and warms things up, or depending on the timing of this system, the cloud and rain could drag on later into the day.
The rain will calm down for Saturday evening, but then another broad area of rain will push northwards into Manitoba overnight, this time as the entire system in the United States begins shifting northwards. More rain will likely move through, and then lingering showers or drizzle could persist through the day on Sunday.
Long Range Outlook
The rain should taper off for Monday, but the region could see a lot of leftover cloud cover through the day. By Tuesday, the sun should begin poking out again and Winnipeg will see several pleasant days with highs in the low 20s and lows in the low teens.
Today's seasonal daytime high in Winnipeg is 16 °C while the seasonal overnight low is 4 °C.