Seasonably mild temperatures will continue across southern Manitoba in what has been a pleasant fall so far.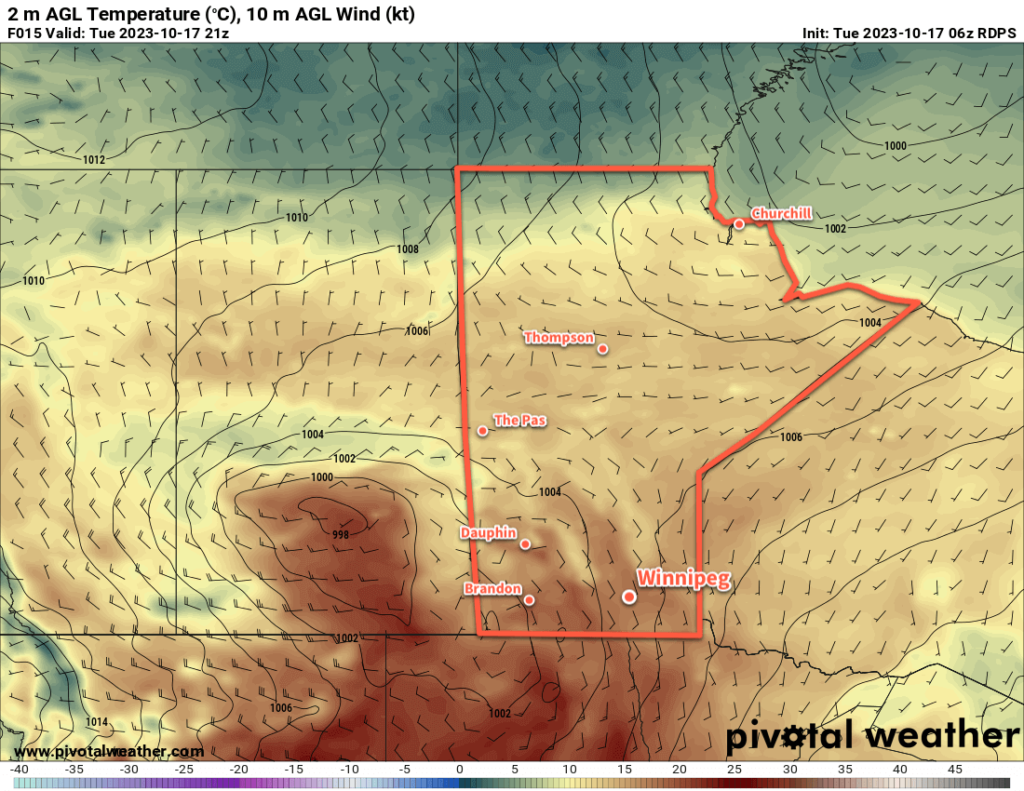 A low pressure system advancing towards the province will bring some cloud cover and mild weather to Winnipeg today. With skies becoming mixed this morning, temperatures will warm into the mid- to upper teens this afternoon.
The low will begin moving through the region this evening, bringing with it a chance of rain showers. The heaviest rain will likely end up southeast of Winnipeg with amounts near 5 to 10 mm. Amounts will quickly drop off to the northwest of this; Winnipeg will sit along the edge, but at least a couple millimetres of rain seems likely. It will be a warm night with a low near 10 °C.
On Wednesday, northerly winds will pick up behind the low as any lingering showers move out of the region. Temperatures will rebound back into the mid-teens with northerly winds up to 30 gusting 50 km/h. Skies will take their time clearing out, but Winnipeg will likely see a bit of sun before evening.
A ridge of high pressure will move through the province on Wednesday night and Thursday. This will allow temperatures to dip into the -5 to 0 °C range on Wednesday night. On Thursday, temperatures will bounce back into the mid-teens again as another push of warmer air moves in from the west. A weak low will slide through the region on Thursday night, bringing with it another chance for some light rain showers.
Long Range Outlook
Friday will mark the start of a gradual transition of southern Manitoba's weather into a cooler, more unsettled pattern. On the back side of Thursday night's low, cooler temperatures will gradually slump into the Prairies from the Arctic. As this cold front pushes south over the next week, disturbances will ripple northeastwards ahead and along it, bringing waves of rain or snow to the Prairies.
This will result in variable cloudiness turning mainly cloudy next week and gradually cooling temperatures in Winnipeg. There will be a chance of some rain on Saturday, as well as a more organized chance of accumulating rain early next week. By mid-week, lake-effect rain showers will likely return to southern Manitoba.
Daytime highs will cool to the 0 to 5 °C range with overnight lows well below freezing through this period. The region could also see some of the first snowflakes of the season late next week.
Today's seasonal daytime high in Winnipeg is 9 °C while the seasonal overnight low is -1 °C.