The broad pattern change that began this week will establish itself by the weekend, bringing a prolonged period of seasonably cool conditions to the region.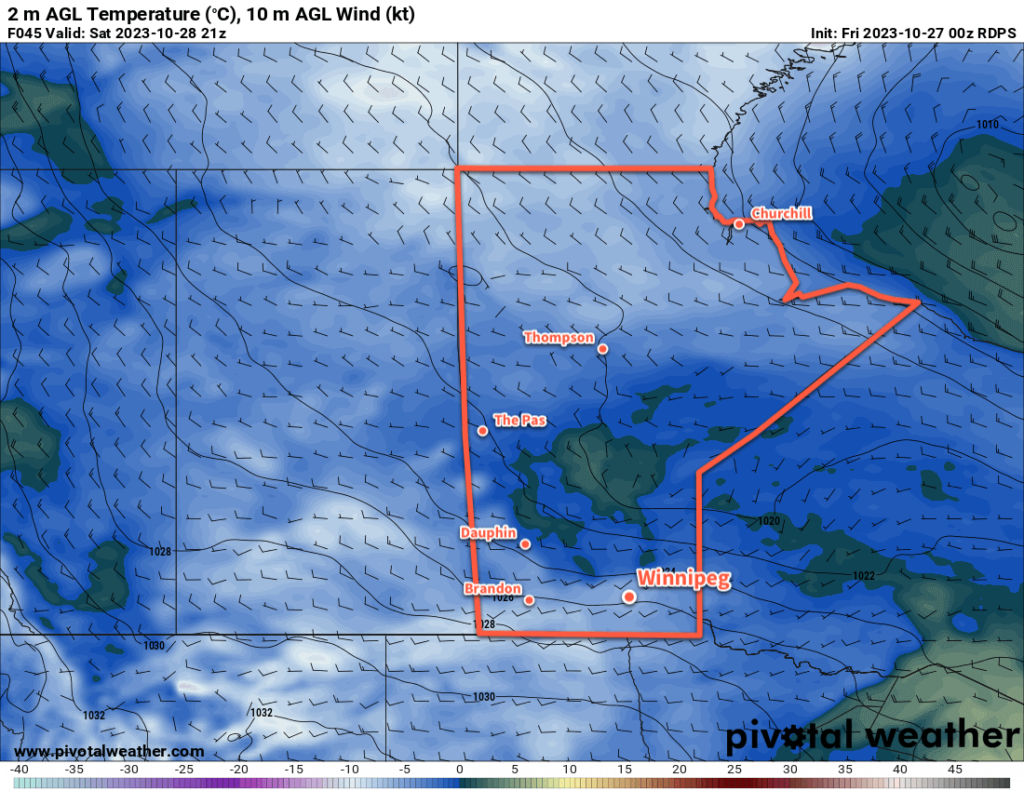 The weather pattern across southern Manitoba will be dominated by a slow-moving upper trough extending from an Arctic vortex over Canada's eastern Arctic. This will ensure a pipeline of cooler air sourced from the Arctic sits pointed at the region right into next week, delivery seasonably cool temperatures to the area.
It will be mainly cloudy in Winnipeg today with some morning snow tapering off as a disturbance tracks off the the east. In its wake, northerly winds up to 30 gusting 50 km/h will pump cooler air southwards, supporting bands of lake-effect flurries off of both Lake Manitoba and Lake Winnipeg. This will result in a few flurries lingering through the day, as well as some more concentrated bands of snow in the lee of the lakes. Temperatures will climb to around the freezing mark, then dip down into the -5 to -10 °C overnight as skies clear.
Sunnier skies will return for Saturday with highs in the -5 to 0 °C range with southwesterly winds in the 20 to 30 km/h range. A bit of cloud will push back into the region on Saturday night, but lows will still dip down close to -10 °C.
On Sunday, there will likely be a bit more cloud around with just a slight chance of some flurries. Temperatures will again climb into the -5 to 0 °C range with westerly winds again near 20 km/h.
Long Range Outlook
Highs will likely bounce back to the freezing mark on Monday with a passing disturbance that will also bring some light snow to the region, then cooler weather returns for the rest of the week with highs in the -5 to 0 °C range and overnight lows closer to -10 °C.
For Halloween, it's looking like it will be a partly cloudy day with a cool high near -5 °C. By the time kids start heading out in the evening, temperatures will likely have dipped into the -5 to -10 °C range with southwest winds near 15 km/h.
Today's seasonal daytime high in Winnipeg is 6 °C while the seasonal overnight low is -3 °C.