This week will start out on the grey side, with more clouds than sun on most days. However, temperatures will remain mild with values at or above seasonal norms.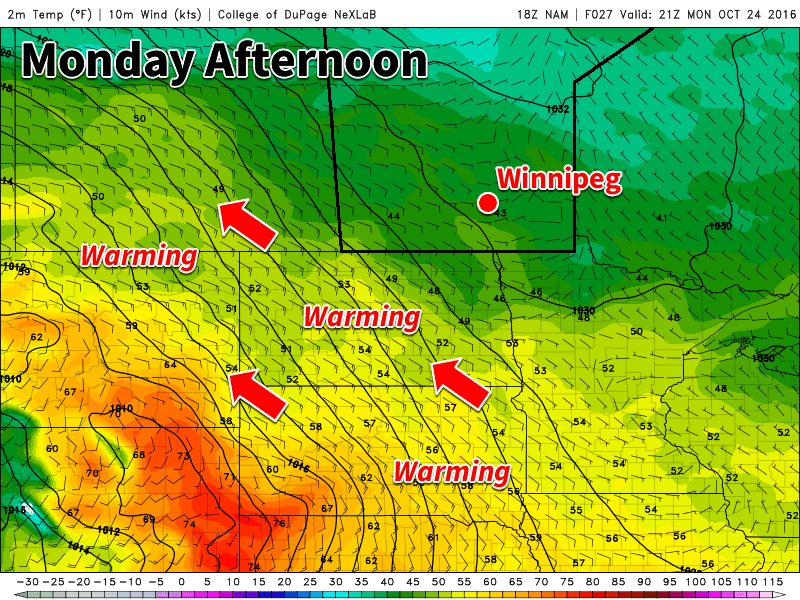 This Week
Today will be a fairly typical late October day in southern Manitoba. Skies will remain mainly cloudy in most areas as a low cloud deck remains suck along the eastern edge of a surface ridge. Temperatures will be near seasonal values, with highs in the mid to upper single digits. Winds will be light from the east. There is a slight chance of a shower or flurry, but not significant accumulations are expected.
Tuesday will see temperatures warm slightly over today, but skies will remain grey. An approaching system will ensure continued cloudiness over southern Manitoba, but a stiff southeasterly flow will allow temperatures to climb up near 10C in most areas. That southeasterly flow will be gusting up to 50 km/h by the afternoon, making these slightly-above seasonal temperatures seem a bit chilly. Shower activity is possible during the day, with a better chance of rain Tuesday night into Wednesday as that system moves closer.
Wednesday will remain mainly cloudy with a continued chance of showers as a weak low pressure system slowly passes by. Temperatures will remain mild, near 10C, with gusty south winds of 20-30 km/h.
Long Range
Long range models show generally seasonal to above-seasonal temperatures as we move through the end of October. Our normal high for this time of year is 7C, suggesting that temperatures in the upper single digits or low double digits will be most common through month's end. These warm conditions will likely spill into early November, but it remains to be seen whether or not November will see an early start to winter, or if we'll have to wait a bit longer for the white stuff to come for good.