Winnipeg will continue to see seasonably cool conditions this week with another round of showers arriving tonight.
A disturbance moving eastwards across Saskatchewan will bring increasing cloudiness to southern Manitoba today. Temperatures will stay seasonably cool in Winnipeg with a high near 13°C. Winds will stay out of the southeast at 15 to 25 km/h through the day, then ease this evening. Showers will spread across southwestern Manitoba today, then into the Red River Valley this evening. The showers will persist through the night as the temperature dips to a low near 5°C.
The showers will come to an end on Tuesday as temperatures rebound to around 12°C. By the time it tapers off, areas along the western escarpment and closer to the American border will receive 5 to 10 mm of rain, while other areas along the Trans-Canada Highway corridor see only 2 to 5 mm. Winds will be light out of the north through the day.
On Tuesday night, the cloud cover will begin to break up as temperatures head to a low near +2°C.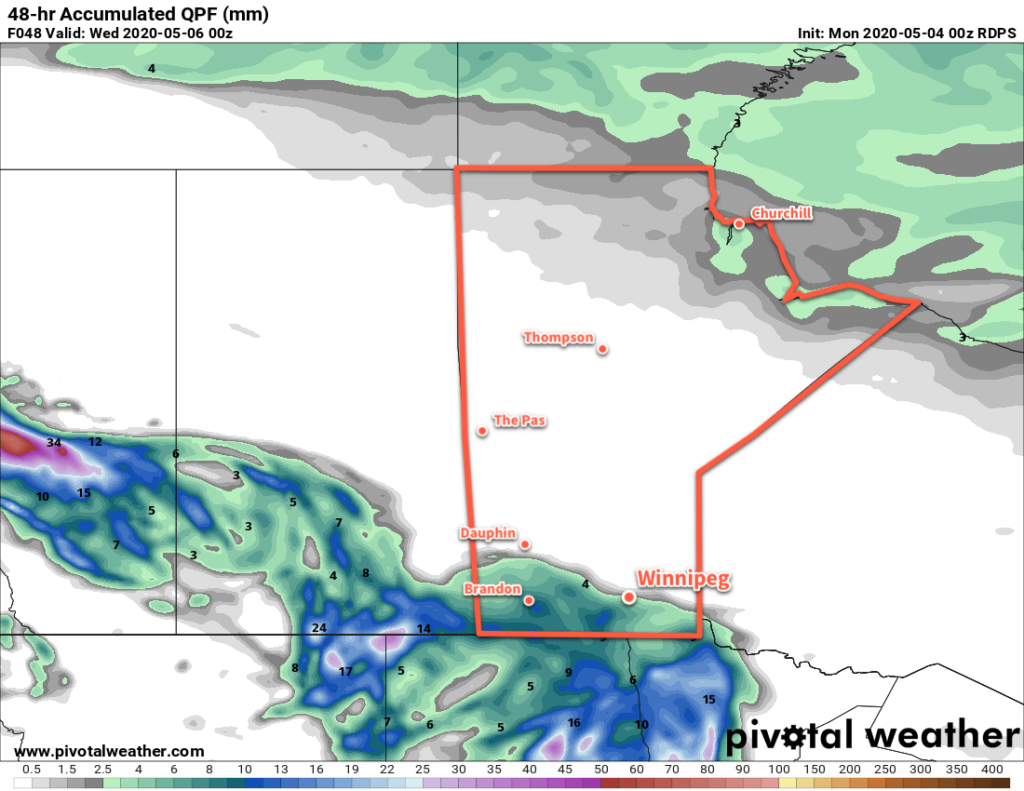 Wednesday will see the return of the sun as cooler air once again slides into the region from the north. Winnipeg will see a high of only 10°C, much cooler than seasonal. Winds will be out of the north at 20 to 30 km/h. A ridge of high pressure will bring clear skies and calm winds on Wednesday night with lows dipping back below freezing.
Long Range Outlook
The long-range forecast looks dry but cool. Daytime highs of 8 to 12°C are forecast through the second half of the week and the weekend. A return towards seasonal conditions looks likely in the second half of next week.
Today's seasonal daytime high in Winnipeg is 17°C while the seasonal overnight low is 3°C.