Winnipeggers will be able to continue easily enjoying the outdoors with temperatures over 10 °C above seasonal averages.
Today will start off with a low pressure system that moved into the region yesterday exiting eastwards into Ontario. As it pushes off, Winnipeg will see mainly sunny skies and westerly winds of 20–30 km/h. Temperatures inch up to a high near +1 °C through the day as the winds gradually ease. The city should see clear skies tonight with a low near -13 °C as a ridge moves through.
On Tuesday, an upper trough will move into Saskatchewan, spreading cloud cover eastwards ahead of it into Manitoba. Winds will shift to the southeast ahead of a surface low, but should stay light through the day. Temperatures will be a tad cooler as ridging remains across the region and Winnipeg will see a high near -3 °C. Skies will be mostly cloudy on Tuesday night with a low near -5 °C.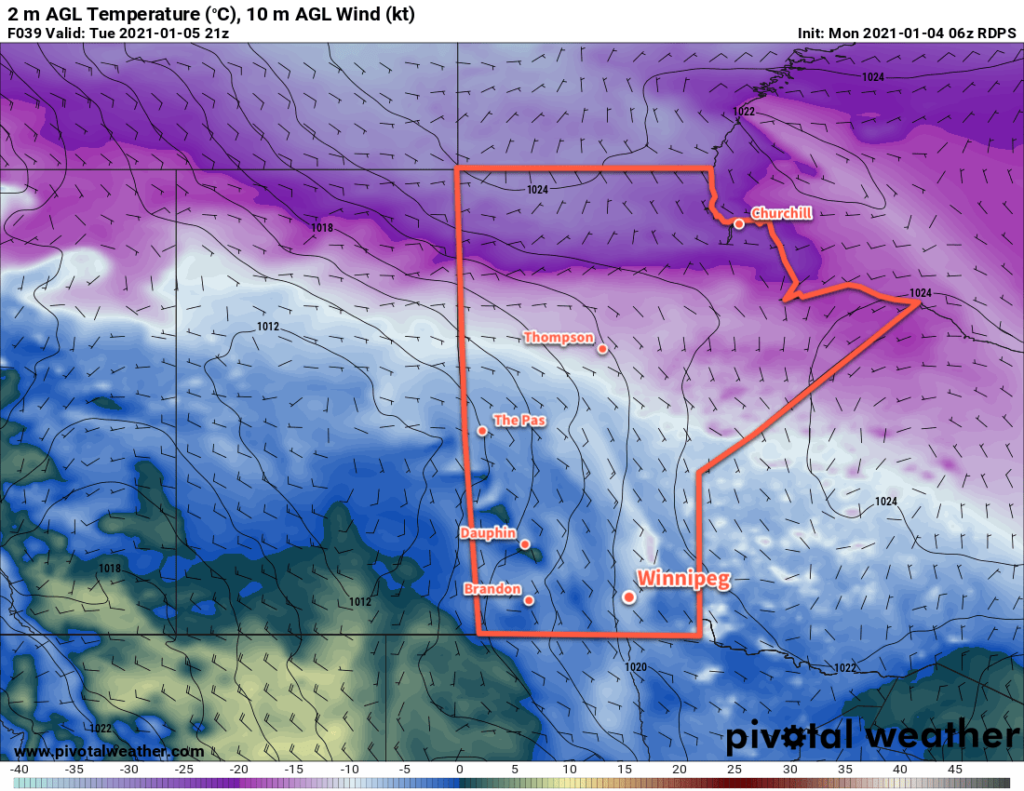 Wednesday will bring little change across the region as Winnipeg finds itself on the edge of a col. A col is an area of light winds found where a trough and a ridge intersect. In our case, the trough will run from Alberta southeastwards to a low over Iowa, and the ridge will run from NW Ontario southwestwards towards Idaho. As a result, any cloud left from Tuesday night should just stick around and give mostly cloudy skies. Winds will be light and temperatures should climb to a high near -1 °C. Skies will stay on the cloudier side on Wednesday night with a low near -4 °C.
On both Tuesday and Wednesday, the cloud cover could produce some periods of light snow, but accumulations would be insignificant. If it happens, the snow would be light enough that it's only really worth mentioning in passing.
Long Range Outlook
Mild temperatures with conditions trending cloudier will continue through the week. The next chance for any organized snowfall looks to be on Friday night when an occluding frontal wave could bring a couple centimetres of snow to the region.
Today's seasonal daytime high in Winnipeg is -13 °C while the seasonal overnight low is -23 °C.