Warm temperatures will continue in Winnipeg as a slow-moving upper ridge continues its trek eastwards across the Prairies.
An upper ridge over the Prairies is bringing mild conditions to Winnipeg with plenty of sunshine. WIth the storm track deflected well to the north, the city will see dry conditions over the coming days. It will be easy to enjoy the late-fall warmth!
Winds will stay relatively light today out of the west up into the 20–30 km/h range. On Thursday, though, a low crossing the northern Prairies will strengthen winds in the Red River Valley out of the south into the 30–40 km/h range. On Friday, the city will likely see light winds to start the day then pick up out of the northeast as a large low complex begins to develop in the United States.
Overnight lows will also be mild over the coming nights with values in the low to mid-single digits.
Long Range Outlook
As we mentioned on Monday, a potent Colorado Low is forecast to develop this weekend and move into the southern Prairies. Forecast models are beginning to gather some consensus on the track of the system, trending towards a track that takes the low across southeast Saskatchewan on Sunday, western Manitoba on Sunday night, and northeastwards towards Hudson Bay on Monday.
This system will likely produce a swath of 20 to 50 cm of snow on its western and northern flanks, which would put it across southern Saskatchewan northeastwards into west-central Manitoba and onwards to Hudson Bay. This heavy snow combined with winds gusting up to 80 km/h would likely produce widespread blizzard conditions across the affected areas.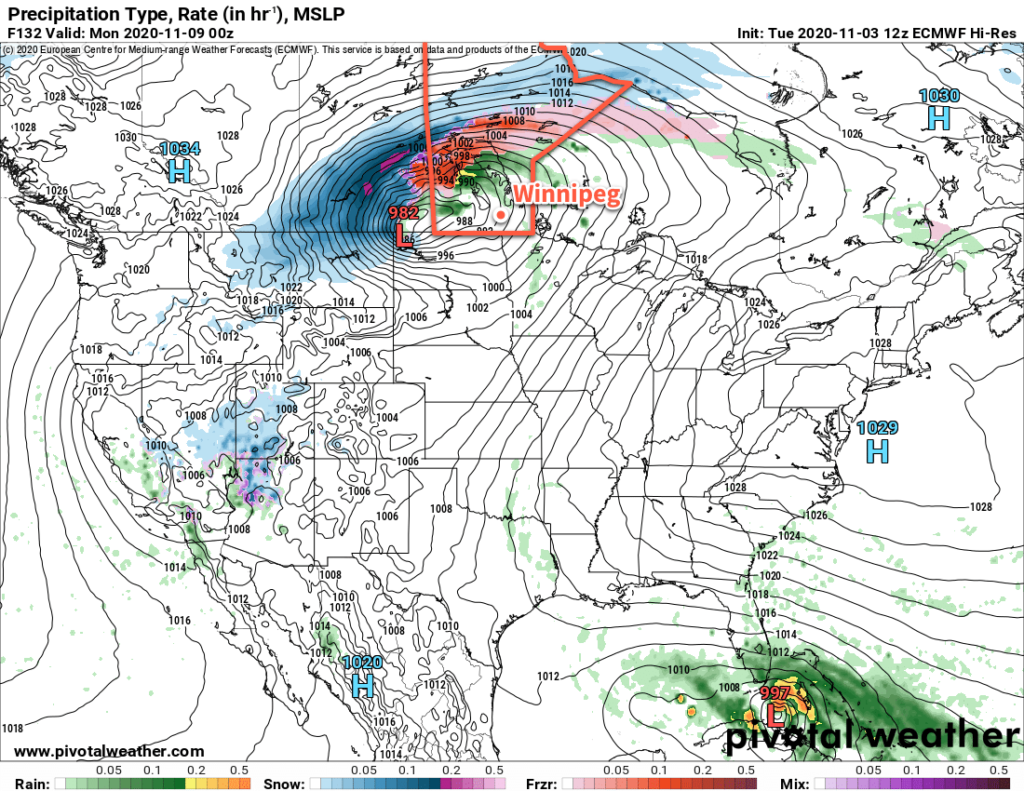 To the south and east of this low track, some light snow or rain is possible, as well as the potential for a broad area of low cloud and drizzle. Temperatures could stay rather warm in the southeastern quadrant of the storm with highs potentially climbing into the low teens.
Regardless of the storm track, this system will usher in much cooler weather for next week with daytime highs dropping below freezing for the rest of the week.
Today's seasonal daytime high in Winnipeg is 2 °C while the seasonal overnight low is -6 °C.