Another disturbance tracking across the Prairies will bring more wet weather to Winnipeg and keep temperatures cooler than seasonal for late June.
Today will start off with a line of showers and/or thunderstorms moving eastwards through the Red River Valley as a cold front pushes eastwards across the region. General rainfall amounts within the Red River Valley from this system will be around the 5-10 mm mark, although locally higher amounts are possible in thunderstorms. That said, it's likely that the eastern Red River Valley sees higher amounts while the western Red River Valley trends towards lower amounts. Depending on exactly how things have evolved overnight, though, there may be sizeable gaps in the line of precipitation resulting in some areas seeing no rain at all.
The wet and stormy weather will clear out of the valley midday, and Winnipeg will be left with gradually clearing skies into the evening. Temperatures will climb to high near 22°C this afternoon with winds picking up out of the northwest to 20-30 km/h behind the cold frontal passage.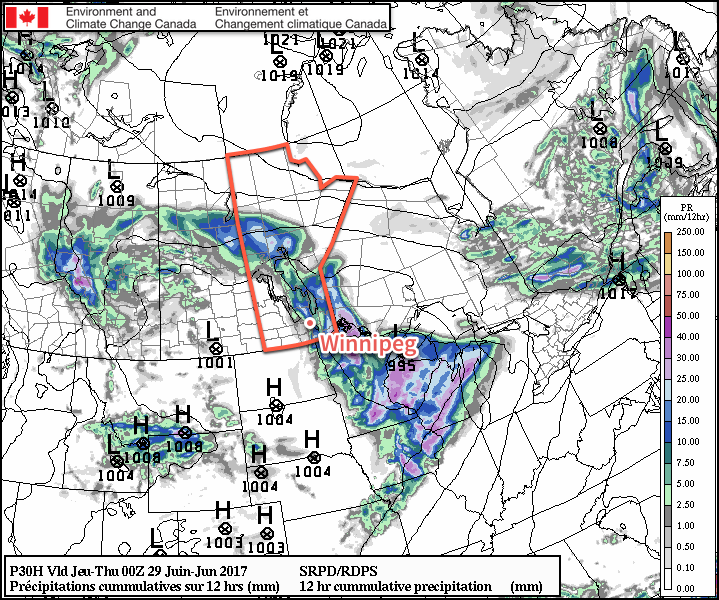 Winnipeg should see fairly clear skies tonight with light winds as temperatures dip to a low near 13°C.
Thursday will likely begin with some sunshine, but quickly cloud up in the morning as another low pressure system begins moving into the area. Any wet weather should hold off until mid-to-late afternoon; heading towards evening it looks likely that another batch of scattered showers or thunderstorms will develop. With the wet weather holding off until later in the day, it will actually be relatively pleasant despite the cloudy skies with temperatures climbing to a high near 22°C and light winds.
Scattered showers will likely continue across the Red River Valley on Thursday night, supported by a cold low stalled over the region. Temperatures will head to a low near 14°C.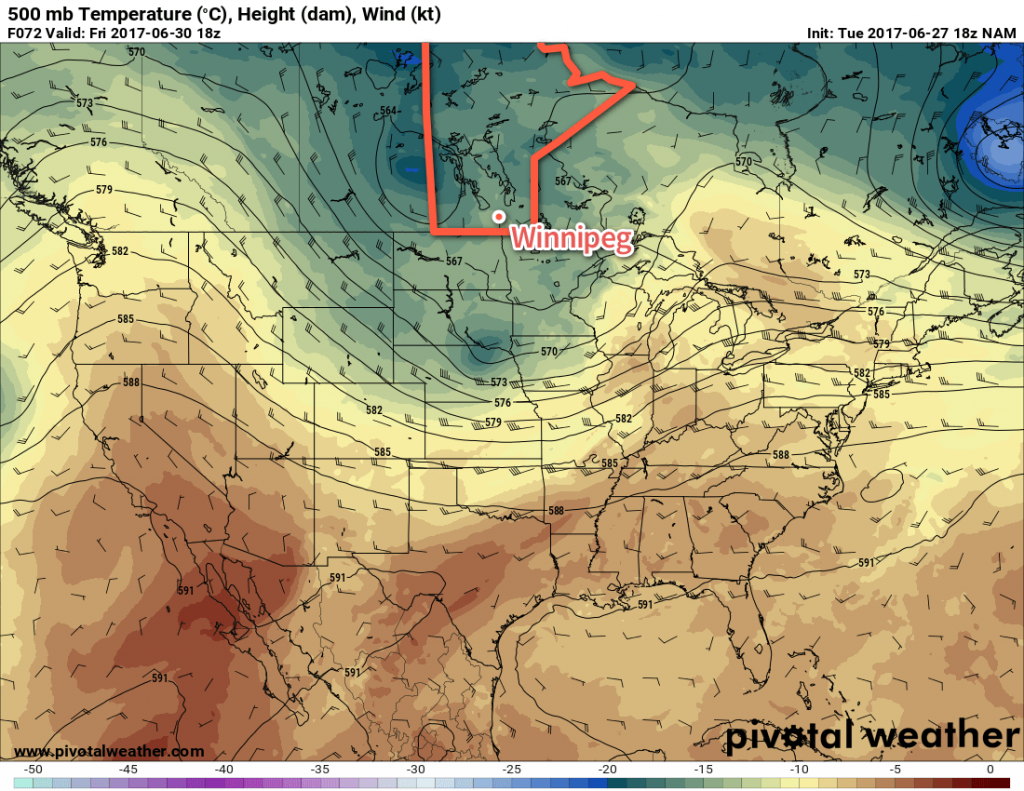 Friday will bring mainly cloudy skies and scattered showers or thundershowers to Winnipeg and the Red River Valley. Temperatures will be cooler as a cold low stalls over the region; daytime highs throughout the Red River Valley will be just 19-20°C. Winds will be light out of the north at 10-20 km/h.
Long Range
Canada's 150th anniversary celebrations are looking okay at this point; cloudy skies in the morning should gradually clear through the day, although we may see a few light showers through the first half of the day. Temperatures will climb to a high near 21-22°C with winds out of the north at 10-20 km/h. For the evening celebrations, skies should be mixed or partly cloudy with temperatures somewhere in the 15-20°C range.
Sunday will be a pleasant day with partly cloudy skies and a high near 23°C. Heading into next week it looks like we'll finally snap out of this cool spell and see some seasonal to above-seasonal temperatures build in for the week!
Winnipeg's seasonal daytime high is currently 25°C while the seasonal overnight low is 12°C.