The Polar Express is on its way to Winnipeg, and we're not talking about the book. After near- to slightly below-normal temperatures through the latter half of the work week, Arctic air will surge southwards this weekend, sending temperatures towards what may end up the coldest Christmas Day in two decades.
Today will bring mainly cloudy skies to Winnipeg as a low pressure system crosses through the Dakotas, spreading a broad area of cloud ahead of and north of its path. This low will also reinforce light northerly winds over the Red River Valley, tapping into the first of a series of Arctic highs that are slumping southwards out of the north. The cloudy skies and cool wind will result in temperatures a bit below seasonal with a high around -15°C in Winnipeg. No accumulating snow is expected today, either in Winnipeg or south of the city; it should remain south of the American border in the Dakotas.
Skies will clear out overnight as temperatures head to a low near -25°C.
Winnipeg will see light winds and sunny skies on Thursday with temperatures once again climbing to a high near -16°C. A low pressure system moving across the northern Prairies will begin spreading a milder air mass into the region in the evening; skies will cloud over as southerly winds pick up into the 20 to 30 km/h range. Temperatures will climb overnight to around -13°C early Friday morning.
Friday will mark the start of the major transition in temperatures over southern Manitoba. After reaching a high near -10 or -11°C, a cold front will sweep through region bringing a bit of light snow. Northwesterly winds will develop behind the front and temperatures will gradually begin to fall. The one saving grace will a rather extensive patchwork of cloud left in the wake of the cold front, which will prevent things from getting too cold. Temperatures will fall to a low near -20°C with a slight chance of flurries overnight.
Long Range Outlook
Temperatures will plummet across southern Manitoba this weekend as a large-scale pattern change happens, allowing bitterly cold Arctic air to spill southwards across the Prairies.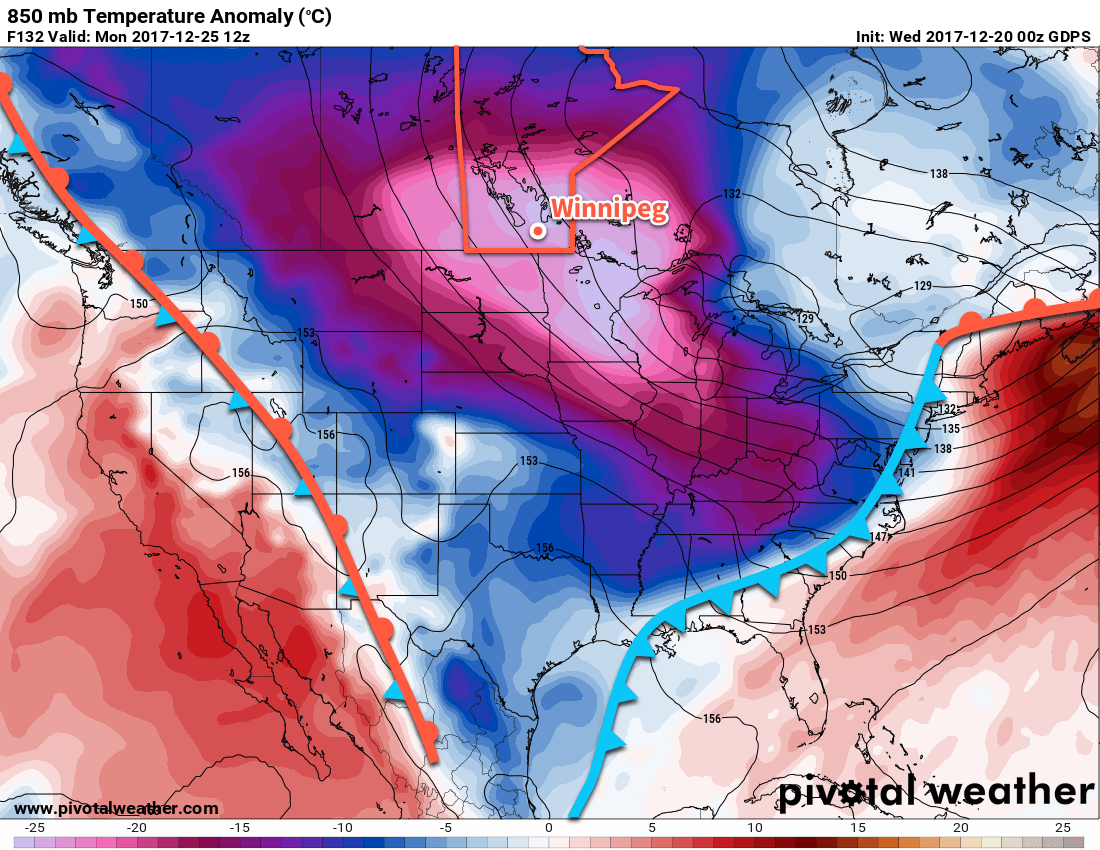 This bitterly cold air mass will become entrenched over the region, bringing cold daytime highs at or below the seasonal overnight lows for several days on end. Looking towards Christmas Day, it looks like high temperatures will be around -24°C. This would be the coldest Christmas in 20 years, back to 1996 when the daily high was a frigid -27.8°C. No significant improvement in temperatures will occur through the remainder of next week.
Stay warm, Winnipeg!
Winnipeg's seasonal daytime high is currently -11°C while the seasonal overnight low is -21°C.