Elsewhere in Weather News posts are beginning to sound like a broken record with all the recent flooding stories coming out of Australia. This past week there were yet again significant flash flooding problems across regions of Australia.
[map zoom="11″ type="hybrid" autofit="1″ disable_scrollwheel="1″] [pin tooltip="Last week's flooding"]Maitland, AU[/pin] [pin tooltip="This week's flooding"]Lismore river[/pin] [/map]
Northern New South Wales and southern Queensland were hardest hit this time as a low pressure quickly wrapped up just off the Eastern Coast of Australia – very similar to the setup that occurred last week. Observation sites indicate that there was a large swath of 150-200mm that fell across Northern NSW along the coast in just over 24 hours. With already saturated soils from the past week's storm that dumped around 50mm in the same area, conditions were primed for flash flooding once the heavier rain bands arrived. Similar to last week's low featured in EIWN, strong wind gusts of up to 100km/h were also observed.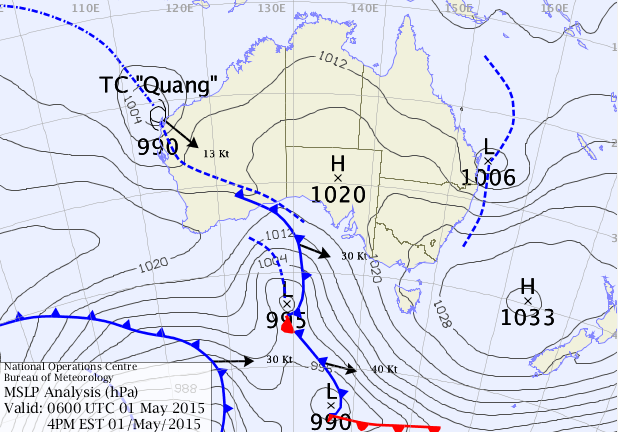 Flash flooding was the main cause of the damage in the region once again, as roads washed out and numerous homes were inundated. The Wilson and Lismore rivers were expected to peak later today at a moderate flood stage, meaning that properties along the banks of the rivers are at risk. In total, six people died from the most recent flood events, five of the six as they attempted to drive through flood waters that covered roads. This brings a harsh reminder to residents that when roads get flooded out it's best to turn around and not drive through.
The east coast low wasn't the only form of severe weather to affect Australia this past week – a cyclone also formed in the Eastern Indian Ocean and strengthened in to a category four over open waters. After substantially weakening due to cooler waters near Australia's coast the system made landfall on Northwestern Australia's shores as a tropical storm, prompting officials to issue rainfall warnings in the region. Damage from the storm appears to have been minimal, other than some minor flooding.