The warmer-than-seasonal warmth in place over Southern Manitoba will last just one more day before a cooler air mass works its way into the region behind a cold front that will push through on Thursday.
Today will bring seasonal weather to Winnipeg & the Red River Valley, albeit with a bit of a breezy wind. Under mainly sunny skies, the temperature will climb to around 15°C, which is nearly 5°C above the seasonal average high of 11°C for this time of year. Winds will pick up through the day and be fairly windy out of the northwest with sustained winds climbing to 30–40km/h with gusts to around 50km/h.
Temperatures will dip to around 4–5°C tonight with skies becoming partly cloudy before morning.
Thursday will be quite an unpleasant day that will see a cold frontal passage that will bring in blustery winds and falling temperatures. The day will start off with partly cloudy skies and temperatures climbing to around 10–11°C by midday. Winds will be windy out of the northwest at around 30km/h with some gustiness on top of that. As the cold front passes through in the afternoon, we'll see mixed-to-cloudy skies develop with a very slight chance of some showers along the front as it passes through. No significant accumulations are expected. Winds will remain blustery with winds remaining at 30–40km/h with gusts as high as 60km/h.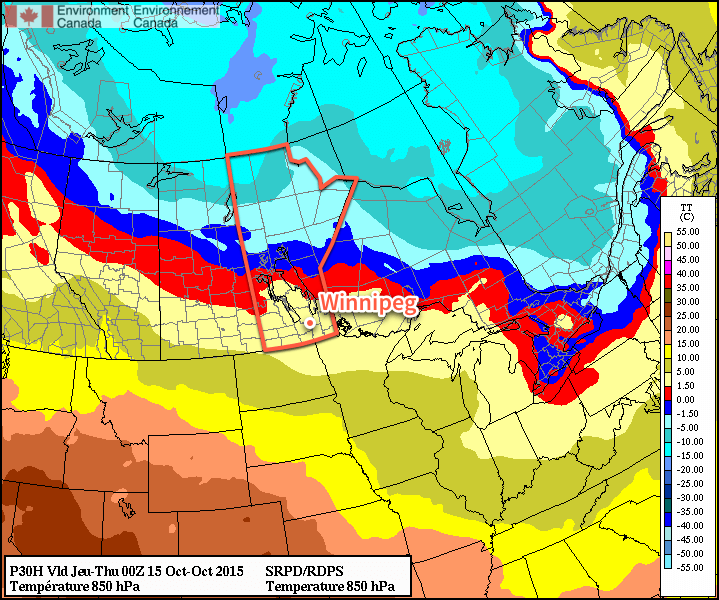 As the front passes through, temperatures will drop to around 6°C in the Red River Valley. They'll continue to drop as winds taper off and skies clear, heading towards an overnight low near –2°C.
Friday will be a pleasant, but cool, day. Winds won't be much of an issue and temperatures will climb to around 7°C under mainly sunny skies. The low on Friday night will once again be around –2°C under clear skies.
Unremarkable Weekend Ahead
Looking ahead to the weekend, there doesn't appear to be much to say about it. Through the weekend temperatures will climb back towards seasonal values with a bit of wind on Sunday. No significant precipitation is in store for the region.
Next week looks to have a bit of variability to daytime highs and a couple chances for rain as a slightly more unsettled pattern develops.