Showers and thunderstorms will make a return to Winnipeg & the Red River Valley today as a cold front sweeping southwards across the province moves through later this afternoon.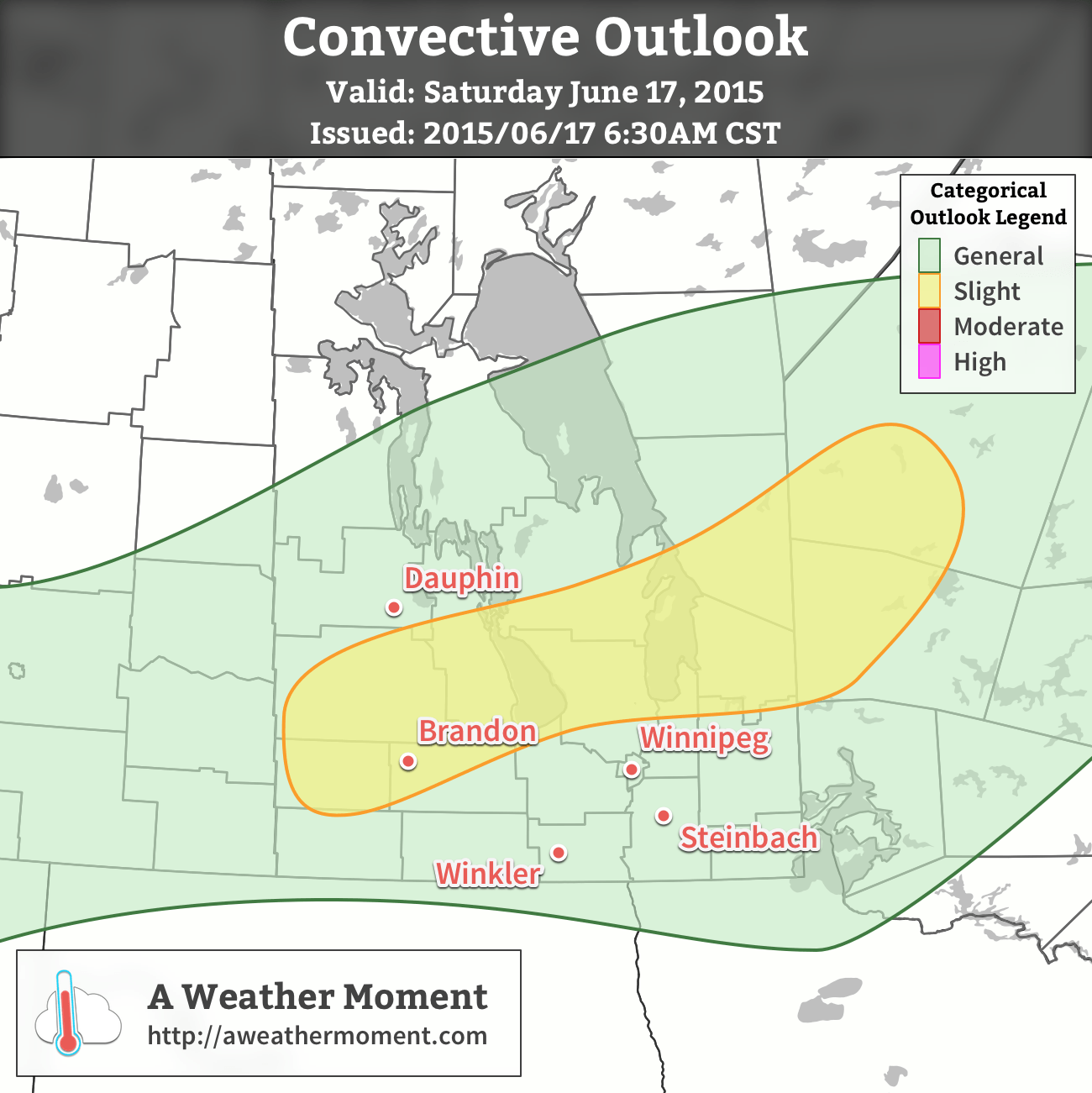 Wednesday
Wednesday
Afternoon showers or thunderstorms
Today will be quite a pleasant day until the front arrives; temperatures should climb to around 24°C before the front swings through with gusty winds out of the southwest at 30km/h.
The cold front will work its way through the Red River Valley from around 4 to 8PM, with a fairly large band of showers and thunderstorms along it. The thunderstorm threat doesn't look too severe, however. Using the MIST principles:
Moisture: Dewpoint values will be fairly limited today with little moisture transport taking place, leaving and moisture accumulation to relatively local effects. Some moisture pooling ahead of the front should allow surface dewpoints to climb to 13–14°C, however the moisture will be quite limited in its vertical extent.
Instability: Overall instability looks sufficient for thunderstorms, but within that context, fairly marginal. Surface-based CAPE values will be around 1000 J/kg, however due to that shallow layer of moisture, mixed-layer CAPE values will be around half that.
Shear: Actually quite favourable! Around 30–40 kt of 0–6km bulk shear is expected primarily through speed shear, which should provide adequate support for the development of thunderstorms.
Trigger: This is perhaps the most favourable component of the whole day: the cold front is quite potent. Strong convergence will be in place along the front, providing ample forcing for the development and sustainment of thunderstorms.
In general, we'll likely see a fairly widespread band of showers and thunderstorms develop along a line from SW Manitoba northeastwards through the Interlake early in the afternoon, then see it slowly progress to the SE through the rest of the day.
The main threats from the storms will be strong winds and heavy rain. The wind threat will come from fairly strong winds aloft coupled with fairly dry low-levels that may aid in evaporative cooling of downdrafts. The heavy rain threat will come from winds aligned prominently in parallel with the cold front, which may result in slow-moving storms that are able to remain in place a bit longer than usual. Marginally severe hail may be possible, however would likely be confined to the slight risk area outlined above.
Skies will clear behind the frontal system with northwesterly winds of 30 gusting 50 km/h or so tapering off as temperature drops to 9°C overnight.
Thursday
Thursday will be a cooler day with benign weather as a ridge of high pressure moves over the region. Daytime highs will sit near the 20°C mark with light winds under mainly sunny skies.
Friday
The weather will head back towards unsettled on Friday as a disturbance moves along the US border sustaining an area of elevated convection ahead of it. Given that it's convective in nature and a couple days out, there's a moderate amount of uncertainty associated with this forecast, but at this point it looks quite likely that we'll see an area of rain move through Southern Manitoba through the day on Friday. Rainfall amounts will be highly variable, and we'll try to pin down more precise amounts closer to, with generally speaking anywhere from 10–15mm to 50+ mm if more intense convection manages to become embedded within.
Expect highs near 22°C or so with an overnight low in the mid-teens under partly cloudy skies.
Unsettled Weekend Ahead
The weekend looks potentially unsettled with multiple chances for showers or thunderstorms through Monday. Uncertainty is fairly high this far out, but for now the best bet is to expect mixed skies with a chance for some wet weather while highs sit in the low-to-mid 20's.