We'll see warm weather to start the week before arctic air quickly returns for Tuesday.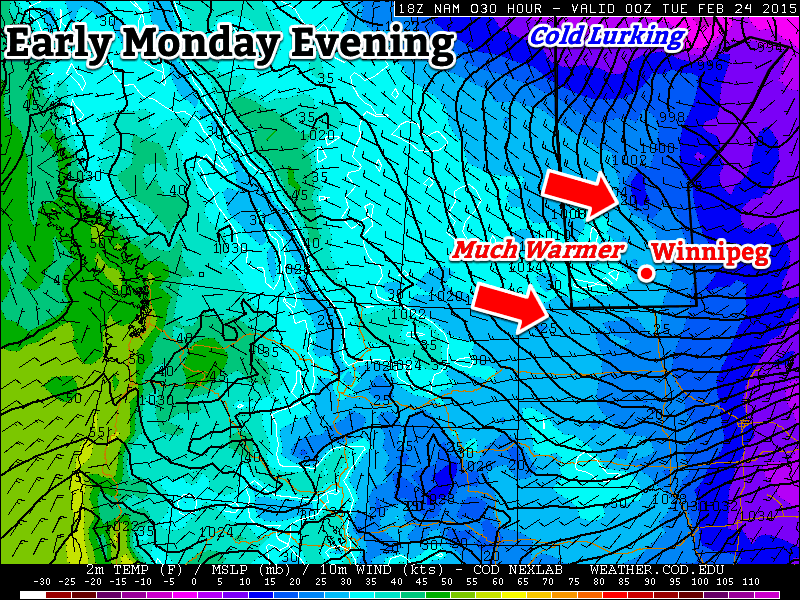 Monday
Today will be the warmest day of the week and the warmest day we've seen in awhile. Temperatures will be around the freezing mark by late in the day as a milder western flow moves across southern Manitoba. That westerly flow will be quite brisk as winds reach 40km/h gusting to 60km/h. We'll also see some light flurries during the day, although accumulations will be small.
Tuesday
Tuesday will be a cooler, but less windy day. High temperatures will be in the mid minus teens with a breezy north-west wind. Skies should be fairly sunny, so overall conditions won't be too bad.
Wednesday
Wednesday
Mix of sun and cloud
Wednesday will see temperatures drop further as another arctic high builds in from the north. High temperatures will be around the -20C mark, with variable skies. There will be a slight chance of flurries due to some low-level instability, but they will be very hit and miss.
Long Range
The long range forecast continues to look very cold. A series of high pressure system will continue to drop down from the north, bringing continued bursts of arctic air. On a happier note, meteorological winter is almost over, so we can only go up from here!