The unseasonably warm weather that's been in place over Southern Manitoba will remain for a couple more days before a big shift in the weather pattern behind a low pressure system passing through on Sunday that will bring cooler air back to the region for next week. The shift in conditions will be quite a shock to the system after a pleasant stretch of above-normal temperatures looks to be replaced with the potential of a return to…snowier conditions.
Today will be a fairly pleasant day in the Winnipeg area. On Wednesday we had mentioned the possibility that today might be another very windy day but, thankfully, it looks like the system that guidance suggested would be a bit of a trouble-maker has ended up weaker and further north than it appeared earlier in the week. As such, we'll see slightly warmer temperatures with a high near 18°C with somewhat breezy northwesterlies developing to around 30 gusting 50km/h. Tonight will bring mainly clear skies and a low near 3°C with light winds.
Saturday is looking like another beautiful day as warm air surges northwards ahead of Sunday's low pressure system. Winds will be a bit breezy out of the south to southeast at around 20–30km/h in the morning but will likely taper off a bit into the afternoon, making for an exceptionally pleasant sunny afternoon with a high near 20°C and fairly calm winds. Unfortunately, it's all downhill from there. Cloud will move in on Saturday evening and through the overnight period as a low pressure system pushes northwards out of the Central Plains of the United States. Expect a low near 6°C.
Sunday Brings Showers & Transition to Cooler Weather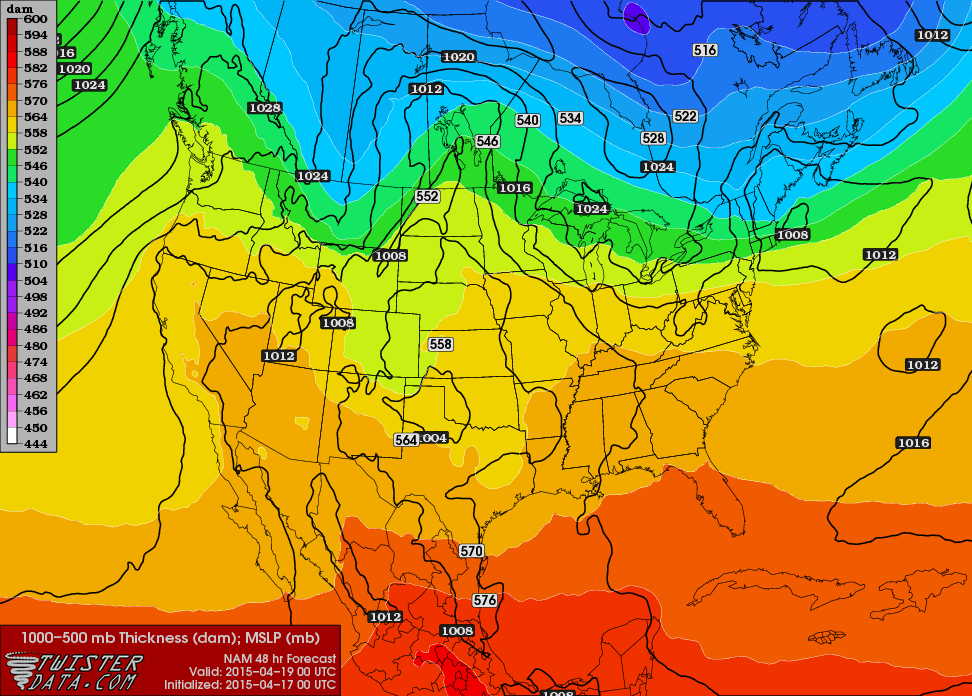 Sunday will mark the transition into a cooler air mass as a fairly complex pattern change gets underway. The weather will be dominated by two primary features: a low pressure system lifting north-northeast out of the Northern Plains of the US and a shortwave moving into Manitoba from Saskatchewan. The two systems will undergo a complex merging and look to stall out a bit over Northern Ontario. This stalling out will resulting in an amplification of the long-wave trough developing over the region resulting in a plunge of colder air southwards over the Eastern Prairies. This is reflected very nicely in the above graphic which shows the forecast 1000–500mb thicknesses[1] plunging behind the low pressure system.
So what does that mean for Sunday? Well, there's a bit of ambiguity as to what will happen here in Winnipeg as a lot will depend on the exact timing of and how the two systems merge. We'll definitely see cloudy skies, likely see a very good chance of showers through the day. Precipitation will fall as rain for most of the day, but likely switch over to snow sometime in the early evening. Snowfall amounts won't be big, however a couple cm are certainly possible.
The high on Sunday will be near 10°C with a slight northwesterly breeze. Temperatures will drop just below freezing on Sunday night. Rainfall totals of 5–10mm are possible with 2–3cm of snow possible on Sunday night.
Long Range
Heading into Monday, it looks like the Red River Vally will see flurries, highs near the freezing mark and blustery northwest winds. After that, the rest of the week looks fairly quiet with little in the way of precipitation expected. Daytime highs through much of the week will be more than 5°C below the seasonal values of 11–12°C.
---
The 1000–500mb thickness is the distance, or thickness, between the 1000mb level (near-surface) and 500mb level (averages around 18,000ft and is often considered the steering flow for weather systems). Higher thickness values correlate to warmer temperatures and lower thicknesses correlate to colder temperatures.  ↩