Some of the warmest weather so far this year will move into the region today, drawn eastwards by a fairly strong spring storm moving through the Central Prairies. The warmth is not meant to last, though, as a strong cold front pushes through and brings below-normal temperatures for the remainder of the week.
Wednesday
Windy with sunny breaks this afternoon
Thursday
Cloudy & windy; chance of showers or flurries
Friday
Mainly sunny & cool
Today will be quite a warm day thanks to very mild air over our region; 925mb temperatures are expected to climb to around 9°C, which should translate to daytime highs near 15 or 16°C once we sunshine this afternoon. Speaking of sunshine, while today is starting off cloudy, we should the cloud cover break up this afternoon as the dry slot associated with the Central Prairie low moves across Southern Manitoba. Alongside the sunshine and clearing will be fairly gusty westerly winds to 30–40km/h with gusts as high as 60km/h. The winds will taper off in the evening as we head to an overnight low of around +2°C.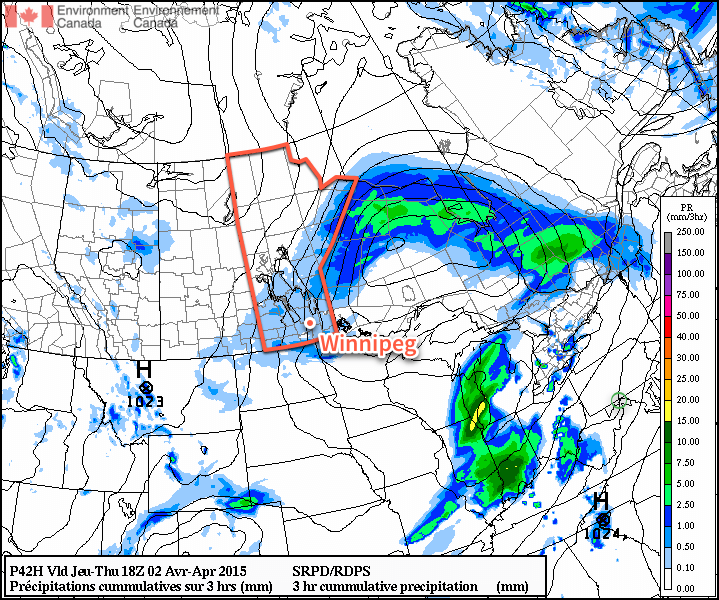 Thursday will be a significantly less pleasant day as a cold front pushes through Southern Manitoba, bringing with it cooler temperatures, gusty northerly winds and a fairly good chance for some shower or flurry activity. Temperatures in Winnipeg will slide through the morning, settling near –1 or –2°C for much of the afternoon as gusty northerly winds to around 40km/h tap cooler air from the north. The best chance for any shower or flurry activity would be through the morning & early afternoon. Skies will clear out Thursday evening as we head to a low near –12°C.
Friday will be a benign weather day for Winnipeg & the Red River Valley, but temperatures will be well below normal. Daytime highs will only be around +1 or +2°C through the Red River Valley, which is a few degrees below normal for this time of year. Fortunately, winds will be light and with that increasingly strong April sun shining, it won't feel so bad. Expect temperatures to drop to around –8°C on Friday night with partly cloudy skies.
Quiet Weekend Ahead
The weekend is looking fairly quiet for Winnipeg with seasonal to slightly below-seasonal temperatures and a few clouds. A ridge of high pressure building in from the Arctic looks to keep most disturbances to the south of Winnipeg, however with the main frontal zone setting up near the U.S. border and a few shortwaves rippling along, areas along the U.S. border in Southern Manitoba may see a few showers or flurries through the weekend. Nothing significant is expected.
In the longer range, it looks fairly likely that we'll see a return to above normal temperatures through the second week of April as the storm track shifts back further north; while above normal temperatures will return, it looks like much of the warm weather will be associated with weather disturbances, making it likely that we'll see more of a "roller coaster" temperature pattern than a prolonged period of warm, dry weather. Only time will tell, though! For now, expect a few cool days and then a stretch of near-seasonal temperatures.