Some of the coldest temperatures of the year are on tap for Winnipeg as a final blast of Arctic air spills across Southern Manitoba. The bitter cold will be short-lived, however, as a major pattern change this weekend will begin spreading significantly milder air across the Prairies.
Today will be a cold one with a ridge of high pressure clearing skies out early this morning and temperatures reaching a high temperature of just -22°C. Winds will start the day off out of the west at around 20 km/h and shift to the south in the afternoon.
A weak low pressure system will round the base of the Polar Vortex tonight, swinging across southern Manitoba and bringing cloudy skies and some light flurry activity. The cloud cover will help prevent temperatures from dropping too low; early tonight temperatures will drop to around -26 or -27°C, but then begin to warm as the cloud moves in. By Thursday morning, the temperature will have climbed back to around the -20°C mark. No significant snow accumulations are expected.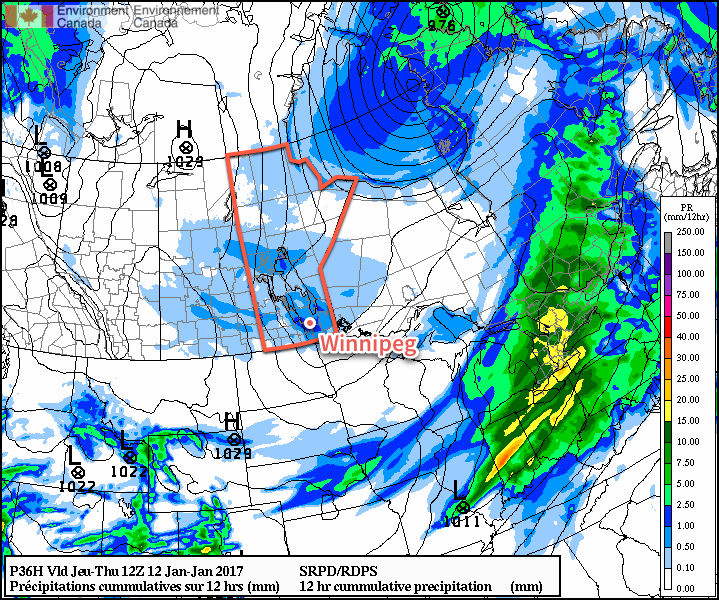 The overnight warming trend is all a cruel ruse, however, as winds shift northwesterly early Thursday and start ushering in the really cold air. Winds will strengthen to 30-40 km/h with gusts up to 50 km/h or so while temperatures drop to around -23°C. They'll remain steady there as skies clear and winds gradually diminish through the afternoon.
A potent Arctic high pressure system will move in on Thursday night, bringing light winds and extremely cold temperatures. Extreme cold warnings are highly likely across all of Southern Manitoba on Thursday night as temperatures plummet to overnight lows in the -30 to -34°C range. At these temperatures, winds of just 5-12 km/h will produce wind chill values of -401 and winds of that speed are produced simply by the movement of the air as it cools. By late overnight into Friday morning wind chill values will be in the -40 to -45 range.
Friday will be a very tricky day with respect to temperatures. Warmer air will begin working into the region from the west as a low pressure system building into the northern Prairies begins shunting the cold air to the southeast. However, winds will increase out of the south to southeast, feeding cold air out of the Arctic ridge back up the Red River Valley. In a best-case scenario, temperatures would likely climb to a high near -17°C, but if the cold air clings on, temperatures will languish with highs near -21°C.
That said, it won't feel great outside as winds out of the south strengthen to 30-40 km/h. Skies will be mainly clear through the day. Winds will taper off in the evening and temperatures will remain steady through the night with just a few clouds.
Long Range
The story changes next week: nothing but above-normal temperatures flooding the Prairies.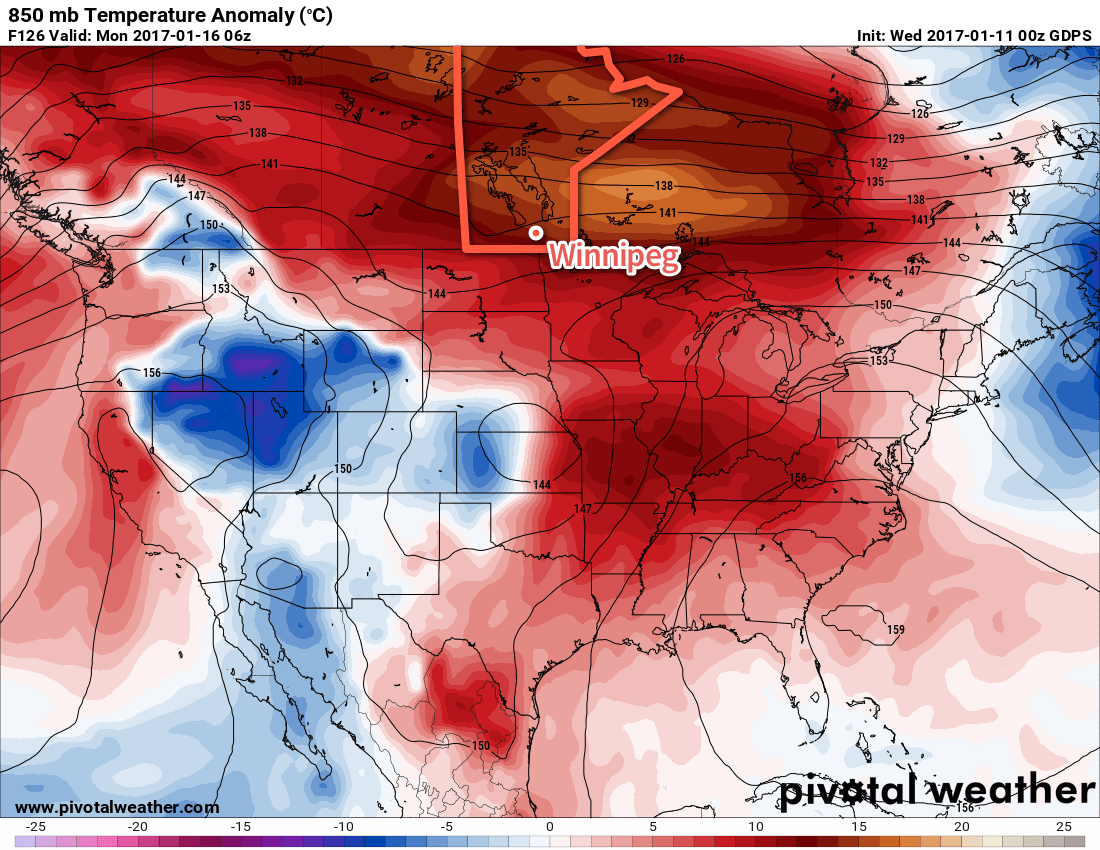 The jet stream will shift northwards for next week, drawing mild Pacific air across the Rockies and the Prairies. An extended period of mild temperatures are expected with daytime highs climbing from around -6°C on Sunday to the 0°C mark by mid-week. The mild weather will likely continue through next weekend. Hooray!
Winnipeg's seasonal daytime high is currently -13°C while the seasonal overnight low is -24°C.
---
This wind chill value is Environment Canada's criteria for issuing an extreme cold warning. ↩