Today will bring a mixed bag of conditions to Winnipeg and area before a cold front sweeps through the region this evening and ushers in cooler air from Northern Manitoba.
We're off to a misty, drizzle-filled start to the day here in Winnipeg thanks to a large area of stratus cloud that expanded northwards out of the Dakotas overnight. This expansive area of cloud—stretching from southeastern Saskatchewan across southern Manitoba and into northern Ontario—will remain in place until later this morning; by midday, westerly winds will begin building into the region and help to break up the clouds and bring an end to the fog patches and drizzle.
The sun should make an appearance in Winnipeg this afternoon as temperatures head towards a pleasant high of 20°C. The sunshine will be relatively short-lived as a cold slumping southwards out of central Manitoba spreads another batch of cloud southwards.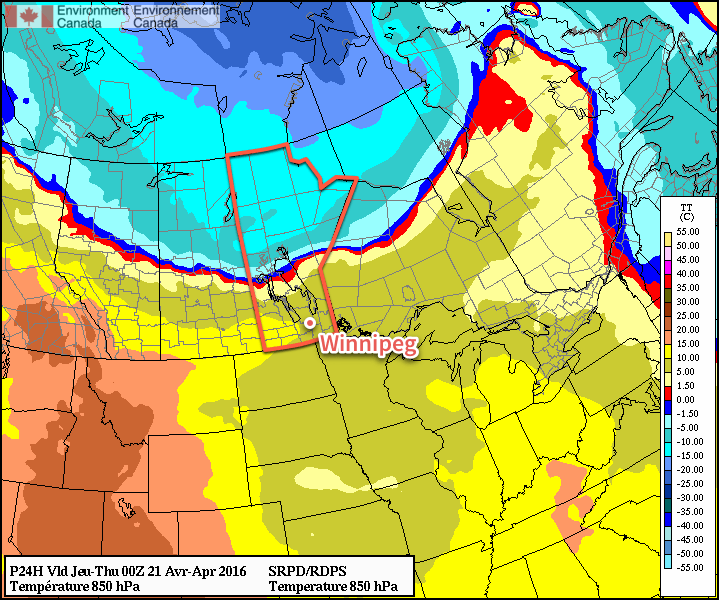 When the cold front slides through this evening, there will be a slight chance of an isolated shower or thundershower. This activity is not expected to be particularly widespread and will taper off very quickly once the sun begins to set. Breezy northerly winds of 20-30 km/h will move in behind the front ushering in cooler air that will send Winnipeg's overnight low to near +2°C.
Thursday will be a pleasant but cool day with just a few clouds and a high near 8°C. Winds will continue to be breezy in the morning at 20-30 km/h, but will gradually taper off through the day. Expect an overnight low near -1°C with increasing cloud.
Friday will bring mainly cloudy skies as a frontal zone sets up across the eastern Prairies. Winds will be light and there will be just a slight chance of some light shower activity. Expect a high near 8°C once again and an overnight low near +1°C.
Winnipeg's seasonal daytime high is currently 13°C while the seasonal overnight low is 0°C.